Deere & Co. (NYSE:DE) reports Q2 earnings Friday morning. The company is the largest seller of tractors, combines, and harvesters. DE has been steering its way through what has arguably been one of the longest slumps in the global farm-machinery industry. Is there any turnaround in sight?
Last quarter, DE reported that sales dropped 13%, worse than the 11% pullback DE had previously projected. At the time, DE warned that its expectations for sales in the most recent quarter and those ahead would fall below initial estimates, dropping 10% for the full year compared with the 7% drop it had forecast late last year. Is this guidance still in place?
The strength of the U.S. dollar has had an impact on DE's results, dragging down shipments in its agricultural and turf segments as well as its construction and forestry segments, the company said last quarter. DE also noted that it was trimming costs to keep its balance sheet in control.
According to Thomson Reuters, many analysts are looking for a per-share profit of $1.48, a 27% drop from a year ago, on revenue of $6.7 billion, a drop of 9.5%.
Short-term options traders have priced in a potential 4% per share price move in either direction around the earnings release, according to the Market Maker Move indicator on the thinkorswim®platform by TD Ameritrade.
Going into earnings many options traders were active at the 82.5- strike puts and the 85-strike calls. The implied volatility is at the 43 rd percentile. (Please remember past performance is no guarantee of future results.)
Note: Call options represent the right, but not the obligation, to buy the underlying security at a predetermined price over a set period of time. Put options represent the right, but not the obligation, to sell the underlying security at a predetermined price over a set period of time.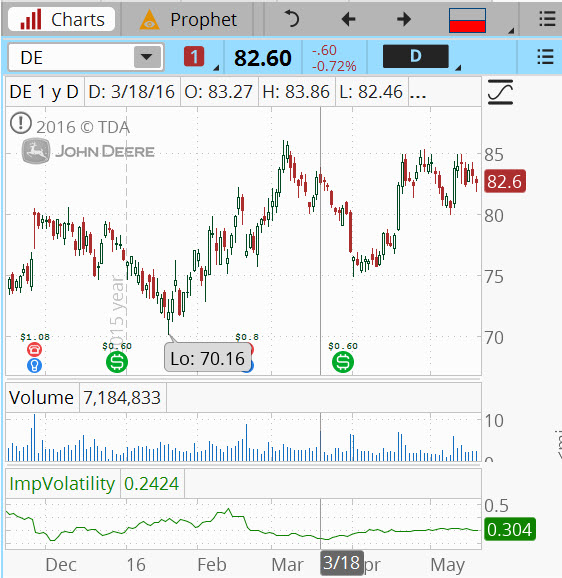 Figure 1: CHOPPYTRADING FOR DEERE. Since hitting a low of $70.16 in January, DE shares have rebounded by about 15%. But the stock is still well below the 52-week high reached last July. Chart source: thinkorswim® by TD Ameritrade. Data source: Standard & Poor's. Not a recommendation. For illustrative purposes only. Past performance does not guarantee future results.
TD Ameritrade® commentary for educational purposes only. Member SIPC. Options involve risks and are not suitable for all investors. Please read Characteristics and Risks of Standardized Options.
Disclosure: I/we have no positions in any stocks mentioned, and no plans to initiate any positions within the next 72 hours.
I wrote this article myself, and it expresses my own opinions. I am not receiving compensation for it. I have no business relationship with any company whose stock is mentioned in this article.