2015 was a tough year for energy producers. Non-investment grade energy shares were down 30% on the year - with the lowest-rated oil, gas and coal producers dragging down the sector as a whole.1 Although commodity prices have rebounded nicely thus far in 2016, smaller energy producers continue to default at rates not seen in decades.2
Investors seeking yield opportunities, but wary of assuming undue levels of risk, may wish to consider senior bank loans. Senior bank loans typically have limited exposure to the riskiest energy producers and rank high in a borrower's capital structure, giving lenders first claim on a company's assets and earnings in the event of a default. They also feature floating rate coupons that can adjust upward as rates rise.
Limited exposure to the riskiest energy credits
Senior bank loans are extended to companies with non-investment grade credit ratings, and are later sold to institutional investors. Individuals can access senior bank loans through vehicles such as exchange-traded funds.
Investors in senior bank loans expect to see competitive yields in exchange for investing in debt with lower credit ratings. However, bank loans generally have minimal exposure to the volatile energy sector. Energy accounted for 1.4% of the S&P/LSTA U.S. Leveraged Loan 100 Index as of April 30, 2016, and energy sector defaults are expected to climb as high as 20% in 2016.3
Defaults can quickly eat away at an investor's yield and total return, so I believe investors should balance their pursuit of yield with their exposure to potential defaults. Like high yield bonds, which are also non-investment grade, but feature fixed rates, senior bank loans offer high yield potential. However, senior bank loans have historically resulted in fewer defaults, as seen in the chart below.
Figure 1. Historical senior bank loan default rates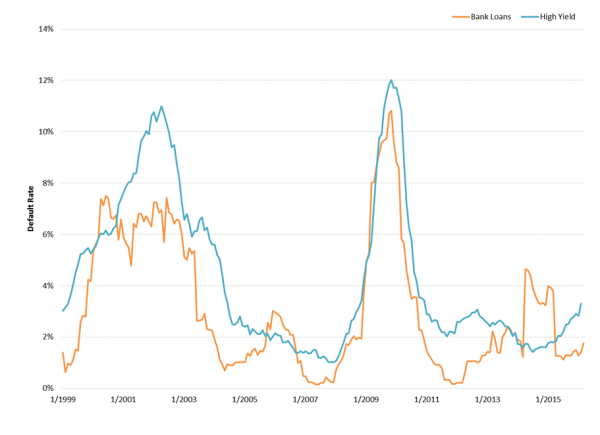 Source: S&P Capital IQ LCD, May 4, 2016. Bank loans are represented by lagging 12-month default rate for all senior bank loans; high yield bonds are represented by lagging 12-month default rate for all high yield bonds.
Senior claim status, higher recovery rates
Even in the event of a default, however, holders of senior bank loans have first claim on an issuer's assets, owing to the loans' "senior" lien status in a company's capital structure. According to Moody's Investors Service, senior loan recovery rates have historically hovered around 80% - compared with 28% for the Barclays U.S. Corporate High Yield Index - which can help investors get more of their investment back in the event of a default.4 That can have a positive effect on a loan or bond's total return.
For investors looking to capture yield opportunities and help mitigate default risk, I believe senior bank loans can make a lot of sense, either as a stand-alone component or as a compliment to a high yield allocation. Learn more about the PowerShares Senior Loan Portfolio ETF (NYSEARCA:BKLN).
Sources
Bloomberg L.P., May 5, 2016. Energy producers represented by energy component of Barclays U.S. Corporate High Yield Index.
Fitch Ratings, Inc., May 2, 2016
Fitch Ratings, Inc., March 10, 2016
Moody's Investors Service, Feb. 29, 2016
Learn more about the PowerShares Senior Loan Portfolio ETF.
Important information
Past performance is no guarantee of future results.
The Barclays U.S. Corporate High Yield Index measures the performance of fixed rate, non-investment grade debt, including corporate and non-corporate sectors. An investment cannot be made into an index.
The S&P/LSTA U.S. Leveraged Loan 100 Index is representative of the performance of the largest facilities in the leveraged loan market.
There are risks involved with investing in ETFs, including possible loss of money. Shares are not actively managed and are subject to risks similar to those of stocks, including those regarding short selling and margin maintenance requirements. Ordinary brokerage commissions apply. The fund's return may not match the return of the underlying index. The fund is subject to certain other risks. Please see the current prospectus for more information regarding the risk associated with an investment in the fund.
Most senior loans are made to corporations with below investment-grade credit ratings and are subject to significant credit, valuation and liquidity risk. The value of the collateral securing a loan may not be sufficient to cover the amount owed, may be found invalid or may be used to pay other outstanding obligations of the borrower under applicable law. There is also the risk that the collateral may be difficult to liquidate, or that a majority of the collateral may be illiquid.
Fixed-income investments are subject to credit risk of the issuer and the effects of changing interest rates. Interest rate risk refers to the risk that bond prices generally fall as interest rates rise and vice versa. An issuer may be unable to meet interest and/or principal payments, thereby causing its instruments to decrease in value and lowering the issuer's credit rating. Junk bonds involve a greater risk of default or price changes due to changes in the issuer's credit quality. The values of junk bonds fluctuate more than those of high quality bonds and can decline significantly over short time periods. Due to anticipated Federal Reserve Board policy changes, there is a risk that interest rates will rise in the near future.
The fund is non-diversified and may experience greater volatility than a more diversified investment.
The fund's use of a representative sampling approach will result in its holding a smaller number of bonds than are in the underlying index, and may be subject to greater volatility.
The fund may hold illiquid securities that it may be unable to sell at the preferred time or price and could lose its entire investment in such securities.
Under a participation in senior loans, the fund generally will have rights that are more limited than those of lenders or of persons who acquire a senior loan by assignment. In a participation, the fund assumes the credit risk of the lender selling the participation in addition to the credit risk of the borrower. In the event of the insolvency of the lender selling the participation, the fund may be treated as a general creditor of the lender and may not have a senior claim to the lender's interest in the senior loan. Certain participations in senior loans are illiquid and difficult to value.
The fund currently intends to effect creations and redemptions principally for cash, rather than principally in-kind because of the nature of the fund's investments. As such, investments in the fund may be less tax efficient than investments in ETFs that create and redeem in-kind.
Investments focused in a particular industry are subject to greater risk, and are more greatly impacted by market volatility, than more diversified investments.
Shares are not individually redeemable and owners of the shares may acquire those shares from the funds and tender those shares for redemption to the funds in creation unit aggregations only, typically consisting of 50,000, 75,000, 100,000 or 200,000 shares.
Before investing, investors should carefully read the prospectus/summary prospectus and carefully consider the investment objectives, risks, charges and expenses. For this and more complete information about the funds call 800 983 0903 or visit invescopowershares.com for prospectus/summary prospectus.
The information provided is for educational purposes only and does not constitute a recommendation of the suitability of any investment strategy for a particular investor. Invesco does not provide tax advice. The tax information contained herein is general and is not exhaustive by nature. Federal and state tax laws are complex and constantly changing. Investors should always consult their own legal or tax professional for information concerning their individual situation. The opinions expressed are those of the authors, are based on current market conditions and are subject to change without notice. These opinions may differ from those of other Invesco investment professionals.
| | | |
| --- | --- | --- |
| NOT FDIC INSURED | MAY LOSE VALUE | NO BANK GUARANTEE |
All data provided by Invesco unless otherwise noted.
Invesco Distributors, Inc. is the US distributor for Invesco Ltd.'s retail products and collective trust funds. Invesco Advisers, Inc. and other affiliated investment advisers mentioned provide investment advisory services and do not sell securities. Invesco Unit Investment Trusts are distributed by the sponsor, Invesco Capital Markets, Inc., and broker-dealers including Invesco Distributors, Inc. Each entity is an indirect, wholly owned subsidiary of Invesco Ltd. PowerShares® is a registered trademark of Invesco PowerShares Capital Management LLC, investment adviser. Invesco PowerShares Capital Management LLC (Invesco PowerShares) and Invesco Distributors, Inc., ETF distributor, are indirect, wholly owned subsidiaries of Invesco Ltd.
©2016 Invesco Ltd. All rights reserved.
Disclosure: I/we have no positions in any stocks mentioned, and no plans to initiate any positions within the next 72 hours.
Business relationship disclosure: This article was posted on the Invesco PowerShares' blog by an Invesco PowerShares' employee on May 16, 2016: http://www.blog.invesco.us.com/case-for-senior-bank-loans-search-for-yield