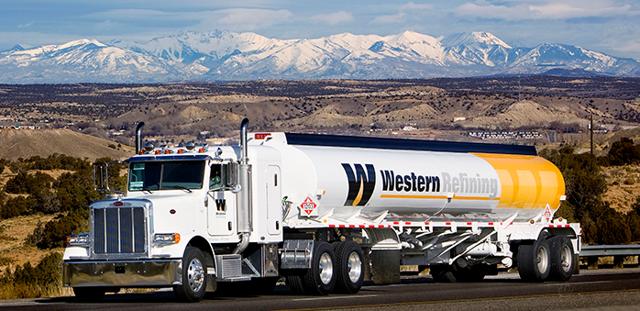 All refining companies have been under severe pressure lately due to a free fall in refining margins (crack spreads). The declines in margin spreads over the past quarter were the steepest in over 8 years.
There are several factors that can affect crack spreads, some of which are seasonal and some are not. I will go through the main reasons that have led to the current narrowing of refiners' spreads, which started in Q4 2015:
Seasonal factors: The spring and summer seasons are usually the strongest for refiners due to increased travel during this period (driving season). Therefore, it is typical for these spreads to weaken around the last quarter and the first quarter of each year. These are normal seasonal adjustments.
Overproduction in 2015: Due to prolonged positive crack spreads in 2015, refiners overproduced gasoline, creating massive stockpiles, which were not absorbed. Refiners and oil retailers have been under pressure recently to reduce prices to get rid of current inventories. Winter-grade stockpiles need to be sold-off before refiners begin producing large volumes of gasoline more resistant to evaporation for the summer, different from the ones used in winter.
Unusual mild winter: Over the past two quarters, distillate consumption fell due to unusually mild weather. Demand for heating oil was substantially down and resulted in large stockpiles, putting crack spreads under more pressure.
Crack spreads deteriorated in Q1 2016: Crack spreads continued to be unusually weak in Q1 2016 due to the high inventory build of refined products.
Dividend distribution cuts and suspensions: Several high yield refining companies are structured as Master Limited Partnerships. These companies distribute dividends to shareholders based on "cash available for distribution" each quarter. Therefore, it is possible that quarterly contributions vary from quarter to quarter, depending on profitability. Due to lower profitability during the past two quarters, some companies reduced distributions while others suspended them altogether.
The following is a list of the most popular high-yield refining companies, which were the most affected by the selloff:
Note: CVRR, CLMT and ALDW are MLPs while WNR is not.
The most severe selloff happened in this sector following recent news that CVRR and CLMT cut their distributions to ZERO, resulting in a continued sharp selloff across the board as we can see in the chart below: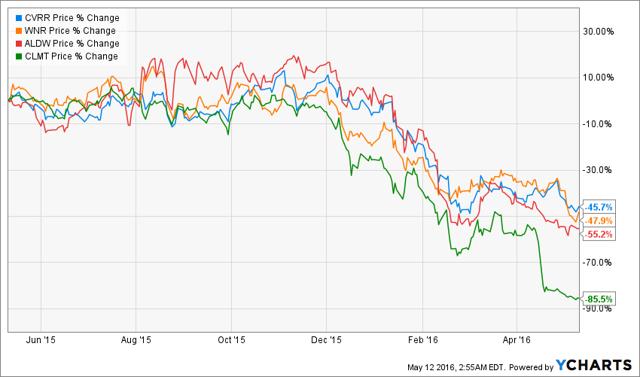 The price declines over the past year were sharp and averaged over 50% for these high-yield refiners, and affected all of the companies regardless of their profitability and quality of earnings. This has opened the door to buy into this sector at quite attractive valuations, levels not seen in the past 5 years (analysis done based on price/earnings ratio).
Short-Term Outlook
Cheap oil is boosting demand for Gasoline and oil products. With oil prices currently trading at multi-year lows, conventional wisdom would suggest that the crack spreads narrowing is only temporary, and should continue to widen in the future. Strong demand for refined products is expected to continue in 2016 and 2017 as reported by the Energy Information and Administration (EIA), a top Energy watchdog. Gasoline demand trends remain healthy domestically with gasoline consumption growing at a rate of over 5% over the past year. This trend is positive for U.S. refiners, as it will translate in more refining volumes.
Over the past month, crack spreads have started to show some signs of life with the margins starting to become healthier. Crack margins have improved the most in the U.S. Gulf. 2016 margins to-date are already running higher than in Q4 2015.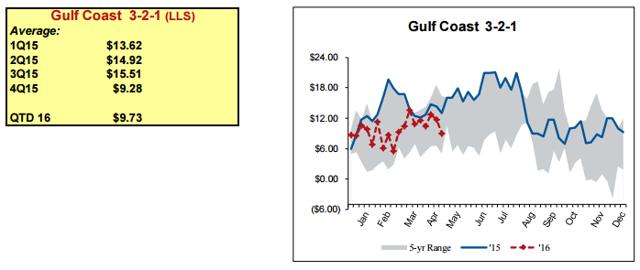 Refined products inventory build are expected to start to decline as we near the summer driving season.
As a result of weaker earnings, many U.S. refiners have initiated efficiency measures, which will translate into savings and improve future profitability.
Although margin differentials are unlikely to recover to their 2015 levels, they are expected to improve. As crack margins recover, most refiners will have more distributable cash to pay to their shareholders in the form of dividends. I expect dividend distributions to get a boost in Q3 and Q4 2016 following the same historical patterns and based on improved fundamentals. As distributions increase, prices of these equities should improve. Taking into account the oversold levels, price gains are likely to be significant. As distributions increase, I expect income investors will start chasing the best companies in order to capture higher dividends.
Long-Term Outlook
At the current level of oil prices, US refiners who are significantly in better shape than those in the rest of the world are able to add efficiency and improvement to strengthen margins and profitability.
"In the end, the US was left with the most evolved, complex set of refineries in the world that can run heavier crudes into higher value products," According to Tuner Mason & Co. who are experts in the field. "We also have the deepest and most talented labor pool, allowing US refineries to run more reliably at lower costs. You can add improvements at a Gulf Coast refinery now more cheaply than the rest of the world. Lower crude oil and natural gas prices haven't hurt either."
Time to go bargain hunting
Based on valuations, many refining companies are severely oversold. Let us have a look at the historic valuations of Western Refining ((WNR)) and CVR Refining ((CVRR)), which in my opinion are the two most solid high-yield refining companies. Based on the Forward P/E ratio, these two companies are trading at their lowest valuations in over two years, as depicted in the chart below.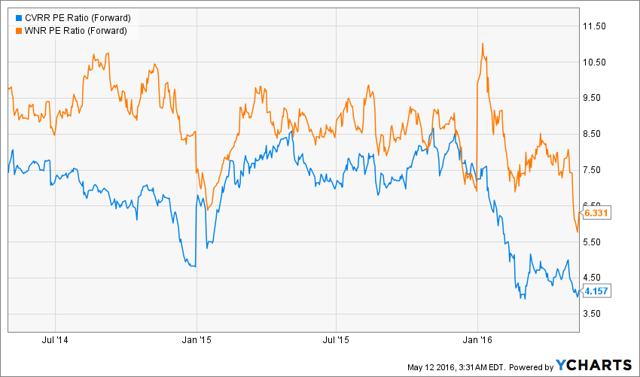 My Best Pick: Western Refining Inc. - WNR
Western Refining, Inc. was founded in 1993 and is headquartered in El Paso, Texas. Western Refining, Inc. is an independent refining and marketing company. The refining segment operates refineries in El Paso, and Gallup, New Mexico. The retail segment includes retail service stations, convenience stores, and unmanned fleet fueling locations in Arizona, Colorado, New Mexico, and Texas. Western Refining, Inc. owns the general partner and approximately 66% of the limited partnership interest in Western Refining Logistics LP (NYSE: WNRL) and the general partner and approximately 38% of the limited partnership interest in Northern Tier Energy LP (NYSE: NTI). WNR has a diversified source of revenues and operates in 4 different segments:
Refining segment: The company owns and operates two refineries with a total crude oil throughput capacity of approximately 156,000 barrels per day (bpd), producing primarily high-value light products such as gasoline, diesel, and jet fuel. In addition to its 131,000 bpd refinery in El Paso, Texas, it also owns and operates a 25,000 bpd refinery near Gallup, New Mexico.
Wholesale segment: WNR offers and distributes fuels, lubricants, and other related products to wholesalers.
Retail segment: WNR operates approximately 260 convenience stores and gas stations located in Arizona, Colorado, New Mexico, and Texas. The company markets under the brands of Giant and Howdy's. Their locations offer a wide array of merchandise, including soft drinks, snacks, beer, wine, liquor, and hot and cold prepared food items. They also offer a variety of prepaid products (gift cards, wireless, debit cards), as well as financial services such as money orders and ATMs.
Logistics segment: Through its investment in Western Reefing logistics WNRL, WNR has indirect ownership in terminal, storage, and transportation and storage infrastructure. Its wholesale assets consist of a fleet of crude oil and refined product truck transports. The company also distributes commercial wholesale petroleum products.
Merger with Northern Tier Energy: Northern Tier owns and operate a 97,800 bpsd refinery located in St. Paul Park, Minnesota. It is one of just two refineries in Minnesota and one of four in the upper Great Plains region. On December 21, 2015, Western Refining Inc. and Northern Tier Energy LP jointly announced that they have entered into a merger agreement whereby Western will acquire all of NTI's outstanding common stock.
Under the terms of the merger agreement, NTI shareholders will receive $15.00 in cash and about 0.3 shares of WNR common stock for each NTI common stock. WNR intends to fund the cash portion with a combination of cash on hand and debt financing. If the merger completes, NTI will become a wholly-owned subsidiary of WNR and NTI common units will cease to be publicly traded.
NTI established a special shareholder meeting date on June 23 for shareholders to vote on the proposed merger. The merger of Western and NTI will result in the combined entity owning three of the most profitable independent refineries, with direct pipeline access to advantaged crude oil combined with an integrated retail and wholesale distribution network.
A Well-Diversified Company
As we can note from the above, WNR is not a pure refinery company as it has revenues coming from its retail and midstream units. While WNR's refinery profits went down last year, its retail and midstream segments posted gains compared with a year ago. WNR experienced a sharp selloff along with refinery companies, although it is not a pure refinery play, as it has revenues well diversified.
Q1 2016 Results
WNR reported earnings on May 3, 2016.
WNR reported a positive EBITDA for Q1 2016 of $98.3 million, despite the unfavorable crack spreads. This is an impressive return on its current market cap of $2 billion.
WNR repurchased shares worth $75 million in Q1 2016.
Unlike other non-diversified refining companies, WNR was able to continue its distributions. The company declared a dividend of $0.38 per share.
The favorable performance of WNR is due to the fact that the company is not a pure refinery play.
Valuation
1. Price to Cash Flow: WNR is trading at a stunningly low 2.9x trailing cash flow. This means that at the current rate, WNR is generating enough cash to pay for its share price in less than 3 years. WNR has mostly traded above 5x cash flow during 2015. Using a "trailing cash flow valuation" method suggests that this company has at least 60% upside from its current share price.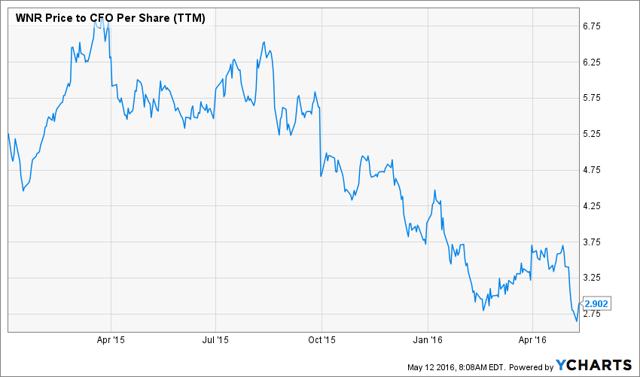 2. Price/Earnings ratio: WNR's forward P/E ratio stands at 6.3x, which is well below its 2015 P/E ratio of 15x. This is also much lower than the S&P 500 projected P/E ratio of 17.6x. Assuming a more reasonable forward P/E of only 10x, this would put the share price at $36, about 60% higher than the current share price of $22.67.
3. Analysts Estimates: Based on the latest data from the Wall Street Journal, analysts give WNR a price target of $31/share, which is 37% higher than the current market price of $22.67.
Company Outlook
Improved future profitability: During WNR's earnings conference call on May 3, 2016, management stated that crack spreads continue to improve. Its refineries are running reliably and at full utilization. Retail fuel volume demand on a same-store basis is up 5% in April compared to last year.
Location advantage: WNR operates in the Permian Basin where production is among the lowest cost in the Production in the US. Permian Basin has been selling at a greater discount due to production growth outpacing takeaway capacity. By processing this light sweet crude at its Gallup and El Paso refineries, Western enjoys higher margins. WNR can continue to grow despite low prices, as its refineries have a continued supply of discount light crude.
Northern Tier Merger: Although it is widely viewed that WNR's shareholders are getting a good deal from this merger with NTI due to a favorable valuation, in the short run, NTI may be a drag to WNR's financials as NTI's operating results were much more impacted than those of WNR's because NTI is not as diversified a company. However, from a strategic point of view, this merger makes a lot of sense as the acquisition of Northern Tier increases WNR's refining capacity in the Mid-Continent where crude spreads are expected to widen from current levels. Therefore, NTI is likely to contribute to the long-term profitability of the WNR.
Strong Dividend Growth
WNR has a long history of consistent dividend growth. Since Q1 2012, the company has grown its dividend distributions at an annual rate of 70%. Although I do not expect this fast growth to continue, in my opinion, the current distribution yield of 7% looks more than sustainable based on Q1 2016 results, and is likely to keep growing, but at a slower pace.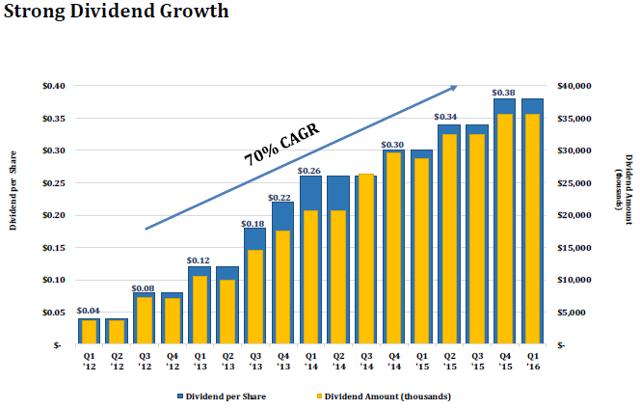 Dividend Coverage
WNR's EBITDA for Q1 = $98.3 billion
Total dividend payable Q1 = $ 34.5 billion
Therefore the dividends are covered 3 times by the company's Q1 earnings. It is pretty rare to find a company with such a high dividend coverage in the Energy sector.
Using Simple Mathematics
Using simple mathematics, WNR generated enough income in Q1 2016 to cover its dividends about 3 times, even with crack margins being that low. Today crack margins are 20% more than they were in Q1 2016 and are still trending wider. I would say this is pretty bullish for WNR. If you factor in the overselling, I would expect a substantial price recovery.
Insiders Buying
Western Refining Inc. recently saw a very significant purchase by its chief executive. CEO Jeff Stevens bought 150,000 shares of the stock at prices that ranged from $20.95 to $22.75 for a total amount of $3 million. Currently, WNR is trading at $22.67/share.
It is all about timing
It is always better to buy into oversold stocks on their way up, rather than try to catch a falling knife. WNR share prices are going up rapidly, and are currently seeing higher highs and higher lows, thus possibly establishing a positive price trend.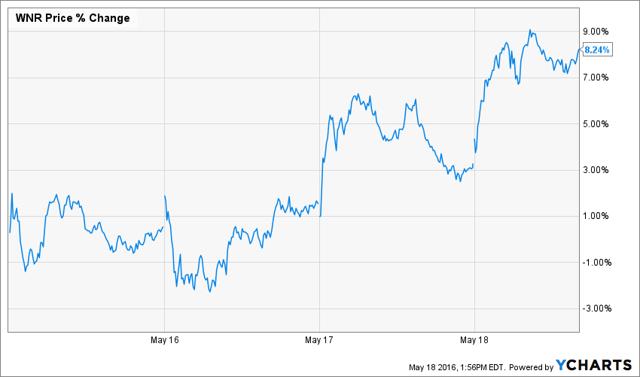 WNR is up 8.2% over the past 5 days. Therefore, the timing to buy into WNR is possibly at its best.
Note: WNR is not a Master Limited Partnership and does not issue K1s (it is a 1099 tax reporting company). Therefore, investing in WNR does not involve the tax complications associated with owning MLPs.
Conclusion
Western Refining Inc. runs a very profitable operation even with crack spreads being as low as they are today. The company's share price was dragged down along with other non-diversified refining companies as a result of the general sector selloff. WNR is currently trading at a "steal" valuation in absolute and relative terms to the market and to the company's history.
I believe that a 40% to 60% upside can be achievable during 2016, in addition to the generous 7% yield. WNR should start gaining momentum as we approach the summer driving season. This is typically when crack margins start widening and when investors' appetite for this sector improves. Crack margins have improved the most in the Gulf region where WNR operates, which sets this company to have a great summer season.
Join us at High Dividend Opportunities in our journey to uncover high-dividend stocks trading at bargain prices, and benefit from Live Alerts to pick them up. The service includes a high-dividend model portfolio. We are dedicated to bring you the most profitable and newest high-dividend ideas. For more info, please click here.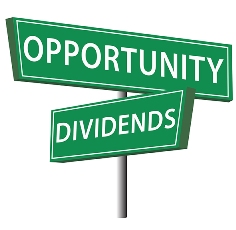 Disclaimer: "High Dividend Opportunities" service is impersonal and does not provide individualized advice or recommendations for any specific subscriber or portfolio, as I have no knowledge of the investor's individual circumstances. Subscribers/readers should not make any investment decision without conducting their own research and due diligence, and consulting their financial advisor about their specific situation.
Disclosure: I am/we are long WNR.
I wrote this article myself, and it expresses my own opinions. I am not receiving compensation for it (other than from Seeking Alpha). I have no business relationship with any company whose stock is mentioned in this article.