I've been bullish on Kinross Gold (NYSE: KGC) for quite some time. This year, the stock has enjoyed a very nice run along with the upside in gold prices. As the stock went higher, I turned more cautious.
The first sell trigger could have been the release of the first quarter earnings results. The results were normal and did not cause a major selloff. At the same time, I was wary about the speculative nature of the recent rally.
In my article dedicated to Kinross Gold's first-quarter results, I wrote that the strength of the dollar remained the biggest threat for the gold equity rally. This threat materialized, and I believe that the risks of a significant pullback are very substantial.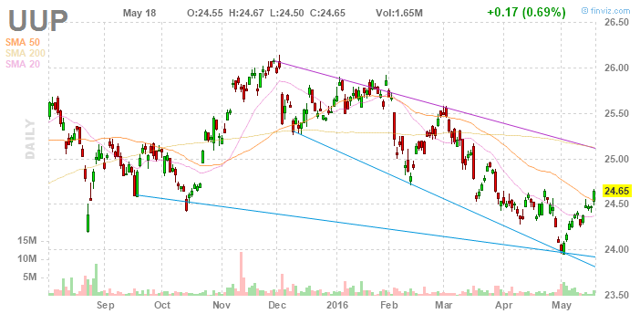 Fed minutes surprised almost everyone. The U.S. Dollar (NYSE: UUP) confirmed its recent bottom and rallied higher. The strength of the dollar is a big threat to all commodities, including gold.
Gold's momentum faded after the precious metal reached $1300. Even the recent pullback of the equity market was not able to provide support for gold. In theory, the topping S&P 500 should have provided support for gold as money should have been taken out of high-flying stocks and put into gold as a defensive asset. This did not happen, in part because gold and especially gold equities have significantly appreciated since the beginning of this year.
From a fundamental point of view, gold's fate depends solely on investment demand. Let's look at the latest data from World Gold Council.

A flow of money into ETFs caused the recent spike. Demand for jewelry and technology uses of gold decreased. The decrease was especially pronounced for jewelry, as India, China, and the Middle East still suffered from last year's commodity rout.
In this light, gold depends solely on its role as a store of value. This role depends on belief rather than on hard data. If investment managers all over the world believe that gold will protect their portfolios, they will allocate money accordingly and gold prices will rise. Belief is difficult to predict, but I'd bet that dollar strength erodes confidence of gold buyers.
Now let's get to Kinross Gold itself. First-quarter results were decent, but no more than this. The recent upside in Kinross Gold's shares was greatly helped by the leverage provided by the purchase of Nevada assets from Barrick Gold (NYSE:ABX). Such leverage is a two-edged sword, so, if the gold prices fall, Kinross Gold's valuation will adjust at the same pace as on the way up.
Of course, there are positive moments for Kinross Gold this year, including projected production growth and a decrease in all-in sustaining costs. Tasiast expansion may also serve as a catalyst, while organic opportunities in the company's Russian mines look lucrative as well.
To me, the biggest problem is the financial, not the fundamental part of the trade. Fundamentally, the company looks well-positioned to deliver results in years to come. However, I don't think that the move from $3 to $6 was caused by fundamentally-oriented buyers.
In this light, I expect a significant correction in case of further dollar upside and I want to get out before this correction occurs. In my view, Kinross Gold's equity sale at $3 more or less indicated what the company itself thought about the perspectives of its share in the $1200 gold price environment. I will reconsider entering into Kinross Gold if the correction is really significant.
Disclosure: I/we have no positions in any stocks mentioned, and no plans to initiate any positions within the next 72 hours.
I wrote this article myself, and it expresses my own opinions. I am not receiving compensation for it (other than from Seeking Alpha). I have no business relationship with any company whose stock is mentioned in this article.