As the NBA finals escalate, Under Armour's (NYSE:UA) investors should certainly be pulling for the Golden State Warriors.
Last September, Under Armour extended its sponsorship deal with Warrior star Stephen Curry through 2024. According to ESPN, the long-term deal included an equity stake in Under Armour along with additional compensation.
Under Armour's partnership with Curry has been incredibly successful, helping to boost shoe sales by 40% last quarter. In particular, Curry's branded shoes were responsible for $153 million in sales. Curry's impact on Under Armour's sales recently led Morgan Stanley analyst Jay Sole to estimate Curry's value to the company between $14.1 billion and $28.2 billion (depending on whether Curry's winning streak continues).
While it is tempting to look at the NBA finals, which are currently in progress as a win/lose scenario for Under Armour (given Steph Curry's impact on sales), the apparel store is on a road to success that should continue regardless of the NBA outcome.
Talented, High-Class Athletes Should Drive Sustainable Sales
While championships are nice, Under Armour's investment in high-class athletes should continue to pay off regardless of what happens in any one sporting event or series. That's because UA's focus appears to be more on the character of athletes signed, rather than exclusively on a winning track record. In particular, a hard work ethic, personal humility, and a respect for one's sport and those who compete seem to be common traits of signed Under Armour athletes.
This approach should give UA more of a steady, reliable return from its endorsement investments as fans will respect these athletes whether a particular title is won or lost.
Case in point: Golfer Jordan Spieth disappointed himself and his fans on the 12th hole of the Masters Tournament, blowing a three-shot lead just hours before he was to claim a back-to-back victory at Augusta National.
But while mistakes on this single hole cost Spieth the tournament, Spieth's grace and poise even following this blunder are likely to impress golf fans around the world (and shouldn't tarnish Under Armour's growing golf franchise).
Today, Under Armour's sponsorship agreements with Stephen Curry, Jordan Spieth, Bryce Harper, Lindsey Vonn and many more should help the company continue to make up ground against established sport apparel franchises and drive profits for investors.
Executive Shifts Lead To Buying Opportunity
Over the last few weeks, shares of UA have lost nearly a quarter of their value after news that two key executives are departing the firm.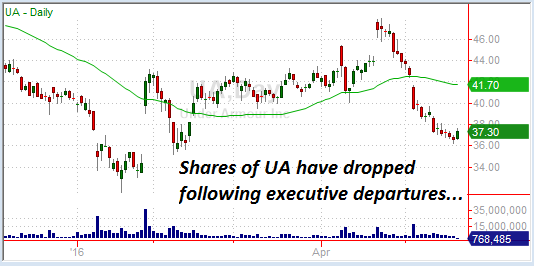 (Source: TradeStation)
While the departure of senior executives certainly raises eyebrows, the selloff is likely placing too much emphasis on these two executives and overlooking the strong brand that Under Armour continues to build. Plus, these two roles may not be as "mission critical" as investors appear to be giving them credit for.
The first departure is Chief Merchandising Officer Henry Stafford. His role will be covered on an interim basis by Chief Marketing Officer Kip Fulks (according to a Wall Street Journal article).
It is unlikely that the company's merchandising strategies will be interrupted by this change as Fulks should already be intimately aware of all current merchandising trends. Plus, a new perspective on the company's merchandising could in fact help UA uncover new growth opportunities, thanks to a fresh set of eyes.
The second departure is Chief Digital Officer Robin Thurston. Thurston was a founder for MapMyFitness, a fitness tracking app that Under Armour acquired in 2013.
Given Thurston's entrepreneurial bent (judging from his activity with MapMyFitness), it's not too surprising to see Thurston step away from Under Armour. After all, Under Armour is now a large corporation, boasting $4.2 billion in annual sales (Source: YCharts). It would only be natural for a technology entrepreneur like Thurston to begin looking for new opportunities, especially since the technology he created is now in the hands of a mature apparel company with ample resources to continue to support the product.
Given the sharp decline following these executive departures, Under Armour now looks like an attractive buy, rather than "damaged goods" with a fractured management team.
Premium Valuation, But Exceptional Growth Opportunity
Under Armour's shares currently trade near $37.15, which is more than 55 times expected 2016 earnings of $0.67 per share. That's certainly a premium price, especially considering the large $4.2 billion in annual sales Under Armour currently generates.
However, this premium price should be more than justified by the company's growth prospects as Under Armour continues to expand into new sports, and also adds to its global geographic footprint. Keep in mind, rival Nike (NYSE:NKE) currently generates $31.9 billion in annual sales. So there is ample room for UA to grow sales simply by taking a few percentage points of Nike's market share per year.
Over the next 3.5 years, Wall Street analysts are currently modeling 139% profit growth as evidenced by 2019 consensus estimates of $1.60 per share in earnings. Of course, Under Armour will have to continue to execute its growth strategies very well to meet this target, but steady growth in revenue and profit should go far in boosting confidence for UA's investors.

(Source: YCharts)
International expansion should continue to be a strong growth driver for Under Armour. In the first quarter, UA posted 56% growth in international sales, driven largely by growth in China. This year, UA hopes to hit $5 billion in total sales, proving that the company's expansion is still very much in play (Source: IBD article).
Given the strong growth opportunities, the company's reputation for quality products and the hefty investments in quality athlete sponsorship agreements, I expect UA to be a strong stock to hold for long-term gains. I would not be surprised to see shares of UA hit $48 again by the end of the year.
This price point would represent a multiple of 30 times the 2019 analyst expectations, plus strong execution from the company could cause Wall Street forecasts to be revised higher between now and then.
High volatility in the shares over recent weeks may set up a good opportunity for investors to sell put contracts against UA's shares. This strategy can be used to generate income while agreeing to buy shares at an attractive price.
If shares of UA close above the put strike price when these puts expire, investors can keep the income received with no further obligation. And if shares close below the strike price, the income is still kept and shares are purchased at the agreed upon price.
Regardless of what strategy is used to pick up shares, UA remains an attractive investment opportunity at the current price.
Disclosure: I/we have no positions in any stocks mentioned, but may initiate a long position in UA over the next 72 hours.
I wrote this article myself, and it expresses my own opinions. I am not receiving compensation for it (other than from Seeking Alpha). I have no business relationship with any company whose stock is mentioned in this article.