The recent rally in Brent crude oil prices to almost $48 a barrel in the past 10 days from less than $44 a barrel has injected some life into the stock prices of upstream oil companies and shale oil producers. ConocoPhillips (NYSE:COP) is no different as the stock has inched up close to 2% in the past 10 days, driven by the 10% improvement in Brent prices.
But, apart from the recent uptick in the stock price of ConocoPhillips, another reason for investors to rejoice is the fact that the company's dividend is now in safe territory. Not so long ago, in February of this year, ConocoPhillips had reduced its dividend by 66%, which was the first cut in around 25 years. At present, the company pays a quarterly dividend of 25 cents a share, translating into an annual yield of 2.33%.
Looking ahead, I believe ConocoPhillips will be able to sustain this level of dividend given its moves to improve cash flow by selling assets, lowering capital expenses and producing from efficient assets that can generate returns in the current environment. Let's take a look.
Steps to conserve cash will allow company to sustain the current dividend
ConocoPhillips had slashed its dividend earlier this year in light of the volatility in oil prices. As such, the company decided to bring down its dividend to a level wherein it can satisfy the same from the cash that it generates from its operations. For instance, in the first quarter of the year, the dividend outlay was at $300 million, which means that the company will be spending around $1.2 billion on its dividend this year.
In comparison, ConocoPhillips had generated $700 million in cash from operations last quarter, indicating that its dividend was well within its means. But, the bad part was that capital expenses stood at $1.8 billion last quarter, indicating that it failed to achieve cash flow neutrality. However, going forward, ConocoPhillips should be able to achieve cash flow neutrality.
This is because the company has brought down its capex forecast for the year to $5.7 billion, down from $10.1 billion last year. Thus, in the remaining three quarters of the year, ConocoPhillips should ideally spend $1.3 billion each quarter, excluding the amount that it has already spent in the first quarter. In all, the company will be able to bring down its capex outlay by $4.4 billion this year, which will positively impact its cash profile.
The good part is that at this level of capital expenditure, ConocoPhillips will be able to keep its production flat, which will play a key role in helping the company achieve cash flow neutrality. On the other hand, the company also is bringing down its operating costs by $1 billion in 2016, as against last year. This indicates that Conoco will achieve total cost savings of $5.4 billion in 2016 by combining the capex reduction and the operating cost reduction.
Thus, after accounting for the $1.2 billion of dividend that the company will pay out, it will be left with room of $4.2 billion, which will act as a cushion for the company against declining oil prices and further cash flow reductions. When we spread this across four quarters, Conoco will have a quarterly cushion of $1.05 billion that it can use to invest in its business. Now, last quarter, the company spent $1.8 billion on capex, so it exceeded this cushion. Going forward, as Conoco will reduce its capex to a quarterly run rate of $1.3 billion ($5.7 billion minus $1.8 billion and then divided by 3), it will come close to achieving cash flow neutrality at the current dividend level.
A closer look at cash flow prospects
ConocoPhillips believes that it will be able to achieve cash flow neutrality if Brent prices are at $45 per barrel, as shown below.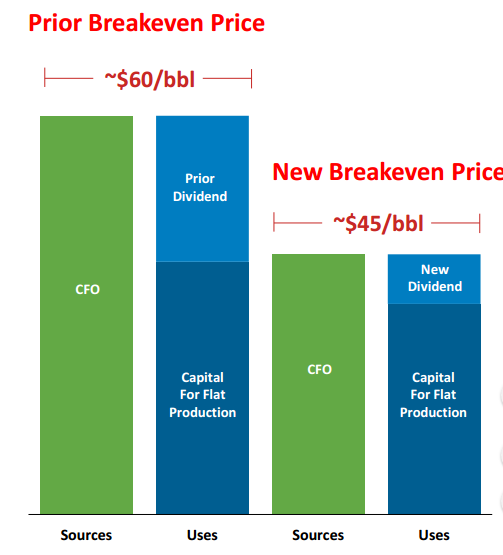 Source: ConocoPhillips
The good news is that after struggling badly in the earlier part of the year, the Brent index is now at more than $45 per barrel. At present, the Brent crude price is around $48 per barrel. At the end of April, the monthly Brent price averaged at $42.25 a barrel, but this month the price has shot up remarkably. This is shown below: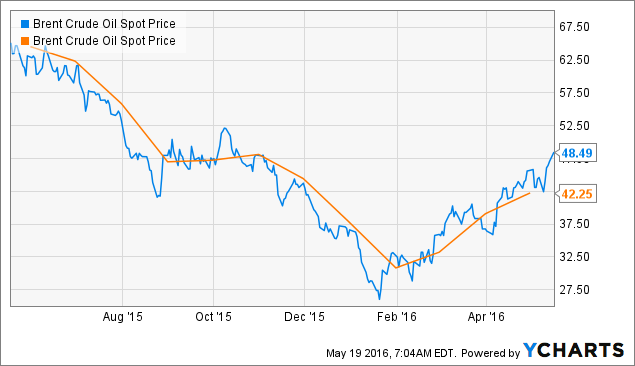 Brent Crude Oil Spot Price data by YCharts
Now, at current Brent price levels, which look sustainable due to oil supply constraints, ConocoPhillips will achieve cash flow neutrality. This is because for each $1 per barrel change in the price of Brent crude, Conoco will witness a jump of $100 million to $120 million in its annualized net income. Since Brent is now almost $3 a barrel higher than Conoco's target, the company should see a positive impact to the tune of $300 million to $360 million on its net income this year.
Conclusion
ConocoPhillips has brought down its dividend to a level where it is sustainable in the current oil pricing environment. More importantly, at this level of dividend and the prevailing Brent crude oil pricing environment, ConocoPhillips will be able to achieve cash flow neutrality. This means that the company will not need to take on any more debt. Hence, considering the improving oil pricing environment and ConocoPhillips' moves to improve its capital and cash flow structure, the company looks like a good bet going forward.
Disclosure: I/we have no positions in any stocks mentioned, and no plans to initiate any positions within the next 72 hours.
I wrote this article myself, and it expresses my own opinions. I am not receiving compensation for it (other than from Seeking Alpha). I have no business relationship with any company whose stock is mentioned in this article.