On Thursday morning, Wal-Mart (NYSE:WMT) posted its fiscal Q1 earnings that surprised the investment community and sent shares climbing higher by over 8% in pre-market trading. The entire retail segment has been in a major sell-off as a number of firms have reported declining sales and margins on the back of increased competition from e-commerce sites. Wal-Mart shares had sold off rather substantially in the week leading up to the company's earnings, but have made back most of this ground in its post-earnings rally as the company's operating results represent a stark contrast to many peers at the higher end of the retail market. Wal-Mart has a rather different business model and a more diverse product offering than the likes of apparel retailers such as Macy's (NYSE:M), Nordstrom (NYSE:JWN) and Kohl's (NYSE:KSS) which adds evidence to the notion that the current retail sales slump may be an isolated apparel issue. This puts Wal-Mart more in line with the recent results of Target (NYSE:TGT) as Target experienced revenue headwinds and a slight drop in net income, however share repurchases enabled the company to post EPS growth. Wal-Mart did post compressed margins and lower EPS for the quarter, however the company trades for a fair valuation relative to many of its peers and has shown a commitment to growing its dividend payments to shareholders while also returning capital through share repurchases. It appears that the bulk of the retail sector's troubles have been isolated to the apparel retailers which is a troubling trend for those firms, but does keep the likes of Wal-Mart and Target somewhat insulated. Where Wal-Mart and Target are different is their respective outlook. At 15x TTM earnings, Wal-Mart could represent value for shareholders as many look to avoid the apparel retailers.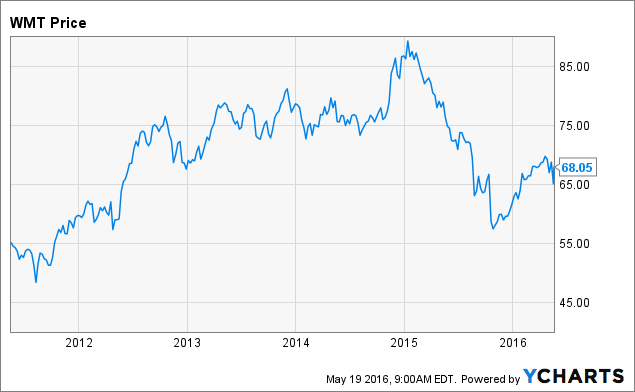 WMT data by YCharts
Over the past year, shares of Wal-Mart have been rather volatile as conflicting outlooks for the retail giant's future has led to a possible disconnect between the firm's underlying operating results and its valuation. Inclusive of Thursday's morning's earnings, Wal-Mart now trades for just 15x TTM earnings, which is a meaningful discount to its own historical valuation and that of its peers. Wal-Mart has guided for comparable sales growth of roughly 1% for its fiscal Q1 while many apparel retailers are guiding major drops in sales. Furthermore, Target has guided for Q2 sales to be flat to down two percent, which might not seem like a major drop but as profit margins have been compressing from already low levels, this drop in sales could have a sizable impact on its profitability.
Wal-Mart is looked upon by many investors for its strong history of returning excess capital back to shareholders through growing dividend payments and share repurchases. In the fiscal first quarter of this year alone, Wal-Mart returned over $4.3 billion to its shareholders through a combination of dividends and share repurchases. The below chart shows how the company has been able to grow its dividend payments to shareholders in recent years.
WMT Dividend Per Share (Annual) data by YCharts
Share repurchases at Wal-Mart have been important in reducing its shares outstanding and keeping total dividend payments reasonable even as per share dividends grow. The chart below exhibits how Wal-Mart has been able to substantially reduce its shares outstanding over the past few years.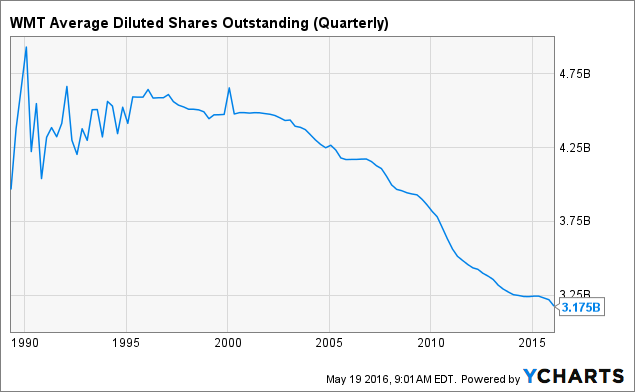 WMT Average Diluted Shares Outstanding (Quarterly) data by YCharts
While returning excess capital to shareholders, Wal-Mart still trades for a reasonable valuation and the company should remain insulated from the downturn in the retail apparel market. The company has a more diverse product offering than the likes of Macy's, Nordstrom and Kohl's and Wal-Mart's guidance paints a picture of a brighter near term future. At 15x TTM earnings, with a strong dividend yield of 3.2% and a history of returning excess capital to shareholders, there could be value in Wal-Mart at current following encouraging earnings figures.
Jordan Flannery has been a contributor to Seeking Alpha since 2012 and has covered a wide range of companies. To stay up to date with his latest Seeking Alpha articles, please click on the "Follow" button at the top of this article and consider subscribing to real-time alerts. Thanks
Disclosure: I/we have no positions in any stocks mentioned, and no plans to initiate any positions within the next 72 hours.
I wrote this article myself, and it expresses my own opinions. I am not receiving compensation for it (other than from Seeking Alpha). I have no business relationship with any company whose stock is mentioned in this article.