Natural gas (NYSEARCA:UNG) prices aren't pricing in much, and that's understandable given where storage levels are. EIA just came out with this week's storage figures and the build was much better than expected. Storage levels, however, still sit much higher than the five-year average and last year's number.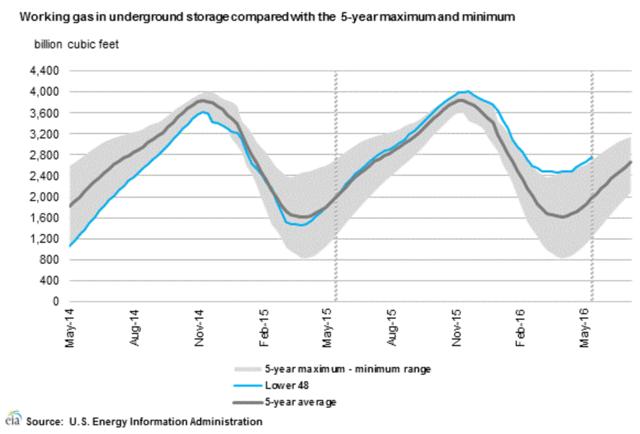 Despite storage levels being high, we think that the market has already priced in "peak pessimism" and prices will only rise going forward. According to EBW Analytics President Andy Weissman:
In the event we have an ultra-mild summer, and we don't see much likelihood of that but you can't rule it out, and if in fact we have a winter next winter that is just as mild as the last winter, and we don't see much likelihood of that happening, prices will be relatively close to the present forward curve.

We see the current prices for natural gas as being almost a worst-case scenario. That doesn't mean that prices will immediately go straight up, and over the next two to three weeks I think we will see further declines. But we view that as very temporary and a direct product of the fact we are in the middle of the shoulder season when demand for natural gas is at its low point for the year.
We think he's spot on, and the analysts that think "low-cost" basins can provide an infinite amount of cheap gas are hallucinating. Shale gas producers have been drilling solely sweet spots and utilizing DUCs to grow production. Once the DUCs are exhausted, which we predict by next spring, rigs will need to be brought back on in order to keep productions flat and growing. We currently calculate that natural gas rig counts need to rise to 120-130 in order to keep productions flat once all DUCs are exhausted. That's 50% higher than where gas rigs are now.
Weather Forecasts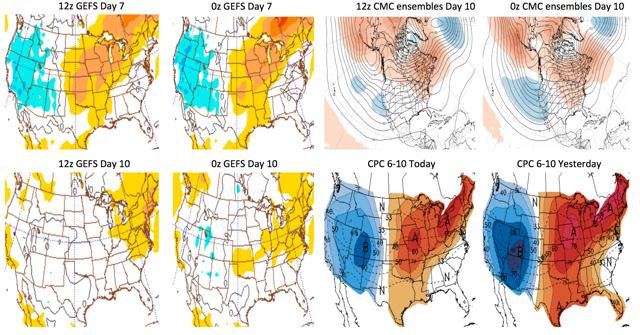 As always, if you enjoy our natural gas daily, please click on the "follow" button above and read our other energy write-ups. In addition, we also have a premium subscription platform that's tailored to long-term value-oriented investors. We provide recommendations of stock ideas and portfolio composition. Our HFI portfolio has now outperformed the SPY by 8% since inception. We look forward to you joining the HFI platform.
Disclosure: I/we have no positions in any stocks mentioned, and no plans to initiate any positions within the next 72 hours.
I wrote this article myself, and it expresses my own opinions. I am not receiving compensation for it (other than from Seeking Alpha). I have no business relationship with any company whose stock is mentioned in this article.