The excellent success of Phillips 66 (NYSE:PSX) since the Conoco Phillips (NYSE:COP) spin-off back in 2012 has fully validated management's decision to do the spin. However, with the spin-off of the mid- and downstream businesses, COP became a pure upstream producer with direct exposure to oil & gas commodity prices. As a result, the company has been hammered by dramatically lower realized prices. This culminated in a drastic cut in the quarterly dividend from $0.74 to $0.25/share. This only months after management raised the dividend by a penny and reiterated the dividend's safety and priority.
Part of the reason for COP's suffering was management's lack of a hedging strategy. Back in the day when COP was a member of the "Big-3" US integrated companies - along with Exxon (NYSE:XOM) and Chevron (NYSE:CVX) - none of the Big-3 hedged production. Exxon and Chevron still don't. That is because they have midstream and downstream chemicals and refining segments to offset lower upstream returns during commodity price down cycles. As mentioned earlier, COP no longer has midstream and downstream protection. So management's decision not to hedge production to insure an adequate level of cash-flow is, well, baffling to say the least. Especially after management reiterated the dividend was safe. The obvious questions are: how could management reaffirm the dividend in the face of such a severe price decline with un-hedged production, and, why is management still not hedging production today?
I suppose I have some egg on my face because I wrote numerous articles praising COP management as the best in the business. My opinion was due to the excellent long-term strategic plan the company had put in place during the financial crisis and the company's resulting out-performance versus peers Exxon and Chevron. COP was ahead of the curve and successfully sold non-core and low return assets, developed a leading US onshore shale resource in the Eagle Ford, spun off PSX, and delivered excellent total returns to shareholders. Great job! But management also deserves criticism when it drops the ball. Obviously cutting the dividend was a case in point and grabbed all the headlines. But the lack of an active hedging program really hurt 2015 returns and also deserved some press. Still, even today, COP management is opposed to hedging. Why?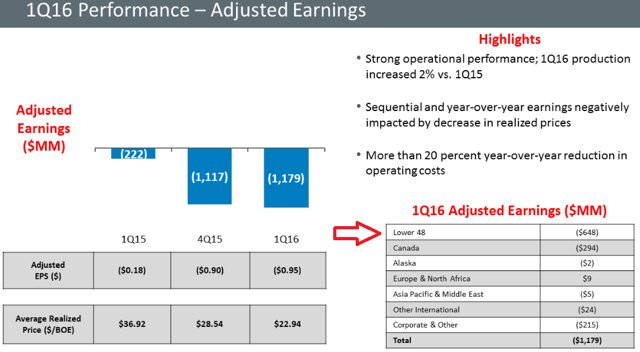 Source: Q1 Presentation
Note the biggest loss in the Q1 EPS report shown above was in the Lower-48 Segment: a whopping $648 million dollars. As I pointed out in November of last year (As US Majors Shift To Short-Cycle Shale Oil Assets, Where Are The Profits?), I found it quite worrisome that the solution to the low-price of oil and gas was to, seemingly, double-down on a short-cycle asset base that was posting huge losses. Indeed, COP's Lower-48 adjusted loss ballooned from $463 million in Q3 of last year to $648 million in Q1 2016. Look at the Q1 supplemental data to see how scary the un-adjusted numbers are.
Part of the reason for the out-sized losses in the lower-48 was the lack of an adequate hedge book. According to the Q1 supplemental data, COP's realized prices for the lower-48 were:
Oil: $27.04/bbl
Natural Gas: $1.80/Mcf
Now, in Q1 Lower-48 oil production averaged 202,000 bpd. Now, let's say that half that production, or 100,000 bpd, had been hedged last year at $45/bbl, that would have amounted to an extra $162 million in revenue (minus the cost of the derivative contracts). This is not chump change. The same argument could be made for Lower-48 natural gas production - remember, while COP has been shifting production towards liquids, 19% of Q1 production was still dry gas. In addition, COP is still a Top-10 US natural gas producer: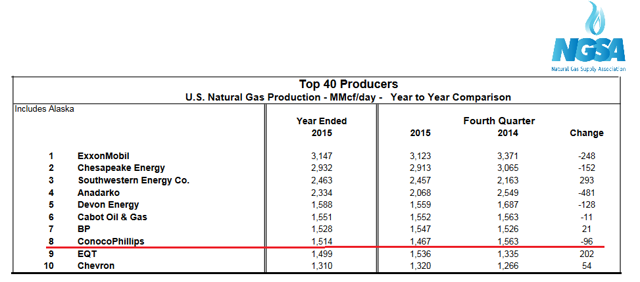 Source: Natural Gas Supply Association
While some might say it's easy to throw stones in hindsight, I cannot think of one Lower-48 centric upstream producer that does not hedge oil or gas (or both) production.
Yet in response to a question during the recent annual shareholders meeting on why COP was not implementing a derivative based hedging program, CEO Ryan Lance said:
Yes, good question. We've looked at that in the past and I would tell you that the market is probably not big enough for a company our size and would tell you that we're pretty naturally hedged today so we have production that's traded at West Texas Intermediate, WCS, West Canadian Select. We have international, so we're actually pretty naturally hedged as a company across all the markers.

We have looked at it to try to protect the floor and the base if we go through another downturn, but that's maybe something that you might see us think about as we go forward, but for the size company we are and ability to have a material impact on our cash flows and our budgets, it's really difficult for us to lock in a price on a significant portion of our crude such that it have a material impact on our capital and our financial plans going forward. It's something that we're actively looking at because we know that the industry has done that on the smaller company side and is there any way we could take advantage of that technique.
Source: Annual Meeting Transcript
As for the "size" comment, I would point out that EOG Resources (NYSE:EOG) actively hedges Lower-48 production and it produced 265,000 bpd of liquids in Q1 of this year, roughly the size of COP's Lower-48 production.
As for the "naturally hedged across all the markers" comment, since the spread between Brent and WTI has largely been erased over the past year, and considering the ban on domestic crude oil exports has been lifted, this isn't so much a "hedge" as it is simply geographical diversity of supply.
Reuters reported that Lance said:
If you wanted to protect all 1.5 million barrels per day I don't think the market is that liquid," he said. "We think it would be very difficult to execute something like that in the marketplace.
But nobody suggested hedging ALL of production. Alaska is legacy production that is very low-cost and needs no hedge. That is proved by the modest $2 million loss in the Alaskan segment in Q1 (see the chart above). The same can be said of APME and "other international". The problem is clearly in North America (Lower-48 and Canada). And that is clearly where an active hedging program should be focused.
The good news is that COP is making great strides in terms of cost reduction, and as Deutsche Bank points out, the company is highly levered to an oil price recovery (Deutsche Bank has a $62 dollar price target). However, it is hard to be enthusiastic about the recent rally in WTI to within a buck-or-two of $50/bbl: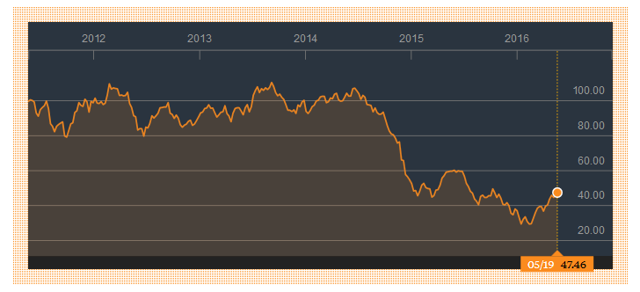 Source: Reuters
I say this because the recent rally was driven by outages in Canada, Libya, and Nigeria - which I view as relatively short term events. Meanwhile, Iran continues to ramp up production and the US shale plays have a plethora of drilled but uncompleted wells (DUCs) just waiting to come online once oil rises to a given price. The DUCs, combined with still record high inventory, will likely cap any price rise for quite a long while to come.
Meanwhile, Bloomberg reports that US oil drillers were very active hedgers as oil approached $50. As a COP shareholder, it would be fine with me if COP was one of those hedging a meaningful percentage of its onshore Lower-48 shale production. Does it cap the upside? Of course. But it also protects cash-flow on the downside - and that is what hammered COP in 2015 and again in Q1 of this year. If the Fed raises interest rates in June, and the dollar ratchets higher from here, and if Canada comes back online soon, COP management will likely be glad it had some derivative contracts in place.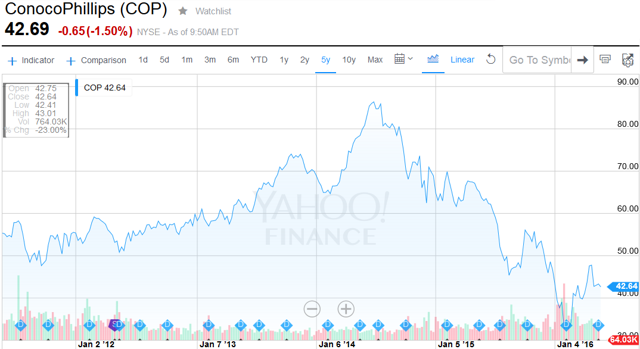 Disclosure: I am/we are long COP, CVX, PSX, XOM.
I wrote this article myself, and it expresses my own opinions. I am not receiving compensation for it (other than from Seeking Alpha). I have no business relationship with any company whose stock is mentioned in this article.
Additional disclosure: I am an engineer, not a CFA. The information and data presented in this article were obtained from company documents and/or sources believed to be reliable, but have not been independently verified. Therefore, the author cannot guarantee their accuracy. Please do your own research and contact a qualified investment advisor. I am not responsible for investment decisions you make. Thanks for reading and good luck!