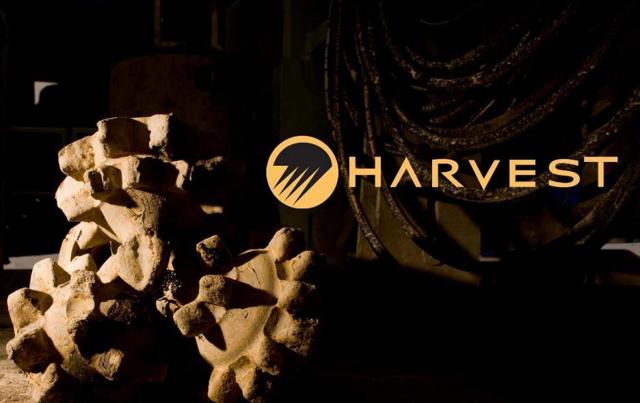 This article is an update of my preceding article on Harvest Natural Resources (NYSE:HNR) published on April 4, 2016.
Here's a look at the Company's financial situation as of March 31, 2016:
$ million
Q1 2016
Q4 2015
Q3 2015
Q2 2015
Q1 2015
Revenues
0
0
0
0
0

Cash and cash equivalents

in $ million

1.417
7.761
11.802
18.88
1.417

G&A

in $ million

5.949
3.966
5.369
5.517
4.158

Total current assets

in $ million

2.432
11.048
14.931
19.857
2.064

Oil and gas property

in $ million

30.910
31.006
54.455
54.544
54.539

Total current liabilities

in $ million

6.698
4.816
6.678
7.012
14.792

Total assets

in $ million

39.097
47.781
238.571
242.532
248.046

Total liabilities

in $ million

17.690
10.575
50.591
74.002
29.120

Total stockholders' equity

in $ million

23.327
36.759
109.193
89.829
113.726

Gain/loss per share

$

(0.27)
(1.42)
0.13
(0.60)
(0.13)

Net income

$ million

(14.096)
(73.2)
5.712
(25.7)
(5.617)

Long-term debt

in $ million

1.211
0.214
0.106
0.145
8.9 (May 11)

Warrant derivative

in $ million

9.564
-
-
37.595
5.503

Shares outstanding issued

in million

57.987
57.987
57.987
49.32
49.32

Shares outstanding

in million

51.415
51.415
44.077
42.748
42.748
Note: The Company has not generated any revenue since 2010.
Note: The Company continues to report Venezuela production and comment, whereas HNR has not gotten one single dollar from Venezuela since 2010.
M. Steve Haynes said in the conference call:
On May 3, 2016, CT Energy advanced Harvest an additional $3 million was from general corporate expenses. Furthermore it was agreed under the new Third Amendment to the 15% note, the $1.1 million interest payment that have been due and payable on July 1, less applicable withholding tax, will as to the into additional principal. The new principal amount of 15% Note will be $31 million effective as of July 1, 2016.
Commentary
Harvest Natural Resources released its 1Q'16 earnings on May 17, 2016. The Company posted no revenue (since November 2010) and a net loss of $14.096 million or $0.27 per share.
The earnings were followed by a conference call, where M. James Edmiston, CEO, and M. Steve Haynes, CFO, presented the situation.
M. Steve Haynes said in the conference call:
Harvest recorded a first quarter net loss of approximately $14.1 million or $0.27 per diluted share compared to a net loss of $5.6 million or $0.13 per diluted share for the same period last year. The first quarter results include exploration charges of $700,000 and nonrecurring non-cash items related to loss on the change in their fair value of warrant liabilities of $4.1 million and $5.2 million to closer our potential loss on note receivable for CT in a year.
1 - Venezuela
Very vague statement from M. Edmiston here:
And above we have no significant updates since the last call, we continue to involved in sections with multiple parties regarding forming to our interest in the block with a focus on commencing drilling on prospect these sometime this year.
Whatever it may mean?
2 - Gabon
Harvest continues to evaluate its development plans based on the 3D seismic over the prospective outboard and the development areas and is engaged in a process with the objective to farm down some of its 66.667% working interest in the block.
HNR has been "evaluating" the development plans for over a year now, and obviously the Company has not been able to farm down its 66.667% working interest in the block. A quick look at its neighbor VAALCO Energy (NYSE:EGY) demonstrates how difficult the market can be in West Africa with oil trading too low.
3 - NYSE delisting notice
On April 25, 2016, HNR received a notice from the NYSE, indicating that the Company is not in compliance with a second NYSE continued listing requirement.
The Company is not in compliance with its average global market capitalization over a consecutive 30 trading-day period, which is now less than $50 million. Yesterday, the market capitalization was approximately $23.65 million and should be no less than 0.97.
HNR stockholders' equity is less than $50 million and was $23.327 million in 1Q'16.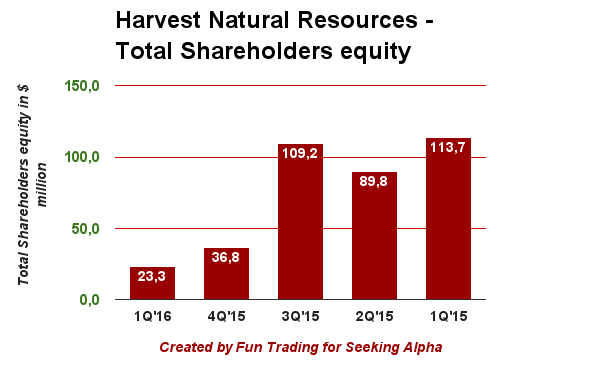 As required by NYSE rules, the Company notified the NYSE that, within 45 days of receipt of the notice, the Company will submit a business plan that demonstrates its ability to regain compliance within 18 months.

The NYSE will either accept the business plan, at which time the Company will be subject to quarterly monitoring for the compliance with the plan, or will not accept the plan. If the Company fails to comply with the business plan or the NYSE does not accept the plan, the NYSE may commence suspension and delisting procedures.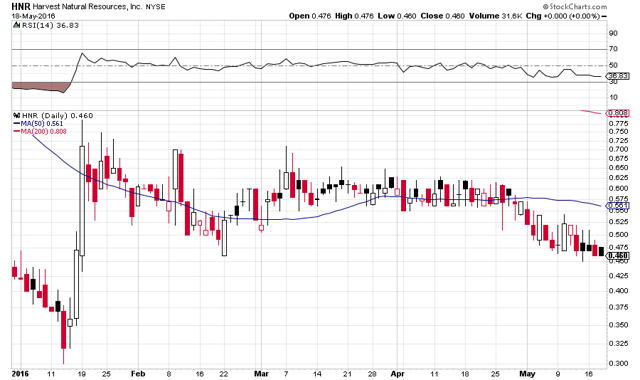 To remain in compliance, HNR will have to increase its shareholders' equity somehow and eventually announce a 1:10 reverse split. I am not really optimistic and do not see the Company able to convince the NYSE. I believe HNR may probably be traded, soon, on the OTCBB under the ticker HNRQ. Perhaps, a potential sale of the Company's only valuable Gabon assets is still possible?
To answer my question above, I do not have much hope left. I recommend extreme caution when trading the stock.
Disclosure: I/we have no positions in any stocks mentioned, and no plans to initiate any positions within the next 72 hours.
I wrote this article myself, and it expresses my own opinions. I am not receiving compensation for it (other than from Seeking Alpha). I have no business relationship with any company whose stock is mentioned in this article.
Editor's Note: This article covers one or more stocks trading at less than $1 per share and/or with less than a $100 million market cap. Please be aware of the risks associated with these stocks.