It has been a difficult year for the retail industry, but one shining light in the luxury sector has been Coach (COH). So far in 2016 it has produced a 14% return, compared to a 7% decline in the SPDR S&P Retail ETF (NYSEARCA:XRT) and a flat performance by the S&P 500 (NYSEARCA:SPY). We believe that the company is set to have a good quarter which should propel the share price higher once again after an industry-wide decline in May.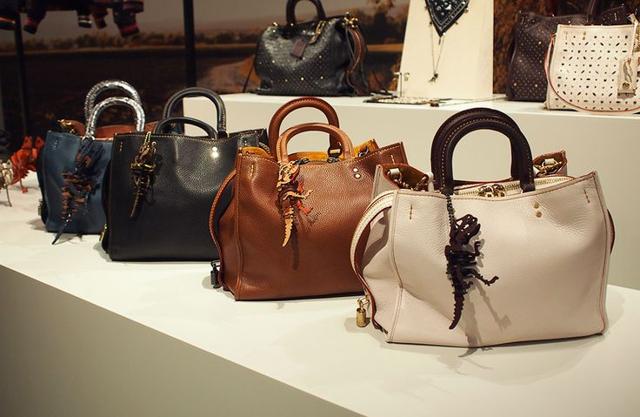 We have had an eye on Coach for some time and have been waiting for an appropriate entry price. Following a strong third quarter result we didn't expect an opportunity to buy shares would present itself to us so quickly, but it did and we have. As you can see on the chart shown below, the share price has had a tough time in May, wiping out any progress its April 26 results brought and bringing it down to a level not seen since February.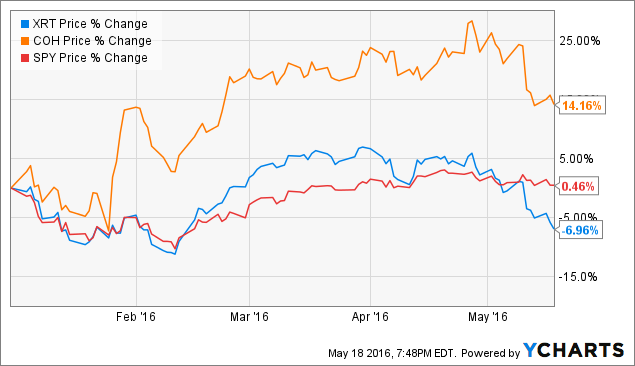 In our opinion this is a great opportunity that shouldn't be missed. Firstly, a little word on its quarterly results. Coach pulled in earnings per share of 44 cents on revenue of $1.03 billion. This was a beat by 3 cents and $10 million, respectively, with revenue up a huge 10.8% year-over-year. Not many retailers have been able to achieve these sorts of figures, hence our attraction to the company.
Driving this growth has been the company's international operations. However, domestic sales have started to pick up and we have confidence things will improve over the next few quarters. This quarter saw the end of comparable sales declines, which could well be the turning point for the segment.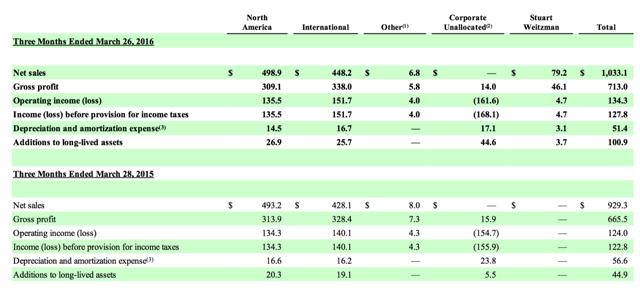 Source: Company 10Q
Its international businesses posted strong growth on a constant currency basis for the quarter. Coach delivered double digit increases in Mainland China and Europe together with growth in sales in Japan and other Asian countries. Of course with sales split roughly down the middle, if rate rises cause the US dollar to strengthen it is going to be faced with currency headwinds for a long while to come. Management has indicated that currency headwinds from current exchange rates are expected to negatively impact annual revenue growth by 225 to 250 basis points.
However, the company is taking steps to improve its operating margin substantially. It dropped to 13% in the quarter, but management has ambitious plans to reach a 20% operating margin in FY 2017. It plans to achieve this through management changes and the elimination of 300 jobs. A streamlined Coach could help boost its bottom line growth over the next few years.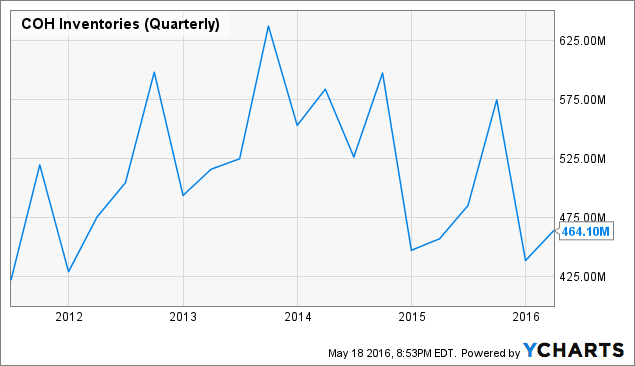 We are pleased to see inventory levels are down 2% year-over-year. (Adjusting for inventory acquired from the Stuart Weitzman acquisition). Inventory levels are a big problem in the retail industry and failure to have control over it can lead to markdowns and margin pressure. We feel confident management has done a great job here and expect to see more of the same in the future.
Things have been looking very good for Coach in the last few quarters. But the past is the past and we need this to continue into the future if we want to see strong returns. Well, the good news is that on the earnings call management hinted that April has been a positive month for comparable sales and has given them confidence that momentum will be sustained through to the quarter's close. Despite all the doom and gloom around retail sales, we expect Coach will produce positive comparable sales this quarter. Being one of the most closely watched metrics for evaluating retail shares, we expect this will propel the share price back to its highs again.
Although the Chinese economy is regarded as being under pressure, there is still an ever-increasing middle class that both have money and love spending it. Thankfully for Coach, its brand is one of the most sought after by Chinese consumers so we expect it to see increasing sales for some time. How long it will remain the case is the big question. This sort of popularity seems to go through cycles. But Coach has shown that it is not afraid of acquiring new brands, which could be key to maintaining long-term growth and diversifying its business. On its call it stated that its second priority was growth through strategic acquisitions, which fills us with confidence that there is a long-term investment opportunity here.
Finally, although we are not factoring it into our forecasts, there has been a lot of speculation of a link up with Disney (NYSE:DIS) and Mickey Mouse in particular. Judging by the response on social media, consumers are quite excited by the prospect of it. We feel quite sure that any collaboration would be a boost to sales, but until we know more it can only be regarded as speculation.
We value the company on a price to earnings multiple of 23. Our forecast for full year earnings is $1.93, representing a slight increase year-over-year. At 23 times earnings this means a price target of $44.39, which is upside in the region of 19%. Let's not forget the company is paying a full year dividend of over 3% also, making this a difficult investment to turn down.
There is one caveat though. That is that the company post positive comparable sales. It could well smash our earnings forecast, but if it fails to post positive comp growth then we feel there is little chance of it reach our price target. Luckily, we feel the company is positioned well to deliver on this and thus we have confidence our price target will be met.
Disclosure: I am/we are long COH.
I wrote this article myself, and it expresses my own opinions. I am not receiving compensation for it (other than from Seeking Alpha). I have no business relationship with any company whose stock is mentioned in this article.