Since we closed our position in Sotheby's (NYSE:BID) the share price has actually climbed higher by 6% despite the company delivering a dreadful quarter culminating in a 12 cents miss on earnings per share. The market was expecting earnings to come in at negative 23 cents, but the actual results was negative 35 cents (negative 41 cents without adjustments). Further to this, the company missed on the top line with the consensus estimate being $124.5 million, whereas Sotheby's only managed to produce $106.5 million. So why has the share price managed to hold firm?

It's not often you can miss on both the top and bottom lines, by such a degree, and not get thoroughly punished for it. In fairness though, the first quarter is generally a loss-making quarter, with most business (around 80%) traditionally occurring in the second and fourth quarters. This is due to the auction calendar which is highly seasonal, but expenses are spread evenly across all quarters leading to losses in the first and third quarters generally. In fact, in the last 25 years the first quarter has seen a loss 22 times now.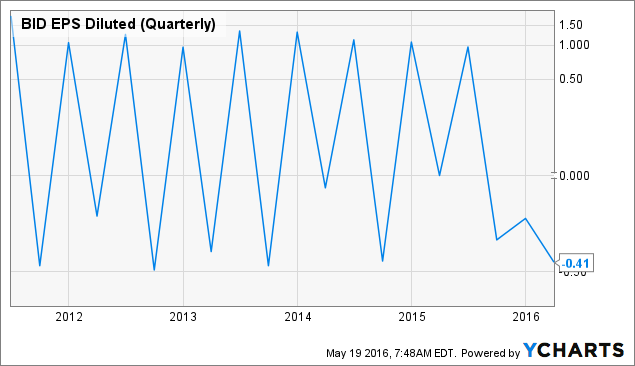 But still it is an alarming step backwards after a very disappointing fourth quarter as you can see above, and its biggest first quarter loss in seven years. In light of this we are incredibly surprised to see the share price higher than where we left it on April 5. We sold our shares after strong gains because there were reports that art prices were on the decline. When art prices decline, unless the collector is strapped for cash, it is likely that many collectors will put art back in storage or on their walls rather than take it to market. The knock on effect of this is of course fewer art sales.
But also there is a hidden danger to falling art prices. As we pointed out last time, Sotheby's also has a finance segment which lends against art. It has been reported that Malaysian financier Low Taek Jho sold works by Claude Monet, Pablo Picasso and Jean-Michel Basquiat for a total of around $54 million, well below their expected value. The sales took place with unusually steep losses on at least two of the pieces. It is understood, although unconfirmed, that these were being used as collateral for a $100 million loan from Sotheby's.
Finally, the third problem the company faces with low levels of sales is winning business. When there are fewer and fewer pieces of art up for grabs, the competition to list these pieces is fierce and the collector is aware of this. They can hold out until they get the best terms available to them. Our fear is that there will be more gambles being made like the Taubman collection. The company may have just scraped through that one more or less unscathed, but it could have gone very badly.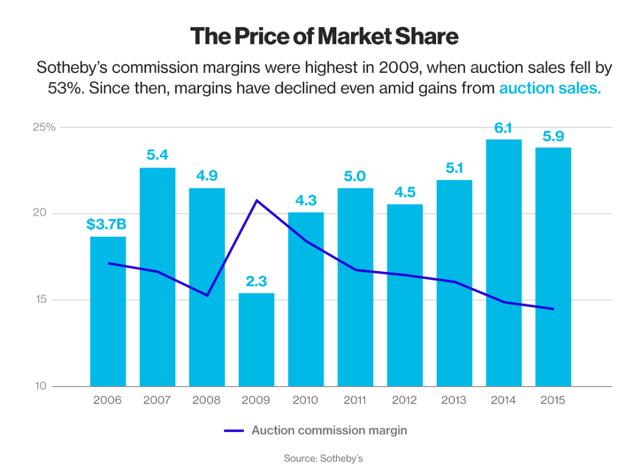 Source: Bloomberg
As you can see above, auction commission margins have been trending downwards since they peaked in 2009. There was a spot of relief in the latest quarter with its auction commission margin climbing 40 basis points to 15.4%. This could be the sole reason the share price held up, but on such low volume of sales, we wouldn't read too much into it just yet. When the big auctions start in the second quarter we'll be watching on carefully to see how the company is doing and how it is going about winning business.
When demand and art prices pick up we would expect Sotheby's to be positioned well to profit. The 272-year-old company is ready for the modern world through its website, eBay (NASDAQ:EBAY), and apps on Apple's (NASDAQ:AAPL) iPhones, iPads, and even Apple TV. With so many different avenues to watching and taking part it really does open up auctions to an even larger audience than ever. So we expect this will be key to growth in the future, but not truly helpful until the market is booming again.
When that will happen is hard to predict. We spoke previously about how we felt the rise in Chinese billionaires would create a boom for the art market, but so far we have seen little sign of this. The apparent economic slowdown in China could be partly to blame for this, but the second quarter may reveal more. If they don't bring about a boom then unfortunately it could be several quarters before we see significant progress. When the big pieces have been off the market for some time, we expect their desirability will increase, and so with it will art prices once again.
We wouldn't recommend buying or even shorting Sotheby's right now despite how tempting it may be. The second quarter is going to be the quarter that makes or breaks its year and could send the share price hurtling either direction. We think sitting this one out is the smartest move at this point. We do hope to see an improved performance in the second quarter, but we're not entirely convinced it will turn out to be the case and expect to see the share price take a steep decline.
Disclosure: I/we have no positions in any stocks mentioned, and no plans to initiate any positions within the next 72 hours.
I wrote this article myself, and it expresses my own opinions. I am not receiving compensation for it (other than from Seeking Alpha). I have no business relationship with any company whose stock is mentioned in this article.