The U.S. Environmental Protection Agency [EPA] released its proposed biofuel blending volumes for 2017 and 2018 on Wednesday. As expected, the proposed volumes are higher than those released last December but lower than those established in the original revised Renewable Fuel Standard [RFS2]. The EPA's announcement quickly came under renewed criticism from both the petroleum lobby, which opposes the mandate, and the biofuels lobby, which broadly supports it. While the petroleum lobby opposes any increase to the blending volumes and would rather see the RFS2 repealed, the biofuels lobby has pushed for volumes that were even higher than those contained in the EPA's proposal. This article looks at the implications that the proposal's implementation later this year would have for U.S. investors.
The new numbers
The EPA has proposed to increase the required blending volumes for all four RFS2 categories. The biggest news is the increase to the de facto corn ethanol category, which the proposal would increase from 18.1 billion gallons in 2016 to 18.8 billion gallons or 3.9%. While not as large as the 7% increase that occurred between 2015 and 2016, it is notable for two reasons. First, the RFS2 caps the corn ethanol blending volume at 15 billion gallons. While the original legislation that created the RFS2 mandated that this cap be reached in 2015, the combination of the ethanol "blend wall" (ethanol is largely limited to a 10 vol% blend with gasoline by infrastructure constraints, although the EPA permits 15 vol% blends in newer vehicles) and declining gasoline consumption caused the EPA to revise the actual volumes lower in past years. The proposed volume for 2017 is the closest that corn ethanol has come to reaching this cap yet, and it represents growth of more than 1 billion gallons since 2014 (see figure).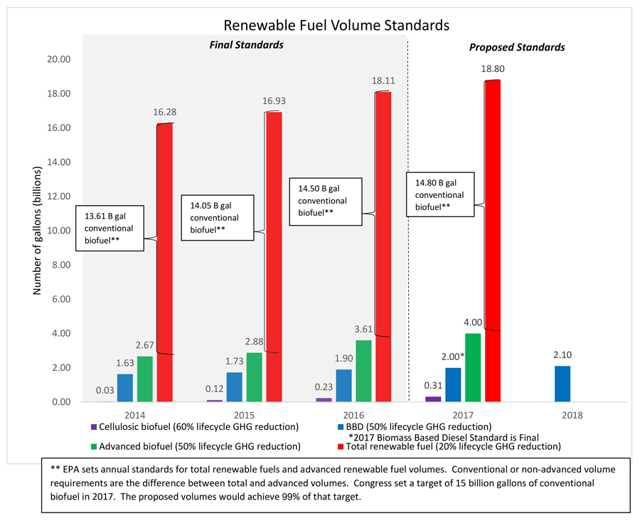 Source: EPA (2016).
The second reason that the corn ethanol increase is notable is because it is the closest that the biofuel has come to reaching its legislatively-established cap in several years. The revised volumes that the EPA established for 2014, 2015 and 2016 were below the legislative volumes by 800 million gallons, 950 million gallons and 500 million gallons, respectively. The 2017 volume is only 200 million gallons under the legislative requirement and, while biofuel groups expressed their disappointment that the EPA's proposed volume still came in under the legislative volume, the move represents a marked policy shift from previous years. Corn ethanol producers in particular have seen their earnings hit hard by persistent low fuel prices. A silver lining of these prices has been a reversal of a trend toward reduced fuel consumption by drivers, however, and this in turn has allowed producers to increase their volumes without exceeding the 10 vol% blend wall.
The proposed biomass-based diesel volume for 2018 is also important even though it represents another relatively small annual increase of 100 million gallons. In 2013 the EPA's proposed volume for the category was well below that which the industry was capable of producing. The biomass-based diesel category is unique in that Congress established a minimum volume of 1 billion gallons to be blended, but gave the EPA the explicit authority to set volumes exceeding this floor. Biomass-based diesel, the majority of which is met via biodiesel, does not face the same blending constraints as ethanol, and I expected the EPA to offset the "missing" ethanol volumes resulting from the 10 vol% blend wall with increased biomass-based diesel volumes. It took nearly three years but the EPA finally did just that last December, and the 2018 target of 2.1 billion gallons more than offsets the missing 200 million gallons of corn ethanol.
Finally, cellulosic biofuel has officially arrived on the scene after several years of being categorized as a no-show. While cellulosic ethanol production, which was originally expected to be the main contributor to the category, only provided 1.5% of 2015's total cellulosic biofuel volume of 142 million gallons, renewable natural gas produced from landfills and anaerobic digesters provided the balance. This gas is then used in modified vehicles in either compressed or liquefied forms. The 2015 cellulosic biofuel volume actually exceeded the mandated volume of 120 million gallons, and the EPA is proposing to set the 2017 volume 158% higher at 310 million gallons. This is, of course, still a far cry from the original legislative volume of 5.5 billion gallons of cellulosic biofuel, but it is now appropriate to consider the category to simply be five years behind schedule rather than completely non-existent.
Impacts on biofuel producers
The EPA's proposed corn ethanol volume for 2017 provides a much-needed boost to producers, all of which have seen their shares fall sharply since September 2014 (see figure) as low fuel prices have pushed their operating margins near zero. The annual demand growth created by 2016's blending volume has contributed to ethanol prices selling at a large premium to gasoline, and this development prevented ethanol margins from turning negative in Q1. The extra 300 million gallons of corn ethanol demand contained in the EPA's proposal is insufficient on its own to send margins back to their pre-2015 levels. It does provide producers with additional downside protection, however, by ensuring that margins will not decline to a level that would result in decreased production.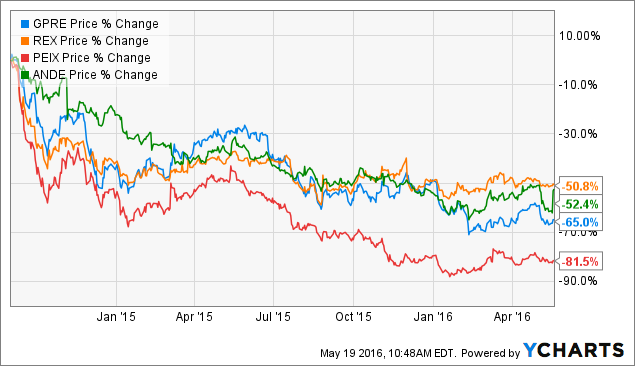 The earnings of Green Plains Inc. (NASDAQ:GPRE), Pacific Ethanol (NASDAQ:PEIX) and Rex American Resources (NYSE:REX) have the greatest exposure to ethanol margins due to their status as independent corn ethanol producers. Valero (NYSE:VLO) and The Andersons (NASDAQ:ANDE) are also sensitive to margins due to their large ethanol production segments. I consider Greens Plains's logistics MLP, Green Plains Partners (NASDAQ:GPP), to be the biggest beneficiary of the EPA's proposal, however, since its earnings are dependent on corn ethanol volumes rather than margins (so long as margins don't negatively impact production volumes). On the biomass-based diesel side, Renewable Energy Group (NASDAQ:REGI), which is America's largest such producer, is the primary beneficiary, although diversified producer FutureFuel (NYSE:FF) would also benefit from increased demand. Finally, Clean Energy Fuels (NASDAQ:CLNE) is contributing to the cellulosic biofuel volume with its RedeemTM renewable natural gas brand, and the EPA's proposal ensures continued demand growth for this product.
Impacts on refiners and fuel retailers
Independent refiners are most likely to be negatively impacted by the EPA's proposed volume increases. Refiners are required under the RFS2 to perform the actual blending necessary to meet the mandated volumes. While larger refiners have invested in the necessary equipment, their smaller, independent counterparts have historically opted to instead purchase blending credits known as Renewable Identification Numbers [RIN] from other parties rather than conduct their own blending. This was a rational strategy during the RFS2's early years since biofuel production easily met the mandate's volumes, and RIN prices traded for pennies as a result. RIN prices began to increase in early 2013, however, and the price of the largest D6 category surged by 11% yesterday to close at $0.82. Relatively high RIN prices have already had a sizeable negative impact on independent refiners' earnings in Q1, and this will only increase in Q2 as prices move still higher. Alon USA Energy (NYSE:ALJ), HollyFrontier Corp. (NYSE:HFC), PBF Energy (NYSE:PBF), Tesoro Corp. (NYSE:TSO), and Western Refining (NYSE:WNR) have all been heavily exposed to high RIN prices in the past.
Not all petroleum-based fuel companies are hurt by the proposal, however. C-store operators and fuel retailers Casey's General Stores (NASDAQ:CASY) and Murphy USA (NYSE:MUSA) both generate significant income from the RINs that they generate and sell via their respective ethanol blending operations. Higher RIN prices will only benefit both companies by making their blending operations still more valuable.
Conclusion
The EPA's recent proposal to increase the corn ethanol and cellulosic biofuel blending volumes for 2017 and biomass-based diesel blending volumes for 2018 will, if implemented in a final ruling later this year, have important implications for petroluem- and bio-fuel producers alike. The increased volumes provide additional downside protection for producers of corn ethanol and biomass-based diesel at a time when low fuel prices have been negatively impacting their earnings. Likewise, producers in the still-fledgling cellulosic biofuel market are assured of demand certainty as they ramp production up to commercial-scale volumes. Expected biofuel demand growth has also caused RIN prices to continue to climb, increasing the value of fuel retailers' blending operations. This has come at the expense of independent refiners, however, many of which meet their blending obligations via the purchase of RINs rather than actual blending operations. A final ruling by the EPA is expected in December following a public comment period, although recent history suggests that it will closely resemble this month's proposal.
Disclosure: I am/we are long REGI, GPP, WNR, PBF.
I wrote this article myself, and it expresses my own opinions. I am not receiving compensation for it (other than from Seeking Alpha). I have no business relationship with any company whose stock is mentioned in this article.