Alphabet's (NASDAQ:GOOG) (NASDAQ:GOOGL) Google IO developer conference highlighted progress in key areas such as Android and especially Artificial Intelligence (AI). AI is going mainstream, becoming an essential part of platform operating systems and cloud services. As the creator of AlphaGo, the first AI to defeat a human Go player, Google is arguably out in front in AI services. Leveraging AI to confer competitive advantage for its various platforms is the centerpiece of Google's business strategy. It's a good, if somewhat disquieting, strategy.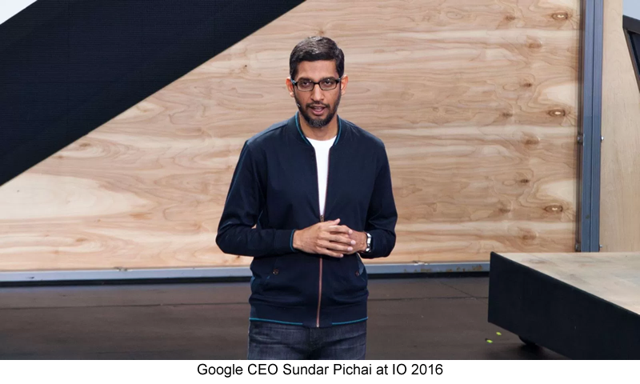 Source: qzprod
The AI Assistant
My title for this article was meant to be more tongue-in-cheek than alarmist. The new generation of AIs based on deep learning techniques don't pose a threat to humanity, but there are implications that need to be explored.
This was driven home by an observation that Google CEO Sundar Pichai offered during his excellent keynote at the Google IO Developer conference yesterday. He pointed out that one of AlphaGo's moves in its match against Lee Sedol is now considered one of the most beautiful and creative in the game.
We don't normally think of computers, even AIs, as creative, and I found this an interesting and disturbing development. Deep learning allows computers to engage in a trial and error approach to learning. The trials are guided to some degree, but basically the computer tries random approaches to solving the problem, and remembers the features of what worked and what didn't.
When a computer executes a program, that computer is fundamentally constrained by the intelligence of the programmer. In deep learning, computers learn on their own, and are not so constrained. Thus, AlphaGo could come up with a move that no one had ever thought of before.
We're seeing deep learning becoming an increasingly important part of the AI offerings of companies such as Microsoft (MSFT), Google and Amazon (AMZN), and we'll certainly see more of it as the race for autonomous vehicles heats up. The near-term negative impact is on privacy.
Both Amazon and Google now have home AI devices. Amazon introduced the Echo, which allows the user to communicate with Amazon's Alexa AI hands free in the home in order to get information and perform useful functions. At IO, Google Home was introduced, a similar device that allows communication with Google Assistant.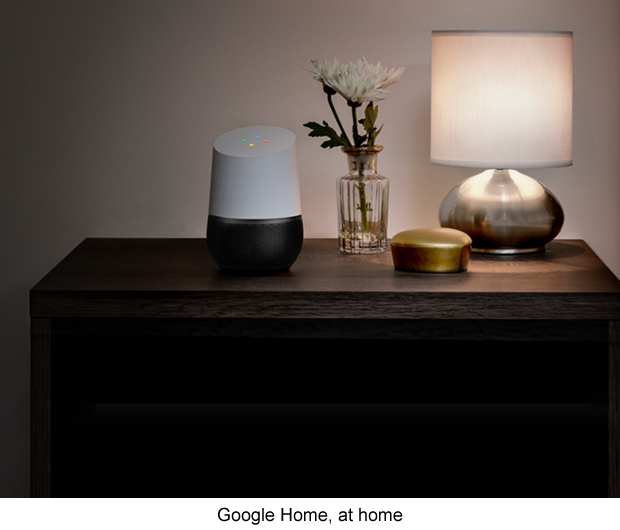 Source: Google
It's hard to feel threatened in any way by these tabletop speaker/microphone/Wi-Fi systems. but there is one element that is concerning. Both Amazon and Google AIs need to learn from the actions of the user, which means that they need to observe and remember user actions, words, and behavior. Echo and Home are so cute and useful, that I'm not sure anyone will care, but perhaps they should.
Android Augmentation
This built-in conflict between privacy and the need to allow AIs to learn became a continuing subtextual theme throughout the IO Keynote. Many of the enhancements to Android coming with the N release revolve around "search becoming more assistive," as Pichai put it. Pichai pointed out that over 20% of mobile search queries are voice queries, so one target of AI is to improve voice recognition accuracy. How do you do that with deep learning? Train the AI to recognize voices in a noisy environment.
Google also rolled out a couple of apps (for both Android and iOS) that will make use of AI, the messaging app Allo and the video calling app Duo. Allo especially illustrates the tension between privacy and AI learning. Allo has an end-to-end encryption feature for secure communication, but it isn't on by default.
This is so as to not defeat the AI assistant features built into Allo. Allo can recommend and fill in message responses, based on the user's history, even including emojis and stickers. Do we really want AIs conducting our message conversations? Under certain circumstances, it comes in handy.
It should certainly be useful for Android Wear 2.0 (AW2). I've been pointing out that the direction Apple is taking the smart watch is for it to eventually become the principal communication device, with Wi-Fi and cellular capability. Android Wear 2.0 specifically anticipates this, with built in support for Wi-Fi and cellular.
AW2 even provides an on-screen keyboard, but I doubt it will be all that useful. More useful, will be the capabilities of Google's AI assistants to provide response suggestions, or voice message transcriptions. Really solid voice recognition can be expected to stand in for traditional user input devices for the new generation of smart watches.
Android N will also see other improvements that are worth mentioning. N will support the Vulkan 3D graphics API. In the demo, it looked very impressive.
Android N will also get its version of Chrome OS background updating, which should make over the air updates faster and easier. Although I've discussed the rumors surrounding a possible merging of Chrome OS and Android, that seems to be on the back burner for now.
Android N's new multitasking split screen mode was featured during the keynote. This will of course mandate that Apple implement the iOS split screen mode for larger iPhones. Apple will have wasted a whole year by not doing this in iOS 9. It's too bad. It probably could have averted the iPhone sales decline in the March quarter.
I've also speculated that Google is setting up Android to be a challenger to the major PC operating systems of Windows and Mac OS X. The free form windowing feature in Android N got no time during the keynote, but Digital Trends has confirmed that it is officially part of the latest N release. Google may be taking a gradualist approach with desktop features for Android, but the direction is clear.
Last but not least, Google is implementing a set of APIs to support VR on Android devices, called Daydream. Google is also creating a set of specs for "Daydream Ready" Android devices and a set of reference designs for headsets and controllers. As I've been saying for some time, smartphones are really the right platform for low-cost, mass market VR, and Google seems to agree.
Investor Takeaway
I never fail to be impressed by Sundar Pichai, every time I see him present at IO. This year, Google checked all the right boxes. The enhancements to Android position it to become the dominant personal computing platform of the 21st century. AI has become a key part of the strategy of the major cloud services providers to leverage their massive hyperscale data centers. VR is here, users are enthusiastic, and using smartphones for VR will make VR universal. Android Wear 2.0 shows where the smart watch is headed, and also leverages Google's AI prowess.
There are some headwinds for Alphabet. As we transition from a PC/Web economy to a Mobile/Cloud economy, web page-based advertising is going to become increasingly less important as a revenue stream. Google's investment in Android and its anticipation of the dominance of mobile devices was clearly the best way to manage this transition. Alphabet's continuing revenue growth is testimony to this.
Google's regulatory issues are non-trivial, but ultimately, Google will get these matters sorted out. I don't see them as a long-term factor weighing against continued growth. I don't see anything stopping Alphabet's continued growth. I continue to recommend Google as a buy.