We all like think that we can find the very best investment ideas in some small, dark, overlooked corner of the market. But sometimes the best investment ideas are hiding in plain sight.
One hedge fund manager thinks that is the case with Royal Dutch Shell (NYSE:RDS.A) (NYSE:RDS.B), which is hardly an overlooked micro-cap company. Nick Tiller, the founder of Precocity Capital, thinks that shares of Shell are worth $100 each and that investors can enjoy a 7% plus dividend yield until the market agrees with that valuation.
In fact in his presentation at recent high profile Ira Sohn conference, Tiller said he thinks that just Shell's upstream operations are worth $63 per share. That alone is almost 50% higher than where the entire company has been trading recently.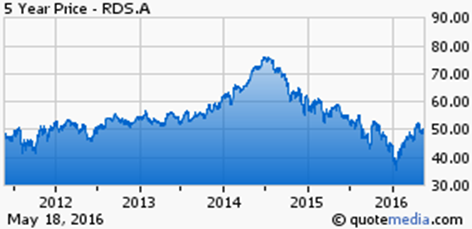 The idea of owning a big cap company with a 7% dividend and 100% upside almost sounds too good to be true. After reading Tiller's comments on Shell, we couldn't help but take a closer look.
What we found is not as simple a story as Tiller made it sound. That likely shouldn't be too much of a surprise given that 7% yielding two-baggers aren't typically available in blue chip stocks all that often.
Shell And The Majors -- Balance Sheets Didn't Benefit From $100 Oil
The most important determinant of the success of a commodity producer over time is the price of the commodity that it produces. Just ask the shale gas producers in the United States. Some of those companies have done phenomenal work but have created no value for shareholders because of challenging natural gas prices.
Many investors therefore might be surprised by how despite a five-year period of very strong oil prices, the major oil companies actually saw their balance sheets deteriorate.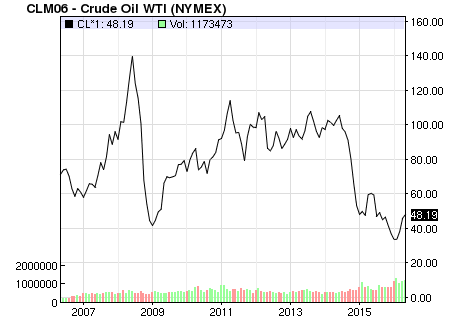 Source: Nasdaq.com
The table below from Jim Chanos shows the cash flow generation and debt movement for BP (NYSE:BP), Chevron (NYSE:CVX), Shell, Total (NYSE:TOT) and Exxon (NYSE:XOM) over the five and a half year period ended June 30, 2015.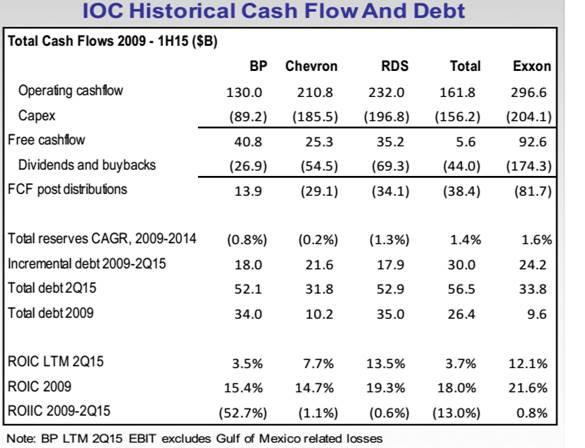 Source: Jim Chanos Grant's Presentation
The numbers are quite startling. Post dividend and buyback cash outflows the group had a massive combined cash outflow. Only BP had positive free cash flow.
As you might expect with massive cash outflows the balance sheets of these companies suffered significant deterioration over this time period.
- Exxon's debt increased from $9.6 billion to $33.8 billion.
- Total's debt increased from $26.4 billion to $56.5 billion.
- Shell's debt increased from $35.0 billion to $52.9 billion.
- Chevron's debt increased from $10.2 billion to $31.8 billion.
- BP's debt increased from $34 billion to $52.1 billion
With commodity prices now significantly lower, the leverage levels of these companies has the double whammy effect of more debt and lower cash flows.
Perhaps the most amazing thing on that table is that as a group these companies achieved no reserve growth over this time period.
There is no doubt that these companies returned a lot of capital to shareholders over this time period, but we can't help but think that more effort should have been made to increase reserves and production as well as strengthen balance sheets.
Essentially the big distributions to shareholders were used to support the share prices of these companies, and a big portion of these distributions was funded by debt.
Thank goodness we have Central Bankers providing companies like these free money. Imagine if they had to pay a reasonable interest rate on all that debt.
Business Isn't So Easy Anymore
Given that these oil and gas majors didn't distinguish themselves in our eyes while oil prices were at really high levels for a very extended time, we can't say it makes us want to run out and own them now that business is much more challenged.
Royal Dutch Shell has the added complication of trying to digest the massive acquisition of BG Group.
Shell spent $54 billion to acquire the British natural gas giant BG Group, which significantly diversified the company away from oil (sort of).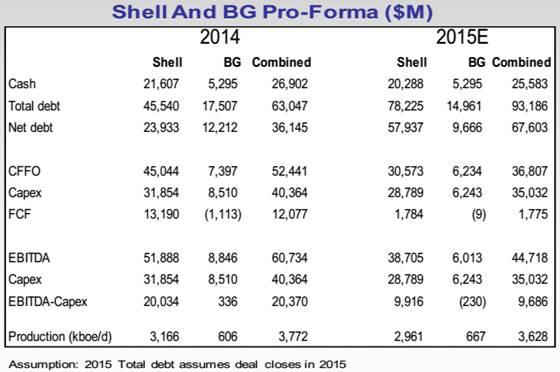 Source: Jim Chanos Grant's Presentation
The deal was announced April 8, 2015 so we have the benefit of hindsight of course. All three of the key components of the deal now seem a bit concerning
- Shell said that the deal was predicated on oil prices at $90 per barrel. While we certainly think that oil will continue to recover from current prices, the reality is that we are at half of the price that the deal was based on. Further, while we see a recovery in oil, the idea that $90 per barrel is going to be the long-term average may be optimistic
- One of the prized BG assets for Shell was BG's Australian LNG business. We believe the attractiveness of global LNG has deteriorated significantly since early 2015
- The other prized BG asset was big exposure to offshore Brazil, which like LNG, has subsequently had a lot of the shine come of it.
Global LNG - Not As Appealing As It Once Was
As outsiders it is pretty hard for us to get excited about the commodity production business. It doesn't matter if the underlying commodity business is oil, gas, gold or silver. The business model is the same.
Huge capital spending requirements with very long lead times on one side and unpredictable cash flows due to volatile commodity prices on the other.
To be perfectly honest it is hard to imagine a less attractive business to invest money in.
There is no better example than what has happened with natural gas in the United States. Shortly after the turn of this century the widely accepted view was that the United States was running out of natural gas. Several LNG import facilities were planned with the Federal Reserve Chairman Alan Greenspan actually listing a natural gas shortage as being a major risk to the country.
That view of a natural gas shortage could not have been more wrong. What followed was a United States natural gas production boom thanks to shale.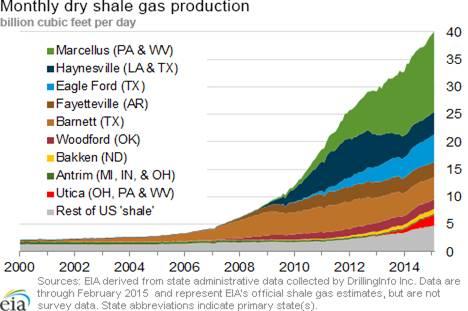 Committing billions of dollars to commodity production projects that are dependent on the ability to play an arbitrage in pricing between one region and another can backfire horribly if that arbitrage dissipates.
Which is what is happening to LNG on a global scale and reducing the value of BG's assets for Shell shareholders.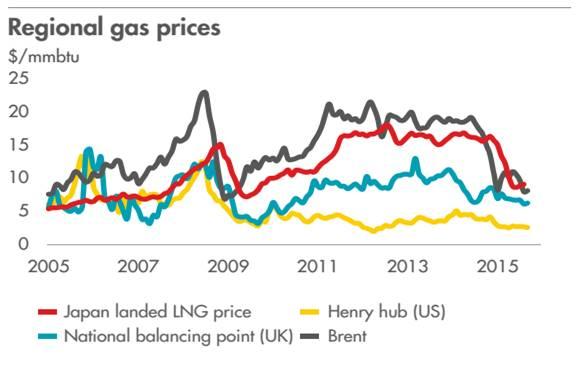 Source: Shell
Adding BG to Shell's portfolio has made the combined company by far the biggest player in global LNG. The profitability of LNG is determined by the ability to source natural gas cheaply and then sell it into markets where natural gas prices are higher.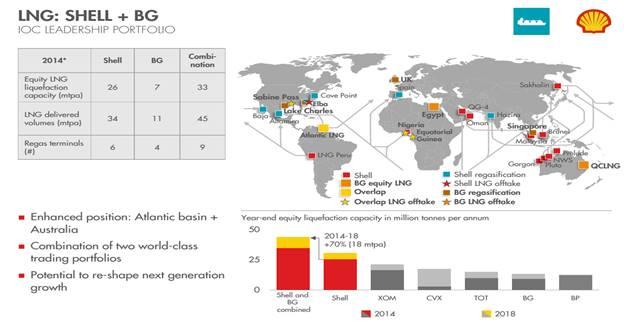 Source: Shell
That arbitrage opportunity has shriveled along with the fall in oil prices. The Japan Korea LNG Marker benchmark has been cut in half from where it was in 2014. It is down 66% from the level it held for several years.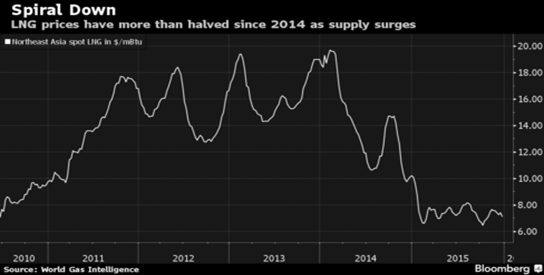 Source: Bloomberg
There are more challenges for LNG than just the price of oil. It is increasingly looking like global LNG supply is going to overwhelm what has been unexpectedly tepid demand growth.
With LNG pricing now half of where it was expected to be, that is going to be a major problem for much of the world's LNG production including Shell's.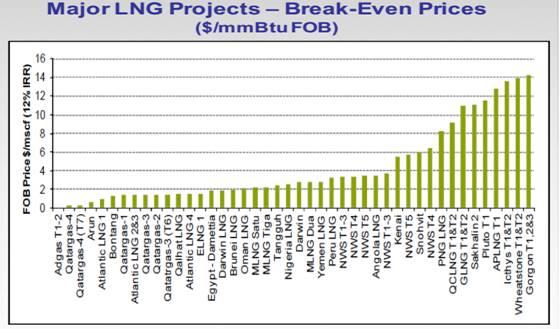 Chinese LNG demand actually decreased in 2015 (see earlier link) and that country is working very hard to tap into the massive shale gas resource that it has. If China unlocks shale the way that we have in North America, that is a big LNG demand problem.
Japan restarting nuclear power could be another kick to LNG demand.
Then there is all of the potential LNG supply that could come on production. Australia has $180 billion invested in its six largest projects that will bring 53Mtpa online over the next two years. The last time we looked, the West Coast of Canada had about 10 proposed LNG projects, although given the negative changes to global LNG, it is possible none of those ever go forward.
Our point to all of this is that Shell paid a big price for BG with LNG being a big reason for that price. It now looks like the fundamentals behind the LNG business may have deteriorated significantly, which makes us wonder if Shell didn't overpay.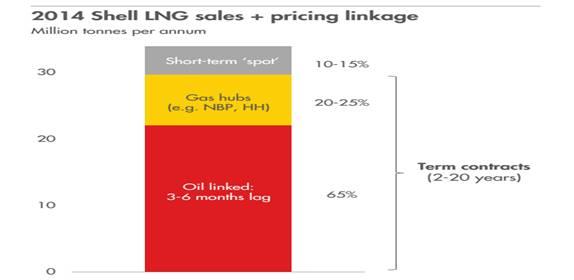 Source: Shell
The Other Key To The BG Deal - Brazil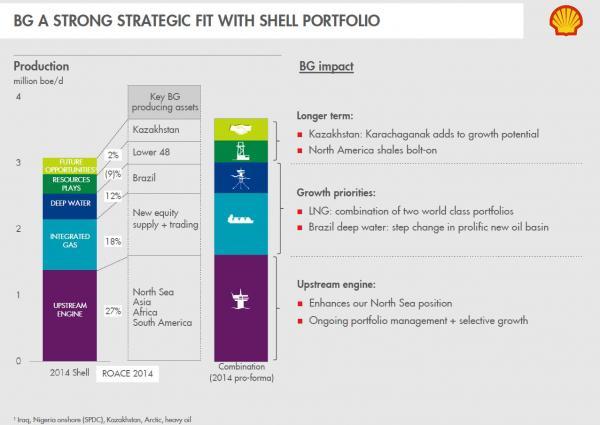 The other big appealing asset that BG brought to Shell was meant to be potential for huge oil production growth offshore Brazil.
There is no doubt that there is huge potential in these assets. The problem is that nearly all of these assets involve a partnership with Petrobras (NYSE:PBR), a company in a state of chaos if there ever was one.
The slide below from Jim Chanos's presentation sums up these challenges very nicely.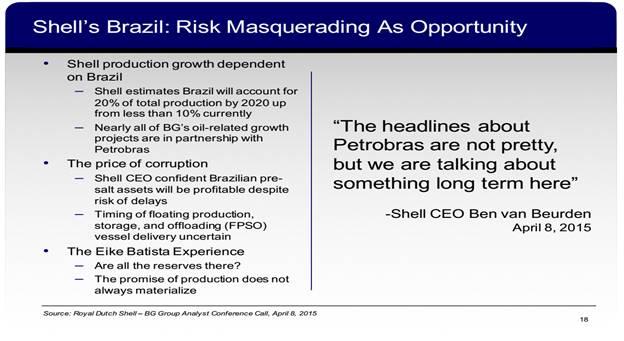 Since Shell announced the BG acquisition, Petrobras has reduced its planned capital expenditure budget over the next five years from $206 billion to $98 billion. That clearly is going to make a big change in how quickly production offshore Brazil grows.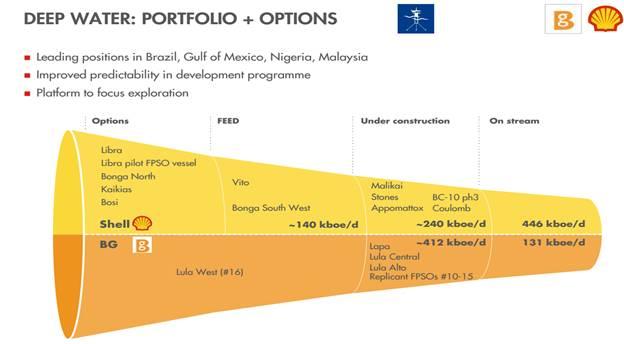 Source: Shell
Implications For Investors
The reality is that Shell is just another bet on commodity prices. In this case one where the company is trying to digest a massive acquisition that may not be as attractive as originally expected due to LNG and Brazil challenges. The timing of this BG deal looks to us a lot like Exxon purchasing U.S. shale gas producer in late 2009 right before a natural gas glut that has depressed prices ever since.
As you may recall Exxon's Rex Tillerson famously subsequently referred to Exxon as "losing their shirts."
Shell could very well turn out as a good investment option at current prices if oil prices keep moving higher. We just don't see it as an unusually better option than a lot of other oil and gas producers.
Note: Our goal is to be a major source of investment ideas from the world's hedge fund stars of today on Seeking Alpha. Click the follow button at the top of this article so that we can keep these ideas flowing to you.
Disclosure: I/we have no positions in any stocks mentioned, and no plans to initiate any positions within the next 72 hours.
I wrote this article myself, and it expresses my own opinions. I am not receiving compensation for it (other than from Seeking Alpha). I have no business relationship with any company whose stock is mentioned in this article.