Best Buy (NYSE:BBY) is no stranger to volatility and controversy. Will Best Buy survive the domination of Amazon (NASDAQ:AMZN)? Is brick and mortar dead? Will lower oil and gas prices spill over to demand at Best Buy stores? Regardless of the answers, the company is operating in a challenging industry. Revenue is expected to decline in the first half of 2016, with expectations for growth in the back half of the year. The strength in appliances, home theater, and FitBit was offset by the weakness in tablets and mobile phones. The Samsung (SSLNF) Galaxy S7 and iPhone 7 release will bring a much-needed lift, but it's difficult to argue that the U.S. smartphone market may have reached maturity. The potential maturity of the smartphone market will inevitably weigh on revenue in the years to come if this is true.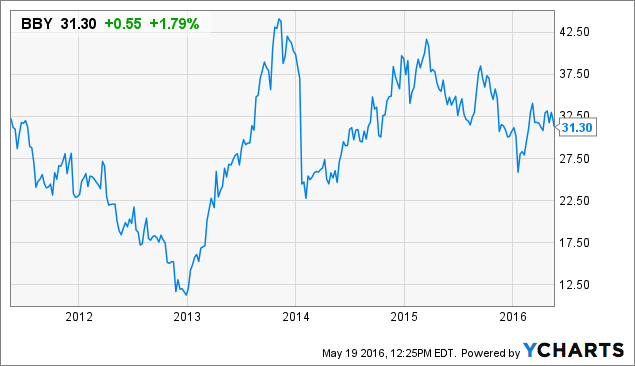 BBY data by YCharts
Shares of Best Buy are down 30% from the highs in late 2013. In order, to make the correct investment decision, we need to weigh all options - the positives and the negatives. Let's consider the investment potential in this beaten down consumer electronics retailer.
POSITIVES:
Leading consumer electronics retailer
Best Buy is a leading consumer electronics retailer in the U.S. and increased market share according to the most recent annual report. Revenue is generated from the sale of products and services in store and online (11% of domestic online revenue). The company has 125,000 employees and has one of the largest loyalty programs in the U.S. Despite recent concerns surrounding Best Buy, the company is one of the most profitable retailers in the U.S. and has generated over $2.5 billion the last 3-years. 65% of revenue is generated from televisions, desktops, and notebook computers.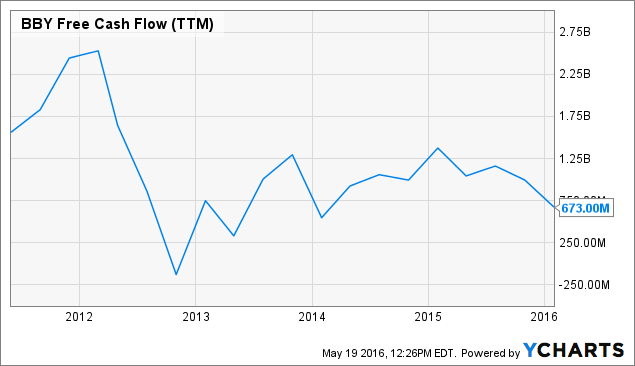 BBY Free Cash Flow (TTM) data by YCharts
Management is shareholder friendly and competent
Management is extremely shareholder friendly, having returned over $6.4 billion to shareholders in the form of dividends ($2.7 billion) and share repurchases ($3.7 billion) since 2011. It recently completed a $1 billion buyback program and just initiated another $1 billion program. Overall, management has repurchased 15% of the shares outstanding since 2011. Also, management has been able to generate returns on capital of over 19% the past three years, which shows its ability to allocate capital effectively.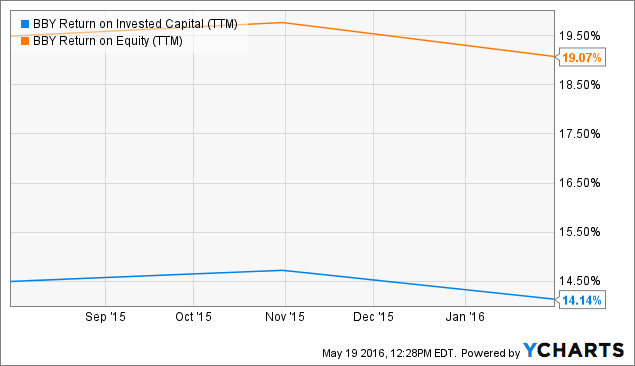 BBY Return on Invested Capital (TTM) data by YCharts
Management has increased the dividend from $0.58 to $0.92 per share over the past five years. I expect management to continue to be shareholder friendly to bolster shares as the company reaches maturity. The company also issue a special dividend of $0.45 in March. Also, the company is staying focused in the current environment, cutting back on costs where necessary.
Management has been steadfast in cost cutting as they enter phase two of the "renew blue" saving plan. From 2015-2017, the company expects to see $400 million is cost cuts after the $1 billion in saving from Phase 1. Training and lower prices for services will be the primary use of the cost savings. These initiatives should trickle down to the bottom line and boost profitability.
Stock is cheap
Financially, this company is as rock solid as it gets. The balance sheet carries over $3.28 billion in cash with long-debt of only $1.33 billion. The company generated excess free cash flow of $673 million over the past 12-months or a FCF yield of 6.05%. Also, returns on invested capital have ranged between 19.28% and 47.69% over the last three years. However, the company continues to trade at a lower multiple compared to the market.
The company currently has a market cap of $9.94 billion, and an enterprise value (EV) a bit higher at $8.4 billion. The company's EBIT is $1.37 billion. In other words, we're paying $9.94 billion for a company with an EV of $8.4 billion and is returning EBIT of $1.37 billion on that $8.4 billion. This gives investors an incredibly attractive earnings yield of 16.31% after we divide the EV ($8.4 billion) by the EBIT ($1.37 billion). The low valuation levels are certainly interesting considering the company's balance sheet, returns on capital, and leadership in the consumer electronics market.
NEGATIVES:
Brick and mortar is dead
Many have purported the death of brick and mortar companies. While it may be a bit exaggerated at this time, it's difficult to ignore. Best Buy continues to make inroads in the online space, albeit at a relatively slow pace. Competitive pricing and convenience from online competitors have certainly put the squeeze on the company with revenues stalling the last few years.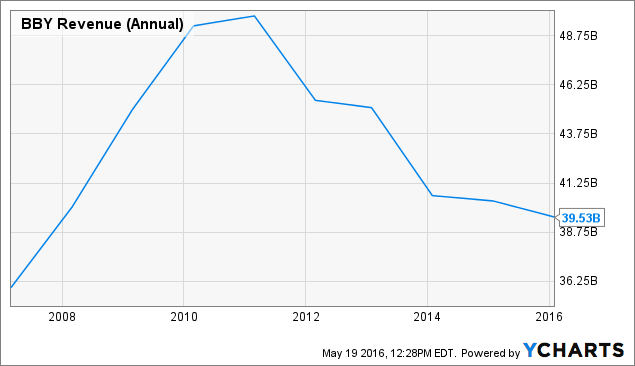 BBY Revenue (Annual) data by YCharts
Best Buy may face an even bigger challenge as consumers continue to use mobile technology to make purchases online. Not only is the shift from brick and mortar to online based platforms, but it's also going to mobile devices. Is Best Buy ready for this shift too? Over 36 percent of online sales, this Black Friday came from mobile shopping, and that includes both smartphones and tablets, according to data provided by IBM, says Jim Young at Reuters. "And for the first time in Black Friday history, more than half of all online shopping-related traffic, at 57.2 percent, came from both types of devices." Brick and mortar is not going away, but it will be a more competitive environment going forward.
Where is the growth?
Revenue has been sluggish over the past few years, and the weakness in the wireless market is likely to weigh on shares. As we've seen with slowing iPhone sales, we're constantly being reminded that the mobile wireless market may be entering a mature phase. Product cycles drive revenue of this company, and the consumer may be exhausted at the moment with all the new releases of mobile devices. The potential for virtual reality (VR) is difficult to ignore. VR is something you're likely to sample in-store, which will lead to more sales for Best Buy. It's certainly something to pay attention too over the next few years.
Regardless, with revenue having stalled over the past 5-years, there are burgeoning concerns that the U.S. consumer electronics market may have reached maturity, lessening the potential for outsized growth. This potential market maturity is a problem and lends credence to the relatively low multiple that investors are paying at current levels.
TECHNICALS
The stock has dropped from a high of $39 to low of $25 in last 3-years and currently trades at 49.50 per share. Where the stock goes from here is anyone's guess, but the trading in the stock has been choppy over the past 3-years. The stock appears to be hitting resistance in the $32-$33 range as we can see in the chart below with the Ichimoku Cloud coverage.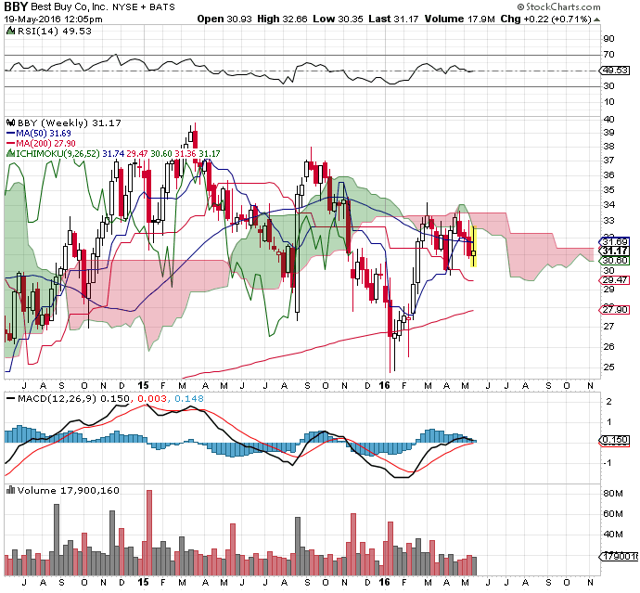 As we can see in the chart, the stock has made lower highs and lower lows since the peak in early 2015. This pattern shows uncertainty with a negative bias towards shares right now. A break above $34 and then $39 would indicate a reversal in expectations for the stock. Subsequently, any weakness in the $26-$25 range could set-up for an opportunity for investors interested in the stock. A break below $25 would set up for a potential test of $22-20 per share.
Typically, we don't short stocks. The risk-reward doesn't make sense to us. However, if we were interested in the company, we'd look to begin acquiring an initial position in the $25-20 range.
BOTTOM LINE
In short, there are lots of reasons to believe Best Buy is on the right track. Management is doing a great job of cost cutting and navigating through a challenging consumer electronics environment. And, in addition to selling at a great price based on earnings, Best Buy has quickly emerged as a solid dividend payer (3.04%).
Because Best Buy generates so much free cash flow -- over $2.5 billion that past 3-years -- the company can buy back quite a few of its shares while paying a sizable dividend. Best Buy is in a better position than it was a few years ago, with a great balance sheet, and it's become a solid dividend stock, with a reasonable high yield and payout ratio. In addition to the dividend payout, the company trades at a FCF yield of 6.05%.
Although shares look cheap at current levels, we're inclined to stay away from the company right now. The majority of the return potential seems to have been realized from the run in shares from the low teens in late 2012 to the current share price of $30.
The long-term economics of the electronic retail business at brick-and-mortar locations makes this a challenging environment to predict. Investors are unlikely to lose permanent capital at current levels, but we don't see a multi-bagger either. There are probably better companies to invest in long-term.
Disclosure: I/we have no positions in any stocks mentioned, and no plans to initiate any positions within the next 72 hours.
I wrote this article myself, and it expresses my own opinions. I am not receiving compensation for it (other than from Seeking Alpha). I have no business relationship with any company whose stock is mentioned in this article.