The U.S. economy may be tired and aching for a rest, judging from a persistent slowdown in the freight sector that has so far not captured the attention of most investors.
Whether the current weakness portends a recession will reveal itself soon enough. After all, freight stocks can represent a key early indicator of broader business contraction since they haul the stuff that drives the national economic engine.
So it is worth noting that the entire domestic freight tableau -- rail, trucking, intermodal, air and ocean carriers -- looks in sore need of a tonic.
"Our key freight indicators are soft on a seasonal basis, with limited indication of seasonal uptick in early 2016", wrote Todd Fowler, transportation analyst at KeyBanc Capital Markets, in a report on April transportation and logistics stocks.
Fowler noted too much capacity, high inventories and weaker end-market demand are keeping a lid on freight fundamentals.
Fowler also said attempted hikes in 2016 container shipping rates between Asia and the U.S. failed, a potential early warning sign for freight companies that haul those containers.
Among the less than truckload shippers -- LTL in industry parlance -- it follows, KeyBanc reported total estimated Q1 EPS fell to $1.03 from $1.62 in Q1 2015, a 36.4% plummet.
Bruce Chan, a Stifel, Nicolaus & Co. analyst who follows transportation logistics stocks, said Q1 represented a "challenging environment to say the least." Even high flyers faced volume headwinds that tight cost-controls were unable to relieve.
Ocean And Air Shippers See Problems
Stifel's closely followed Logistics Confidence Index, which measures sentiment among ocean and air freight companies, slid to 47.2 for May. The LCI Index has been below 50 -- the breakeven for growth vs. contraction -- for eight consecutive months. Chan predicts LCI Index results are "not likely to grow significantly from here for the remainder of 2016."
Stifel's lone Buy recommendation in the freight forwarder category is Expeditors International of Washington (NASDAQ:EXPD), a special case based on its perceived growth potential, above average returns and reasonable valuation.
John Larkin, the prolific Stifel analyst who casts his net far and wide in the transportation industry, says pricing pressure is "rampant" across the generic freight industry. The pressure is aggravated by too much freight-hauling capacity and slack customer demand.
Stifel recently downgraded truckload carriers Werner (NASDAQ:WERN) and Knight Transportation (NYSE:KNX) from Buy to Hold, and likewise downgraded Old Dominion Freight Line (NASDAQ:ODFL), a premium player in the LTL category, to Hold. It's never a good sign when even the crème de la crème begins to curdle. Analyst David Ross said, "The company remains the most profitable operator in the LTL space, reporting an 85.9% operating ratio… but it is just challenging to grow significantly and grow profitably right now."
Meanwhile, the situation does not look any more promising for most rail stocks. Not surprisingly, shipment drop-offs in coal, oil and industrial products that these heavy transports often rely on is hurting their results.
Larkin said the outlook is tough for the entire 1H16 for rails, although Stifel this week reiterated a Buy rating on CSX after concluding the company is making headway in gaining intermodal share and more consumer goods shipments.
Railcar And Truck Production Slumping
According to the Railway Supply Institute, railcar orders were off a dramatic 58% in Q1 over the 2015 period.
Stifel's Michael Baudendistel wrote that cancellations appear to be popping up in railcar orders, a fairly unusual phenomenon that has not been seen since the Great Recession. "We believe the development is indicative of conditions which have deteriorated significantly in recent months in the railcar market given the weak rail traffic, improving network fluidity, and oversupply of cars currently in backlog."
It's not just railcar production that may be faltering. KeyBanc's Fowler reported that production of Class 8 vehicles -- those big highway rigs -- is down 50% YTD.
Wells Fargo analyst Casey Deak was blunt regarding the truckers he follows. "We do not believe fundamentals will inflect until mid-2017 giving us pause on the outlook for the space," he said in a client report. Deak watches three fundamentals to gauge trucker earnings: empty miles, miles per tractor and revenue per loaded mile. "We do not believe we are close to a positive inflection in any of these areas, putting sustained pressure on earnings throughout the year," he predicted.
There are still a few diamonds shining amid the gloom, however. Analysts are still generally bullish on higher quality third-party logistics stocks such as C.H. Robinson Worldwide (NASDAQ:CHRW) and XPO Logistics (NYSE:XPO), the last a fast grower we wrote positively about last month.
What ties the better logistics stocks together are the new advances in scheduling and tracking software that let goods go from point to point much more efficiently, plus a spurt in M&A in the case of XPO. Whether those software advances will continue to sustain the top logistics players may depend on how long the core slowdown across the freight industry persists.
To be sure, there are still macro tailwinds in the U.S. economy that benefit freight companies, such as the continued positive levels of home construction and auto production.
At this point, the Dow Jones Transportation Average is still up slightly for 2016, ahead less than 4% after being up about 10% earlier in the year. The sharp divergence between the Dow Jones Industrials and the Dow transport stocks that could be the harbinger of a broad market downturn has yet to materialize.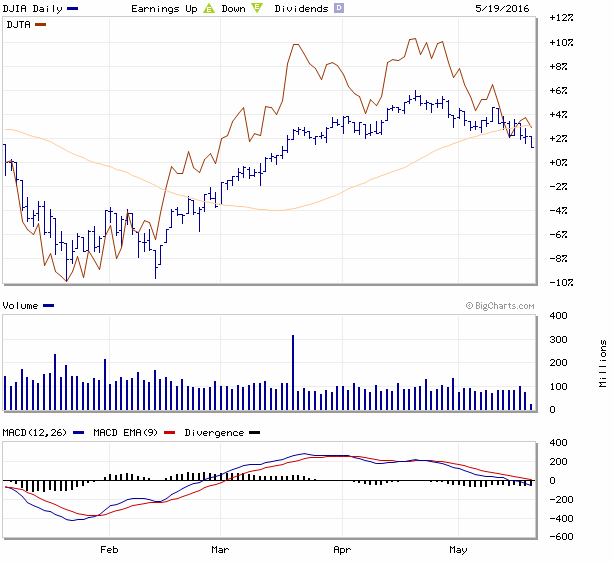 The two dominant transportation ETFs -- the iShares Transportation Average (NYSEARCA:IYT) and the SPDR S&P Transportation (NYSEARCA:XTN) -- are both clinging to positive 2016 performances of less than 2% as of May 19 after recently weakening.
If many more months of freight industry weakness unfold, a ripple effect through the domestic economy seems unavoidable.
In a recent column of industry anecdotes, BB&T's Albrecht said one unnamed truckload executive told him: "I've been in this business 19 years and this April is the second worst ever, topped only by April 2009."
Given that April 2009 coincided with an historic meltdown in the American economy, yellow caution flags may be in order for a lot of familiar transportation names for the time being -- and perhaps for the wider stock market as well.
Disclosure: I/we have no positions in any stocks mentioned, and no plans to initiate any positions within the next 72 hours.
I wrote this article myself, and it expresses my own opinions. I am not receiving compensation for it (other than from Seeking Alpha). I have no business relationship with any company whose stock is mentioned in this article.