By Justin Carlson
On April 28, 2016, Tallgrass Energy Partners (NYSE:TEP) announced it was acquiring a 25 percent interest in Rockies Express Pipeline LLC (REX) from a unit of Sempra U.S. Gas and Power. On May 6, after approval from the Tallgrass Conflict Committee, TEP closed the acquisition for a total consideration of ~$1.08 billion (cash + assumption of REX debt). During the quarterly earnings conference call, Tallgrass management was noticeably upbeat, stating the pipeline would provide "tremendous cash flow for the next 3.5 years." However, questions remain about REX's earnings power beyond 2019 when a number of highly profitable west-to-east contracts begin rolling off. The fate of these contracts and the future growth prospects of east-to-west capacity are the key to determining REX's long-term earnings potential.
REX - A New Rockies Outlet
The advent of the shale revolution ushered in significant shifts in natural gas supply and demand. One of the most notable was the massive increase of production in the Rocky Mountain area. The boom in new drilling a decade ago quickly increased supply, driving down prices in the region. The supply glut became so massive that natural gas literally sold for pennies in the Rockies, leading to prices that averaged ~$3 lower than Henry Hub. To alleviate the glut, Rockies Express Pipeline was developed and carries 1.8 Bcf/day of supply out of the region to feed the Mid-Continent, Midwest, and Northeast markets (Figure 1).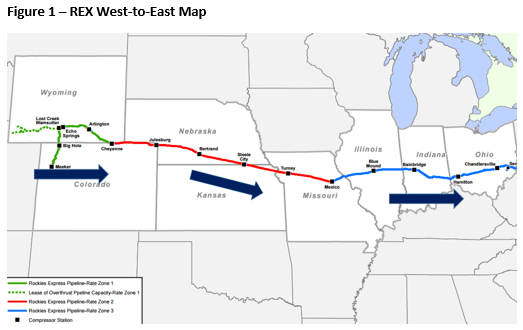 Ding Dong REX is Dead?
A few years after REX was put into service the market shifted again. Large amounts of natural gas production in the Marcellus and Utica began to displace REX volumes feeding Northeast demand. Regional prices in the Northeast cratered, making it uneconomic for Rockies producers to sell into that market. In an ironic twist, REX was now facing the same market challenges it was built to alleviate.
By 2012, many analysts had completely written off the pipeline. The phrase "Ding Dong, REX is dead" was even penned by a few in the industry. However, these prognosticators did not understand that despite being shut out of Northeast markets, REX was and is still needed to balance supply in the Rockies, and here's why.
Rockies production has averaged approximately 8.5 Bcf/d since 2013. Demand has remained largely flat averaging 2.0 Bcf/d over the past five years. Demand in the Rockies is seasonal. During the winter of 2015/2016 demand averaged 2.8 Bcf/d, while in the summer of 2015 it settled closer to 1.5 Bcf/d. As a result, in the winter, producers need to find a home for around 5.8 Bcf/d of gas while in the summer that level increases to around 7.1 Bcf/d.
From an output perspective, Rockies gas can only head two directions, to the west or to the east. Gas going to the west will utilize pipelines like Northwest, Ruby, Kern and TransColorado. That supply is largely destined for demand markets in California, Nevada and Arizona. Prior to Ruby being built, total outflows to the west averaged about 3.4 Bcf/d. However, following the construction of Ruby flows became more seasonal. Interestingly though, despite Ruby providing an outlet for an additional 1.4 Bcf/d of capacity, throughput to the west averaged only around 3.5 Bcf/d last year (less than 3% higher than pre-Ruby). This tepid increase in throughput can largely be associated to the decrease on Northwest pipeline and TransColorado, which were initial displaced by Ruby but more recently by Permian and Canadian supplies looking for a home.
Heading to the east, the story is a bit more complicated. There is roughly 5.3 Bcf/d of capacity out of the Rockies including REX, Bison, WBI, Trailblazer, Cheyenne Plains, CIG, TIGT and Southern Star. Breaking these down by delivery market, WBI and Bison head northeast toward the Bakken, while REX and Trailblazer head east to interconnecting pipelines out of the Anadarko that serve the upper Midwest. Cheyenne Plains, CIG, TIGT and Southern Star move gas southeast to serve local markets in Kansas, Nebraska and Oklahoma or compete directly with Anadarko producers in the basin for capacity toward the Midwest.
Putting these two outlet markets together you have 5.8-7.1 Bcf/d of supply that needs a home. Around 3.5 Bcf/d can and likely will continue to head west leaving 2.3-3.6 Bcf/d that needs to go east. There will likely to be some additional decline in Rockies production of around 0.3 Bcf/d, leaving 2.0-3.3 Bcf/d. This means that east-bound pipes will be competing to serve these interconnecting markets. If history is any indication of the future, it would suggest that REX has an upper hand in winning this battle. We forecast that REX will be the preferred pipeline to the east because it has a slightly more direct route to Midwest demand, versus more expensive stacked-rate options from competing pipes.
Shale to Shining Shale
Although some west-to-east flows continued on REX, losing the Northeast markets set the pipeline up for future financial trouble. A large portion of REX's revenue is levered to long-haul take-or-pay contracts serving the Northeast that begin expiring in 2019. Once those contracts terminate, the pipeline would be left in a dire financial situation. However, in 2013 REX devised a plan to capitalize on its footprint near the Marcellus and Utica. The pipeline filed a request to allow bi-directional flow in Zone 3, allowing Appalachian producers an outlet to Mid-Continent and Midwest markets moving gas east-to-west (Figure 2). The reversal was backed by Utica producers and added ~$280 million in annual revenue (Figure 3). Once left for dead, REX is now set to serve as a critical natural gas artery, providing takeaway capacity for two huge production basins half a continent apart.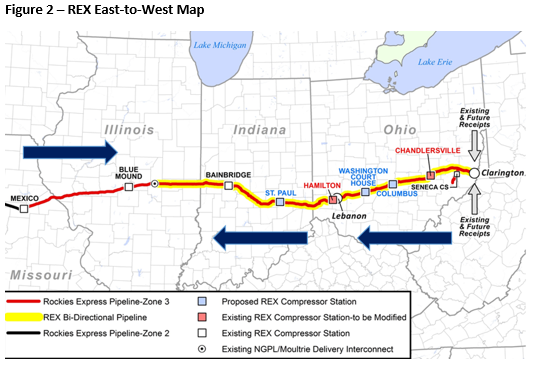 In March 2015, REX filed to add more east-to-west capacity via the Zone 3 Capacity Enhancement (Power Up). The project is slated to come online in late 2016/early 2017 and will add capacity of 800 MMcf/d of out of the Utica. Currently 710 MMcf/d is committed at rates of ~$0.50 Mcf with the remaining 90 MMcf/d still being marketed (Figure 4).

Our Analysis of the Acquisition
"Prediction is very difficult, especially about the future" is a quote from 20th century physicist Niels Bohr that we at East Daley Capital always try to keep in mind. When grading the economics behind the REX acquisition, a huge grading factor hinges on the fate of the original west-to-east contracts that begin to expire in 2019. These contracts represent approximately $550 million in current annual revenue.
As we touched on earlier, supply and demand fundamentals suggest that REX will continue to flow gas east out of the Rockies into the future, albeit at much lower rates and potentially lower volume. A good proxy for estimating re-contracted rates is to use the spread between the regions the pipeline serves. If a spread exists between two points and pipeline capacity is available, the pipe will typically be able to charge rates near the value of that spread. In this case, the spreads between the Rockies and Midwest/Mid-Continent are running about $0.15-$0.20/Mcf. If contracts were to expire today we would expect them to get re-contracted at around that rate.
However, the market could and likely will change between now and 2019. Given that there is significant uncertainty in forecasting 3+ years out, we have analyzed a base, low, and high case scenario for REX's future financial performance using the following assumptions:

Using these assumptions, we generate three Cost/EBITDA scenarios for REX and compare them to our base forecasts of other recent natural gas pipeline acquisitions (Figure 6). As the graph shows, the economics behind the acquisition are some of the best we have ever analyzed. In addition, we believe REX is well insulated from future competition and will continue to serve as critical natural gas transportation infrastructure for decades. We also see the recent renegotiation and extension of Encana's west-to-east contracts as a positive, as it helps smooth pipeline cash flows. However, it should be noted our analysis ignores counterparty contract risk, and continued pressure on commodity prices could distress these shipper's balance sheets over time.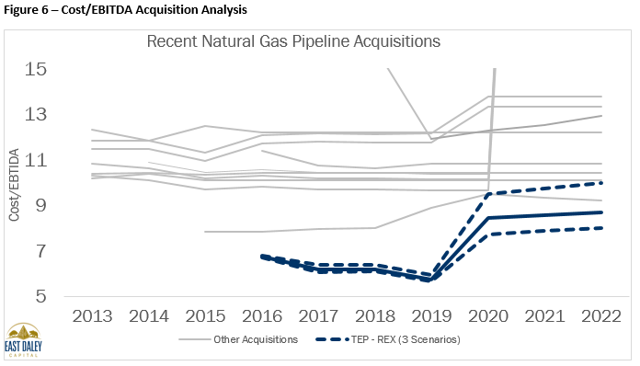 The Future
At the risk of becoming a punch-line on a future Tallgrass conference call, we will state we are skeptical about REX moving gas all the way from the northeast back to the Rockies. Many analysts in the industry have ultimately had to eat crow regarding their forecasts in this topsy-turvy market with regard to LNG import growth, Marcellus supply potential, and bi-directional pipe flows. However, our analysis shows supply and demand fundamentals do not support this natural gas movement in the near or medium term. Production in the Rockies is only slightly declining currently and our back of the envelope math shows it would take a complete shut down in drilling for production to decline by 3 Bcf/d over the next 4 years. At that point the Rockies might be in a situation where relatively stagnant local Rockies demand (~2.0 Bcf/d) plus throughput on the largely full or demand constrained outbound pipes heading west (3.4 Bcf/d) would roughly balance with production. As noted above we think it is much more likely that REX continues to support eastern flows from the Rockies into the Mid-Continent were gas can serve local demand or head south to much larger growing demand markets in the Gulf.
Although we are not near-term believers in moving northeast gas all the way back to the Rockies, the future of REX still looks bright. The pipeline is likely to continue to benefit from increased production out of the Marcellus/Utica and increased natural gas demand in the Midwest and Mid-Continent, paving the way for future expansions with attractive economics.
Disclosure: I/we have no positions in any stocks mentioned, and no plans to initiate any positions within the next 72 hours.
I wrote this article myself, and it expresses my own opinions. I am not receiving compensation for it. I have no business relationship with any company whose stock is mentioned in this article.