Introduction
Sometimes, you see the shareholders inside firms, and you can imagine what happens next. I know that when you find activist investors and private equities inside a firm, it is always undervalued. You can read the financial figures to confirm this fact. In this case, I found these two types of investors in RTI Surgical Inc. (RTIX) ("RTI"). It is such a dream.
RTI Surgical Inc. and its past performance
RTI deals in Health Products & Services sector. The company manufactures and distributes orthopedic and other surgical implant. RTI provides
"natural tissue implants as well as metal and synthetic implants for the treatment of spinal and other orthopedic disorders."
It owns several patents:
- BioCleanse® Tissue Sterilization Process
- Cancelle® SP DBM Sterilization Process
- Tutoplast® Tissue Sterilization Process
(Source)
The company has developed extremely useful and profitable products. Its revenue has increased in the last 9 years. However, the management is not doing such a great job. Since 2013, the company has accumulated a lot of inventory. As of 31st December 2015, the company had an inventory of $2 per share (The share price is $3.74). In addition, the company is paying first and then receives money, as account payables are higher than account receivables.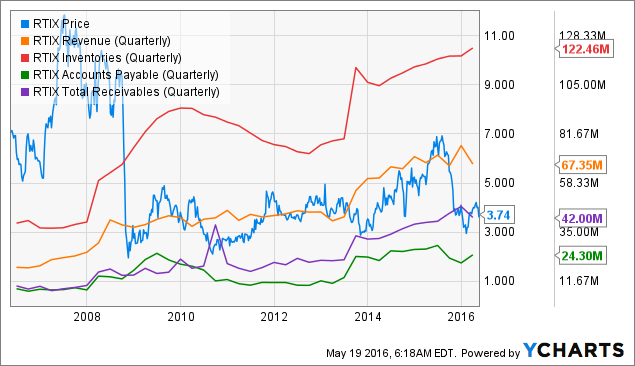 (Source)
Financials
RTI is small cap stock. It has market capitalization of $217 million. There is lack of liquidity in the stock. This may be one of the main reasons that can explain why the stock is undervalued. If a buyer wants to buy the whole firm, the premium will have to be very big. Krensavage Asset Management LLC, the activist investor, said in November, 2015 that the company stock price may be worth much more:
"Most likely, it would fetch at least $8 a share."
The Enterprise Value is $282.27 million. It does not have a lot of debt, which is not a bad thing. However, the amount of cash standing in the balance sheet is very small i.e. $11 million. The most valuable asset of the company is the inventory.
The EV/EBITDA looks very cheap i.e. 6.73. If we compare this ratio with that of Integra LifeSciences Holdings Corporation (IART), another competitor, it is extremely undervalued (16.3). This is a profitable business, and I do not understand the current situation. The ROE is 5.86%, and the ROA is 4.16%.
Finally, some sharp individuals were faster than us. The amount of institutions inside the company is quite high; 75.40% of the total outstanding shares of the company. I do not think that we are wrong.
Board of Directors and the CEO
Activist investors look for companies that have outstanding products, but are not managed appropriately. In order to understand the current situation, we need to see who is in the Board and who is CEO.
Brian k. Hutchison is the CEO. He is 55 years old. He has served in this role since 2001, and is extremely experienced in this sector. The website of the firm reads as follows:
"Hutchison spent 12 years at Stryker Corporation, headquartered in Kalamazoo, Mich. He served for six years with the medical products division and for six years with Stryker's orthopedics' group."
As per my opinion, he has been at the same position for a long time. When companies are managed by the same people for so long, I do not think that they work like the first day. The company's share has dropped more than 70% since its IPO in 2000. He is definitely not working well for the shareholder. Finally, I think that he is being paid too much, given the value returned to the shareholder is $1.4 million as of 2015.
I can see in the Board of Directors that many individuals come from Stryker Corporation (SYK), a large medical technology company. This company is also a competitor. I do not think that the directors lack experience in the sector. As per my opinion, they had great business ideas, but I think the company needs restructuring and they do not really know how to do that.
In the board of directors, I can find two kinds of profiles. Firstly, the people who have been there from the IPO, who lack financial experience. Secondly, a group of people that came in November 2015, who knows a lot about finance, valuation and restructuring.
The following are included in some of the old directors: Dean H. Bergy, Chairman of the board : He was also an ex Interim Chief Financial Officer at Stryker. He does not possess Corporate Finance experience. He knows a lot about the products that the company develops, but does not know how to return value to the shareholders.
Peter F. Gearen, M.D.: He has depth of medical experience and healthcare knowledge, but no corporate finance experience.
Adrian J.R. Smith: He has international operations and business strategy expertise, but no corporate finance experience.
The new directors that I could identify are the following:
- Thomas A. McEachin: He worked for Covidien Surgical Solutions. He knows the requirements of this company. The website reads as follows:
"He helped acquire and integrate several companies as part of a technology diversification strategy."
- Curt Selquist: He works for the PE firm, Water Street Healthcare Partners.
- Chris Sweeney: He works for the PE firm, Water Street Healthcare Partners.
Activist investor and the PE
Krensavage Asset Management LLC is a small hedged fund with $277 million under management as of February 2016. This investor claims, in a letter to the shareholder, that the Board of Directors should:
"consider exploring all strategic alternatives, including sale of the company."
Please, read the letter sent to the Board of Directors carefully.
Conclusion
The PE Water Street Partners nominated directors in December 2015. At the same time, Krensavage Asset Management LLC bought a stake in the same period, and sent a letter to the Board asking for the sale of the company. In business, I don't believe it's a coincidence.
As per my opinion, this is the beginning of a takeover story. We have identified a buyer, the PE Company, and also an activist shareholder, who is pushing the Board of Directors to sell the company.
If you buy now, you may obtain a great return.
Disclosure: I/we have no positions in any stocks mentioned, and no plans to initiate any positions within the next 72 hours.
I wrote this article myself, and it expresses my own opinions. I am not receiving compensation for it (other than from Seeking Alpha). I have no business relationship with any company whose stock is mentioned in this article.