This article discusses the potential merger-arbitrage opportunity in Krispy Kreme Doughnuts (KKD).
Shares of Krispy Kreme Doughnuts (KKD) were down more than 25% leading up to the most recent earnings announcement on March 22nd, and down over 5% in after-hours trading that day alone. The subsequent share weakness and uncertainty from lower expectations allowed potential suitors to circle the company for a possible takeover.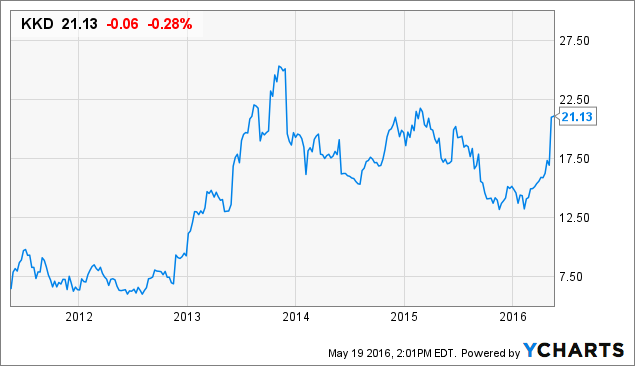 On May 9, 2016, Krispy Kreme announced JAB Beech Inc. (owns controlling stakes in Keurig Green Mountain (NASDAQ:GMCR), Jacobs Douwe Egberts, Jimmy Choo (OTC:JYMHF), Bally (OTCPK:BLYQ), Belstaff, Peet's Coffee & Tea, Caribou Coffee, Einstein Noah Restaurant, and Espresso House) entered into a definitive agreement for JAB to acquire Krispy Kreme for $21 cash per share ($1.35 billion).
Jim Morgan, chairman of the board for Krispy Kreme, said:
For nearly 80 years, our iconic brand has been touching and enhancing lives through the joy that is Krispy Kreme. This transaction puts us in the best possible position to continue to spread that joy to a growing number of people around the world while delivering significant value to Krispy Kreme shareholders. I am confident the JAB team is the right partner with whom to continue building upon our incredible legacy.
There appear to be various synergies involved in the deal, and Krispy Kreme is expected to compliment JAB's numerous consumer brands including Keurig, Peet's Coffee, Caribou, Einstein Noah, and Espresso House. JAB has been building a global coffee powerhouse over the years with a host of brand name companies in their portfolio; Krispy Kreme should fit into that portfolio very well. Krispy Kreme's growth characteristics undoubtedly attracted JAB to the company. In addition to being a leader in the doughnut market, Krispy Kreme has also tried to bolster its coffee business by offering new coffee drinks and products, such as coffee treats (coffee flavored snacks).
So is there opportunity as a merger-arbitrage candidate? Let's dive in and find out.
JAB is a privately held group focused on long-term investments in companies with premium brands and attractive growth. With billions under management and easy access to financing, JAB appears to have more than enough cash on hand to finalize the all-cash deal. We do not see a high probability of failure given JAB strong financial backing and the lack of regulatory interference.
The deal is said to close in third quarter of 2016 (4 months), both sides appear to be excited about the deal and the synergies involved, and there seem to be no regulatory hurdles. The relatively small size of the deal should help pave the way for a smooth transaction.
The current price of the stock trading above the takeover price of $21.00 implies that the market expects a high bid for the company. Krispy Kreme is currently priced at 34x FCF and EV/EBIT of 25 - not cheap by any stretch of the imagination. However, the company has a great balance sheet and would make a great bolt-on acquisition to a number of other coffee or restaurant companies. We could be in the middle of a bidding war.
There are many uncertainties around potential mergers, such as anti-trust approvals, multiple government reviews, changes in market conditions, shareholder approval, and due diligence. The deal still needs regulatory and shareholder approvals as well.
If the deal were not completed, we would expect prices to drop to the pre-deal price of $16.50, or a loss of $4.58. We give the deal a 95% chance of being complete based on the parties, size, and all-cash buyout offer.
If we look at the recent quote we the stock is trading at $21.08 per share, $0.08 above the announced cash offer of $21 per share by JAB. If doesn't take a genius to know the acceptance of the $21 per share would be a losing bet at current levels. Our annualized expected return is -4.34%.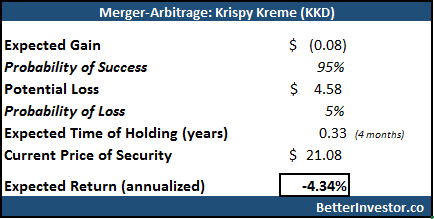 Bottom Line
The Krispy Kreme merger is an interesting deal. While we do not see a high probability of failure given JAB's strong capital backing and the lack of regulatory interference, this looks unappealing at current levels with a negative return potential. The risk does not justify the return in this case.
Remember, we wouldn't be surprised to see additional bids for the company. If you were inclined to participate in the potential for a higher bid, we'd typically look to purchase out-of-the-money call options as cheap and far out as possible. In this case, we'd look at the November 21 Calls for 0.45 or the November 22 Calls for 0.15.
Happy hunting!
Warning: Merger-arb can be tempting for investors to use leverage to increase their annualized return on high probability events…Resist the urge! Many Wall Street firms conduct merger-arb as their main business, and they will normally have 50 or more merger-arbitrage investments at any one time. They understand that if a couple of deals go bad, the winners will more than take care of the losers.
Merger-arb can be a very crowded strategy at times. Similar to value investing, it can be cyclical and go in and out of favor over time.
The key to merger-arb is to focus on the few deals that are highly probable (ideally ALL cash deals) with minimal regulatory hurdles and an acquirer with a great capital base. And if you're new to merger-arb, watch a few deals play-out over various industries to get an understanding of the deals.
If you do invest in merger-arb situations, conduct proper due diligence and make sure to spread your risk appropriately. If you are so inclined to learn more about these types of special situation, I highly recommend Graham's writing on arbitrage in his book Security Analysis.
Notable Shareholders: Chuck Royce, George Soros, Mario Gabelli.
Please share your thoughts in the comments section below, as I learn just as much from you as you do from me. It can be a time-consuming endeavor, but I do answer all of your comments and questions myself. Your patience and understanding are greatly appreciated. I will get to your remarks as soon as possible.
Disclosure: I/we have no positions in any stocks mentioned, and no plans to initiate any positions within the next 72 hours.
I wrote this article myself, and it expresses my own opinions. I am not receiving compensation for it (other than from Seeking Alpha). I have no business relationship with any company whose stock is mentioned in this article.