Introduction
I have always had a soft spot for Atico Mining (OTCPK:ATCMF), and even though this company has had its ups and downs since I started to discuss it about two years ago, it does look like shareholders will now finally be able to reap the rewards after several years of hard work. The mill expansion is completed, a new resource update has been filed, and the financial situation has improved, thanks to the positive free cash flow.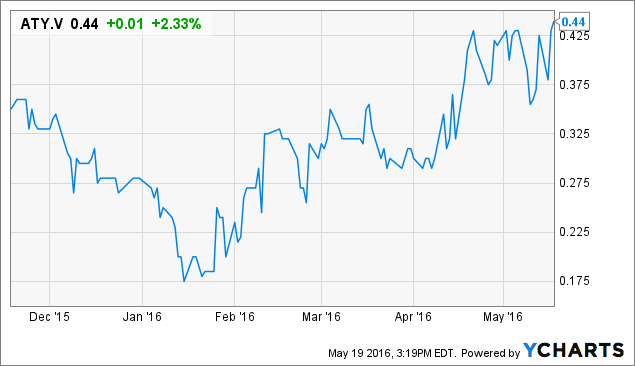 Atico's main listing is still on the TSX Venture Exchange, and you should use that as your main trading venue to try to get your hands on some stock (should you want to do so after reading this article). The ticker symbol in Canada is ATY.
FY 2015 was as good as I expected with a positive free cash flow
Atico saw a nice gradual increase in its copper and gold production in 2015 as it started the year with a pretty disappointing production of just 2 million pounds of copper in Q1, increasing to 2.9M lbs, 3.3M lbs and 3.9M lbs in the subsequent three quarters, to end the year with a total production rate of 12 million pounds of copper, as well as just short of 11,000 ounces of gold.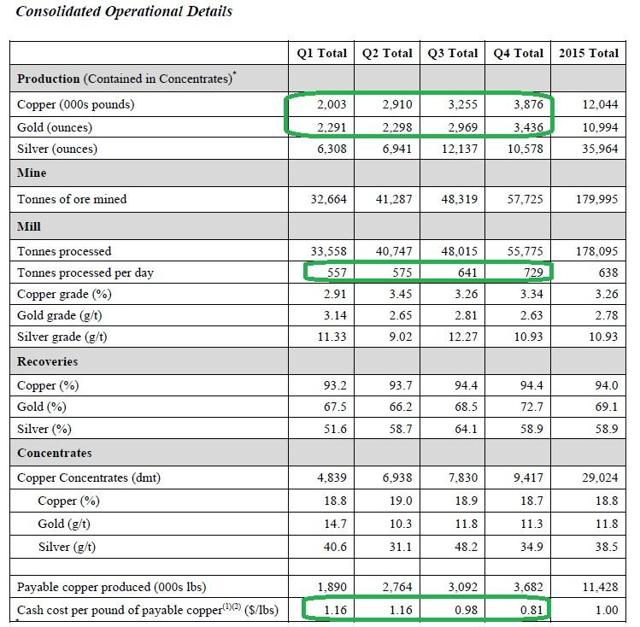 Source: Press release
The continuous production increase was caused by the expansion of the mill at the Colombian El Roble mine, and whereas the company processed just 557 tonnes per day in Q1 2015, this had already increased to 729 tonnes per day in Q4, bringing the full-year average at 638 tonnes per day, which was sufficient to generate a positive free cash flow in 2015, thanks to the high average grade of 3.26% copper and 2.78 g/t gold, and the high recovery rates. Atico produced approximately 11.4 million pounds of "payable" copper at a cash cost of $1/lbs (and just 81 cents in the final quarter of the year).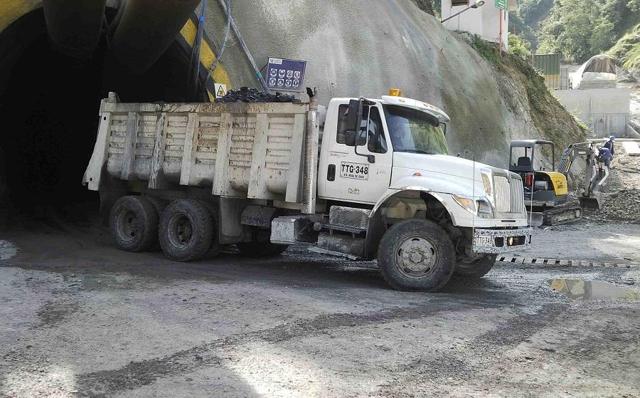 Source: Company website
Thanks to the higher production rate, Atico's total revenue increased to almost $37M, resulting in a mine operating income of $11.2M and an operating income of $5.1M, which is approximately 60% higher compared to the financial-year 2014. The net income of $300,000 might disappoint you, but that's pretty normal considering there's a $10M depreciation and depletion charge associated with the mining activities in 2015.
That's obviously a non-cash charge, so I was really curious to see Atico's cash flow statements, which provide a more detailed overview of what really matters; hard dollars.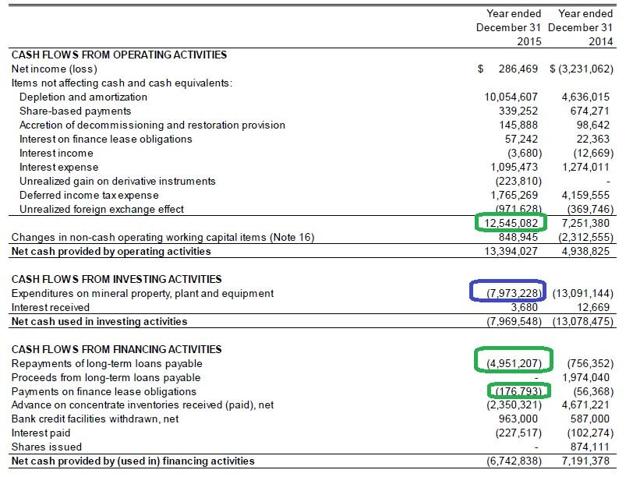 Source: Financial statements
The total operating cash flow, excluding changes in its working capital, was $12.5M, and after deducting the interest and lease payments, you'd still end up with $12.1M on an adjusted basis. Considering the total capex was just $8M (down from $13.1M in 2014 when the mill expansion was in full swing), Atico generated a positive free cash flow of $4.1M. You might shrug this off, but this actually is a pretty important development, considering the company was holding quite a bit of copper and gold in its inventory. About 4,500 tonnes of "non-invoiced" concentrate remained stockpiled on the company's premises, and although no details have been disclosed about the average grade, Atico has provided an overview of chances in its concentrate, and it looks like the value of the concentrate has increased by $2.9M, and that's something the cash flow statements haven't taken into consideration (after all, keeping concentrate as inventory doesn't cause any cash to change hands).
2016 will also be excellent thanks to the higher average throughput
So not only do I expect the company to sell at least 2 million pounds of copper more than it will produce this year, but I'm also pretty optimistic about the company's plans for this year. The expansion to 800 tonnes per day has been completed, and even though the updated resource estimate shows a decrease in the company's gold grade, the average copper grade remains pretty high.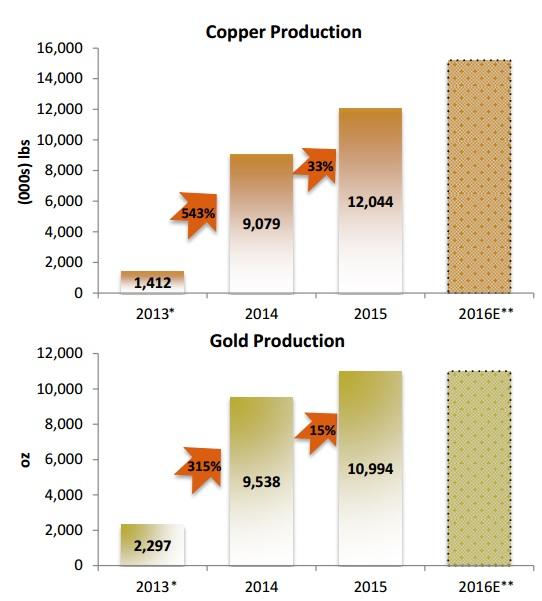 Source: Company presentation
My suspicions were confirmed in the company's Q1 2016 update, wherein it disclosed it produced 4.3 million pounds of copper as the average daily throughput continued to increase. The copper grade was 3.81% whilst the gold grade was just 2.25 g/t.
Atico hasn't disclosed the production cost per tonne of processed ore, but if I'd be quite conservative and use $95/t (it was just $80/t in Q4 2015), selling the gold as a byproduct would probably take care of $60/t of the operating expenses, so the remaining $40/t would then be the production cost to produce the copper. Using a "payability" of 90%, Atico would produce approximately 70 pounds of copper per tonne of rock, resulting in a production cost of approximately 60 cents per pound of copper.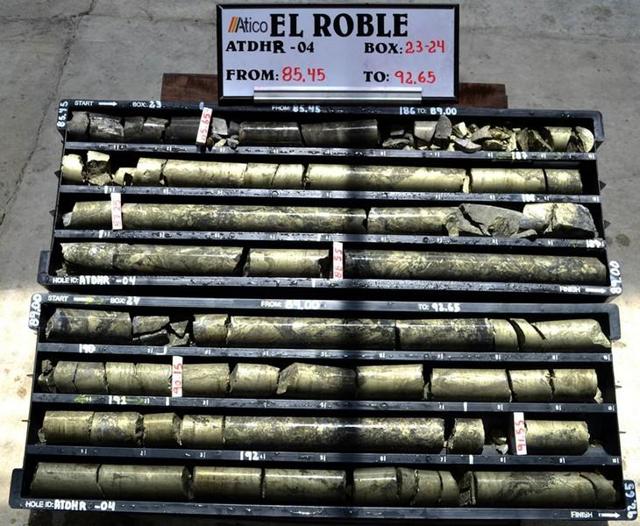 Source: Company website
That's just a back-of-the-envelope calculation, but it does mean I'm really looking forward to see the company's financial results in the first quarter of the year, and even though the copper price was just $2-2.25/lbs, I would expect Atico to have generated a substantial amount of operating ($5-6M) and free cash flow ($3-4M).
Investment thesis
Atico was spit out by the market earlier this year, and back in January, the company was trading at 1X its free cash flow. Yes, the company does have some debt, but based on the current commodity prices and production rates, I think the current net debt position of $5.7M (as of at the end of last year) will vanish by the end of this year, allowing Atico to become even more aggressive with its exploration programs at El Roble.
After seeing the FY 2015 financials and the Q1 2016 production rate, I'm now more convinced than ever before that Atico has what it takes to convince the market. I expect the full-year cash cost per pound of copper to be less than $1, and the AISC to be just $1.25/lbs (which would allow Atico to spend $6-8M on sustaining capex and exploration). Should this be the case, then Atico won't be worried at all about the current copper price as its net margin will still be a very comfortable $1 per produced pound of copper. And the lower gold grade doesn't worry me either, as the higher gold price is partly compensating the impact of the grade.
Disclosure: I am/we are long ATCMF.
I wrote this article myself, and it expresses my own opinions. I am not receiving compensation for it (other than from Seeking Alpha). I have no business relationship with any company whose stock is mentioned in this article.