Wow, what a whirlwind of announcements by NQ Mobile (NYSE:NQ) about the sale of one of its gaming assets called FL Mobile. They have either partially sold or tried to sell FL Mobile four different times now. But every one of the last three attempts was either cancelled or refunded with interest. So now, obviously, not many people believe this fourth attempted sale will be any different than the other three, and the stock is trading lower than it was before they ever announced they were selling FL.
So let's look at the other three attempted sales. The first one was a definitive partial sale of 5.88% of FL Mobile to Bison Capital in 2014. This put a "post money valuation" on FL of $425 million. The second sale was a 100% sale of FL mobile, also in 2014, to a Chinese company called Tack Fiori for around $600 million. Then the third attempted FL sale was in 2015 to a Chinese wine company called Gansu Huangtai. And lastly, on May 17, NQ has announced a fourth attempted deal to sell 100% of FL Mobile to a Chinese company called Shenzen Prince. This supposed deal puts a valuation of over $700 million on FL Mobile.
Wow! Four attempted deals in two years? Well anyway, here's how the first three deals turned out: The first definitive 5.88% partial sale to Bison had a hidden caveat or condition attached to it which stated that FL had to complete a "qualified IPO within 12 months" or the money could be refunded with interest. Which I wrote about earlier here:
NQ Mobile: 3 Positives (With Caveats) That you Can't Deny
There was no FL IPO, and the deal was cancelled and the money was refunded with interest over a year later. The other sales to Tack Fiori and Gansu also were both called off later at different times because NQ said in the same type of press releases that both Tack and Gansu were "not able to proceed further with the proposed transaction."
Obviously, there just aren't that many believers in this fourth attempted sale turning out any different than the previous three did. And the price only gained about 12% after this sale announcement. But it had dropped around 30% just a week before that. So, right now, the price is lower than it was two weeks ago before this announcement.
Now yes, there are a few people who believe this fourth deal is different because it has the word "definitive" in it, and it has been signed (like the author of the NQ article on May 18th). The author writes that he believes this deal because "this time, the definitive agreement has been signed." But the 5.88% sale to Bison in 2014 also had the word "definitive" in it, and it was also signed. And we all know that deal was refunded over a year later with interest.
So because of all the fear, uncertainty and doubt over this fourth deal being true, the stock is actually trading lower than it was before NQ ever even announced they were trying to sell FL Mobile in DEC of 2014.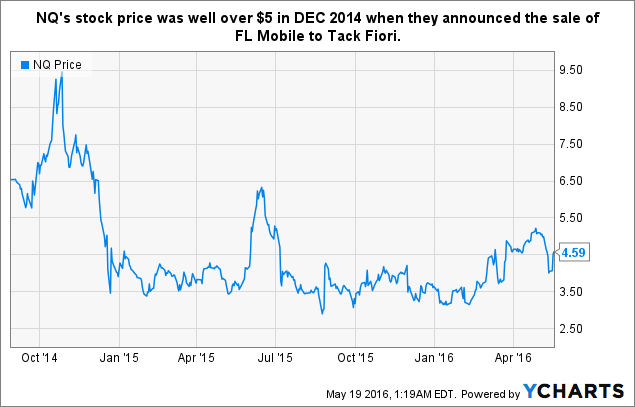 NQ data by YCharts
In summary, this stock is a pure gamble. NQ has already announced three different deals that did not ever come to fruition, so why would you put any new money on the fourth deal turning out to be real? And now, even if you win the bet, and this deal really goes through, then the price may not even get back to where it was two weeks ago at $5.25. Simply because how could anyone ever know that even if the sale happens, it won't be cancelled and refunded later with interest, like the FL sale to Bison was cancelled and refunded over a year later with interest?
Investors don't like uncertainty and nobody can possibly know for sure if NQ won't just do the same thing as last time and refund this deal with interest a year from now. This makes the second of these signed definitive FL sales, and the last signed definitive FL deal with Bison has already been cancelled and refunded with interest.
So unfortunately, the theory of the latest author's assertion that because this "definitive deal has been signed" means anything different this time is immediately rendered defunct and moot. Because we already know the last "signed definitive" FL sale to Bison was cancelled and refunded. And it actually cost NQ money because of the interest paid.
However, on the "long and holding" side of things, I will admit that the stock price is already so low, that if you already own it, then all I could do is recommend holding the stock to see if this fourth deal is actually real.
But after so many botched and refunded deals, even if NQ gets the money, how long will you have to wait to see whether NQ ends up refunding the money again? They refunded the money to Bison with interest over a year later.
And now after all these cancelled FL deals and one signed definitive FL deal that was refunded with interest a year later have crashed the stock price to $4.60, investors now face the real possibility of losing FL Mobile's revenue and earnings going forward, and seeing the stock price lower than it was when they had FL Mobile's revenue and earnings.
What a stock! Certainly not for the faint of heart.
Disclosure: I/we have no positions in any stocks mentioned, and no plans to initiate any positions within the next 72 hours.
I wrote this article myself, and it expresses my own opinions. I am not receiving compensation for it (other than from Seeking Alpha). I have no business relationship with any company whose stock is mentioned in this article.