Update: Poll results are in. And most everyone likes Cisco after earnings.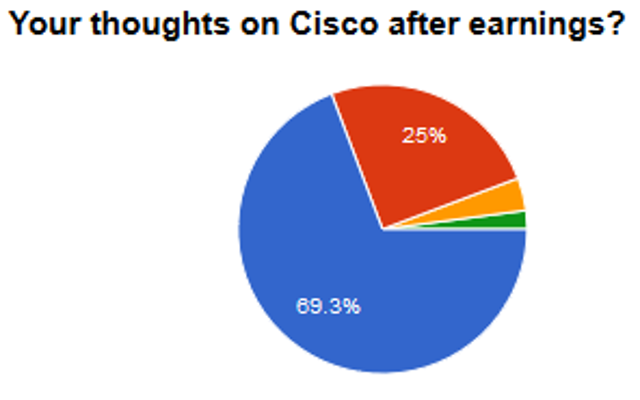 Buy - earnings were great, more upside ahead - 69.3%
Who doesn't like the dividend? - 25%
The space is competitive, best bet is to avoid - 3.6%
Cisco is at a top - time to sell - 2.1%
Thanks to everyone who participated in today's poll. Keep the conversation going. And make sure to look for more Market Challenge next week!
*****
While some tech giants struggled during earnings season, Cisco (NASDAQ:CSCO) delivered for investors.
Earlier this week, the company reported strong fiscal third quarter results with an EPS beat and revenue of $12 billion topping estimates by $30 million. The numbers also came with strong guidance for the current quarter. In addition, the company received a handful of analyst upgrades.
Do the better-than-expected numbers and positive outlook make the stock a buy?
D.M. Martins Research likes Cisco's progress with services and software. Analysts at Robert Baird, which this week raised their price target on CSCO shares to $32 from $30, suggested the company is "better positioned" for public cloud and software-defined opportunities.
Is Cisco a buy? Or a stock to avoid? Offer your analysis below!