Speculation is rampant that someone will acquire Westar Energy (NYSE:WR), but Westar executives refused to talk about it at their annual meeting Thursday, May 19, 2016, in Topeka.
Bloomberg reported that Westar Energy is working with Guggenheim Partners on strategic alternatives for the company, including possible sale of the utility. Interested buyers were asked to submit bids by May 23.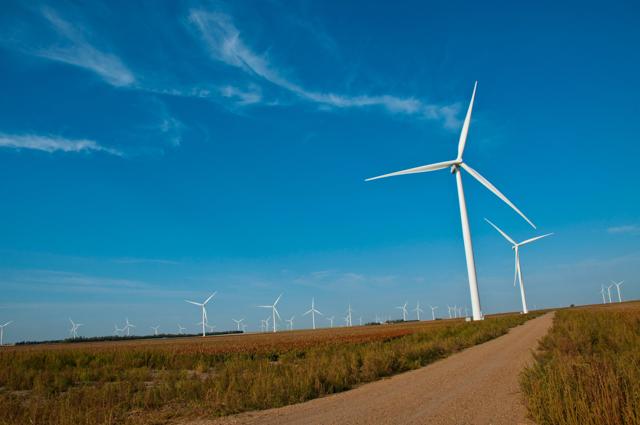 Photo Courtesy of Westar Energy
During the company annual meeting, I asked Mark Ruelle, chief executive officer of Westar, if the company has hired Guggenheim Partners to explore options for Westar. Ruelle refused to answer my question, saying the company will not respond to rumors and speculation in the marketplace.
I have interviewed several Westar Energy shareholders. Most agree the company would consider being acquired by a larger entity, and would not likely participate in a merger with a similar-sized company.
Ameren Corp. (NYSE:AEE), a St. Louis-based utility, is preparing to make a final offer for Westar Energy, according to Bloomberg. Ameren has a market capitalization of $11.4 billion compared with Westar's market cap of $7.3 billion.
Westar Energy stock is up 22% so far this year, driven in part by speculation the company will be sold.
Patrick Kerich, of Lawrence, Kan., a Westar shareholder for 40 years, said he was not happy with the idea of selling Westar Energy to another company. He likes the stock appreciation and steady dividends over the years. He said the stock has done particularly well since David Wittig left in 2002.
"If it does a merger or a sale, hopefully we'll be satisfied with it," Kerich said after attending Westar's annual stockholders' meeting.
Westar stock is up 88% in five years, plus it paid a lot of dividends during that time. Westar recently raised its quarterly dividend to $0.38 per share, payable July 1 to shareholders of record as of June 9.
Gene Wunder, of Topeka, a former Washburn University marketing professor, said he would rather not see Westar Energy sold, but believes a sale is inevitable because as part of a larger enterprise, there is economies of scale. Good companies with $7 billion market caps are disappearing, he said, gobbled up by larger corporations.
Ruelle said Westar will continue to grow wind power generation. Kansas was ranked 6th in the nation for wind power capacity. Texas is by far the largest wind generation state in the nation, followed by California, Iowa, Oklahoma and Illinois.
"Wind makes a lot of sense in Kansas," Ruelle told shareholders.
In 2017, Westar will produce enough carbon-free electricity (renewable power and nuclear) to fulfill half the electricity needs of the homes, businesses, farmers and ranches it serves.
Westar Energy's first quarter performance was impressive considering Kansas had a mild winter. The company earned $0.46 per share in Q1 2016, about 20% above first quarter 2015, benefiting from better margins from last year's retirement of a couple of small generating units and implementation of higher customer rates approved by the Kansas Corporation Commission.
Conclusion
Westar Energy shareholders are wise to hold onto their shares until we find out whether the company is sold. I find it strangely coincidental Westar is working with Guggenheim Partners for strategic options. Guggenheim, headquartered in Chicago and New York, controls a major financial company called Security Benefit. There is probably no correlation but Security Benefit and Westar Energy are both based in Topeka. If there is no sale of Westar Energy, I expect Westar stock to decline. I will buy more shares around $41 per share.
Disclosure: I am/we are long WR.
I wrote this article myself, and it expresses my own opinions. I am not receiving compensation for it (other than from Seeking Alpha). I have no business relationship with any company whose stock is mentioned in this article.