Penn West (NYSE:PWE) is down sharply after warning about its ability to continue as a "going concern" in its Q1 2016 earnings report. The company noted that it might need lenders to amend its financial covenants regarding leverage if oil prices stay low. However, the risk of a default from Penn West seems minimal in the medium term.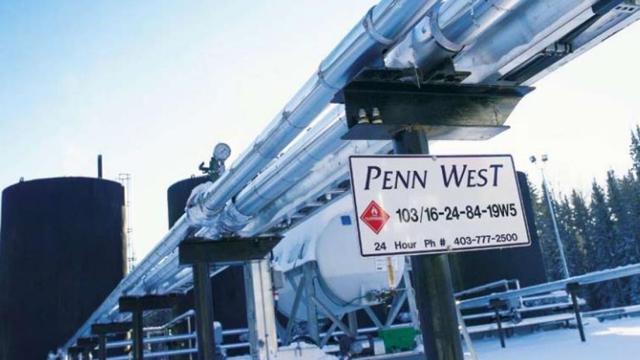 Going concern risk
As of the end of Q1 2016, Penn West had $1.869 billion in senior debt and $429 million in TTM EBITDA, good for a 4.4x senior debt to EBITDA ratio. The current covenant for this metric is to be under 5.0x.
However, this EBITDA number includes $134 million from Q2 2015 which is set to be replaced by much weaker numbers for Q2 2016. Fellow Seeking Alpha contributor Michael Blair did the math and found that Penn West would be on the cusp of a covenant breach with estimated TTM EBITDA of $370 million, which would allow debt of $1.85 billion, versus $1.87 billion currently.
When adjusted for a $200 million asset sale, which closed after March 31, 2016, Penn West would be under 5.0x with $1.68 billion in debt.
There is another problem, though. As shown below, Penn West will see the covenant change from 5.0x EBITDA to 4.5x by September 30, 2016 and 4x EBITDA by December 31, 2016.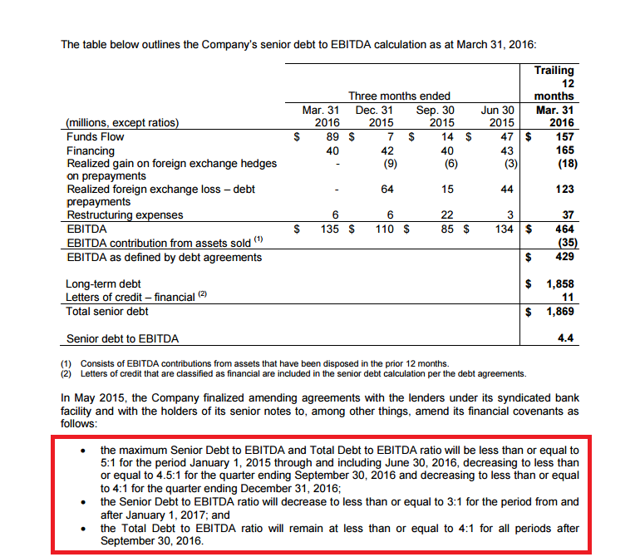 Assuming TTM EBITDA stays flat at $370 million, Penn West would have to reduce its debt load by ~$15 million by September and ~$200 million by December to stay compliant with these covenants. I do not think this can happen outside a major rally in oil prices.
Conclusion
I believe Penn West will need some help from its lender group to be granted covenant relief. I think they'll be able to work something out. These concession may come at a cost, be it increased asset sales or restrictions on cash flows.
Penn West has been aggressive in lowering its debt, selling off well over $1.0 billion in asset since 2015. But the company is at risk of entering into a debt spiral, i.e. selling off assets to pay down debt, resulting in lower EBITDA necessitating even more asset sales. The only way out is via higher oil prices.
As a result, unless you think oil prices are heading higher, I would not be a buyer of Penn West's common equity.
Disclaimer: The opinions in this article are for informational purposes only and should not be construed as a recommendation to buy or sell the stocks mentioned. Please do your own due diligence before making any investment decision.
Disclosure: I/we have no positions in any stocks mentioned, and no plans to initiate any positions within the next 72 hours.
I wrote this article myself, and it expresses my own opinions. I am not receiving compensation for it (other than from Seeking Alpha). I have no business relationship with any company whose stock is mentioned in this article.
Editor's Note: This article covers one or more stocks trading at less than $1 per share and/or with less than a $100 million market cap. Please be aware of the risks associated with these stocks.