Nobody likes to kick a dog while it's down, but Netflix (NASDAQ:NFLX) has not traded well since reporting Q1 earnings on April 18 th, 2016. There exist many reasons to short Netflix, but three factors stand out: competition, rising content costs, and weak technical conditions in a market that cannot seem to find direction.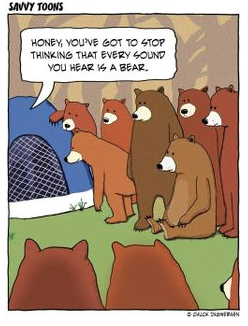 Competition matters
The entertainment business is fickle, and trends come and go as quickly as the seasons. Today, movies, video, and television are available on many various, unique, and ever-changing platforms. The rise of movie streaming services, particularly Netflix, helped coin the term 'cord-cutting'- the process of taking market share from traditional cable and broadcast television companies. The media landscape contains many players amid fierce competition for revenue and content. Netflix faces competition from Hulu, HBO (NYSE:TWX), Amazon (NASDAQ:AMZN), Showtime (NYSE:CBS), and YouTube (NASDAQ:GOOG), just to name a few. On the international front, the competition comes from everywhere, including pirated material. In each international market, Netflix must deliver original content and compete with already established or up and coming players. The rules will be different in each region, and subject to change on a whim. In the U.S., Netflix must compete for both content and paid subscribers, and any shift in growth-rates will change the Netflix bull story and create a cult of bag holders.
Rising Content Costs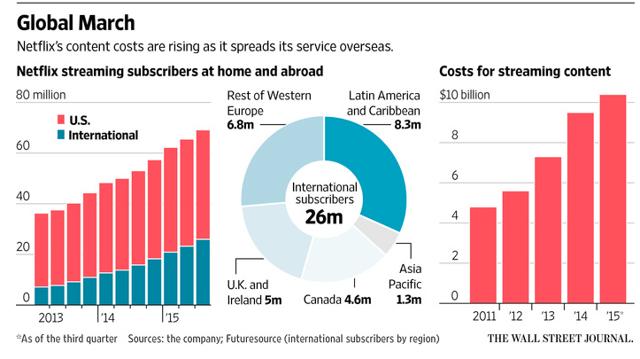 It is not just streaming services and cable television that Netflix competes with. Netflix delivers content, and needs to always be adding or changing the available library in order to produce a compelling product and add/keep subscribers. The business model seems fairly simple, like a video-rental store online, and this fast-growing segment of entertainment has media companies scrambling to create additional streaming services. Media giants like Disney (NYSE:DIS) create content, and licensing this content comes with a price, which can quickly rise in this kind of competitive environment. Amazon, Hulu, and others will be bidding up the price of that content in the coming years. Content costs are not fixed costs, but rather a variable cost with more moving parts than most commodities. As Netflix grows their subscriber base, the company finds itself mired in a conundrum of more is more; meaning the more added subscribers (especially international) equals more money spent on content to keep the library relevant and growing. Netflix has been very successful in creating content, but can this lucky streak continue for the long-term given the fickle and flighty nature of entertainment trends. However, if Netflix attempts to cut content costs than the likeliness of losing or churning subscribers becomes real. This conundrum appears as a lose/lose situation that the market is beginning to come around to. Cost of revenue is more than likely to rise as the customer base grows, and Netflix needs some magic on both the top and bottom line to help turn this margin nightmare around.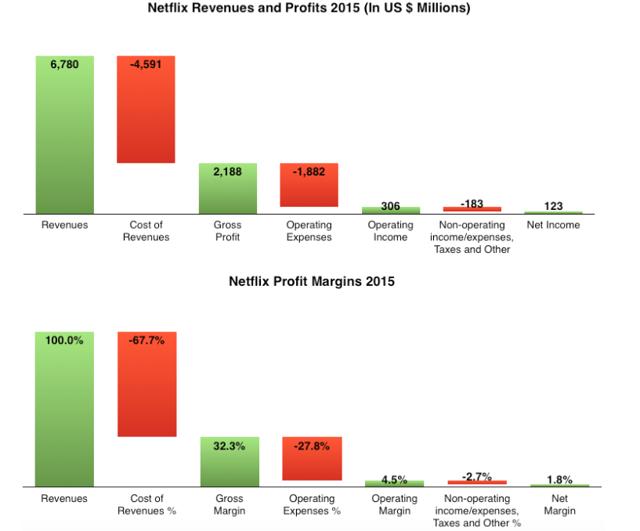 Weak Technical Conditions
Netflix reported earnings twice so far this year, and each time the market spoke a little differently, but the trend continues down.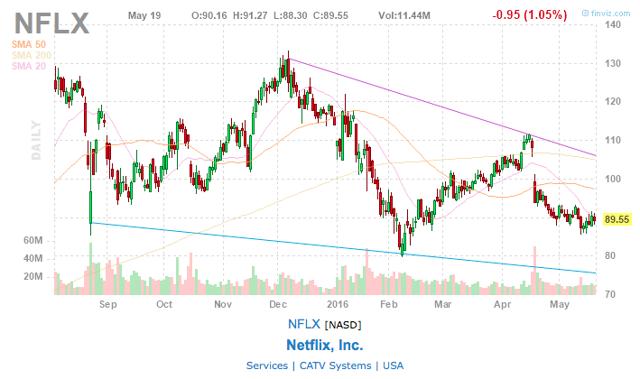 As illustrated above, volume speaks volume, and NFLX was able to crawl up a wall of worry in late March and early April on relatively low volume. The stock popped above its 200-day moving-average fooling the bulls momentarily, then earnings in April dropped the stock back into bear territory in what looks to be a long, cruel summer for Netflix. The 'death cross' from late February is still in effect, and new yearly lows will coincide with the lower blue trend line sometime in June. If the market drops significantly, weak-technical cult stocks like Netflix will get hit hard, and will take that much longer to recover, if at all. Netflix does not produce a compelling product or profits like Amazon, Facebook (NASDAQ:FB), or Google, and over time will not continue to trade at comparable pie-in-the-sky valuations.
It would take quite a compelling bull thesis to suggest that NFLX has any positive catalyst due in the future. Rave reviews of future content will not be enough to move the stock significantly, and only a remarkable Q2/Q3 earnings beat could get the stock moving again, but more than likely only run-ups into earnings can be expected from here with disappointing price action to follow. The market could hit new highs this summer, but that does not guarantee NFLX participates, especially given the amount of sector rotation the market has experienced this year. The weekly chart illustrates the parabolic rise of NFLX, and the stock never experienced much resistance in early 2015 from the $60 to $80 range, and once $80 is breached look out below!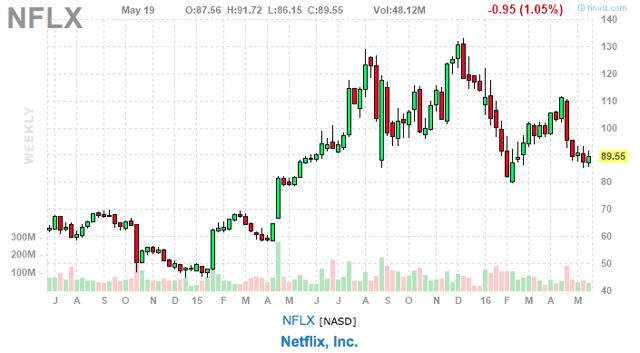 Conclusion
Many other reasons to short Netflix could be explored like valuation, profitability, debt, slowing growth, potential cash raise or dilution, insider selling, market saturation and the law of larger numbers. However, it should be noted that Netflix has never traded at a reasonable valuation, but rather as a cult momentum stock. That momentum has shifted, and astute investors should recognize the weakness for what it is, the beginning of a massive shift in sentiment for Netflix.
Disclosure: I am/we are short NFLX.
I wrote this article myself, and it expresses my own opinions. I am not receiving compensation for it (other than from Seeking Alpha). I have no business relationship with any company whose stock is mentioned in this article.
Additional disclosure: This article is intended for information, engagement & entertainment purposes only, and is not meant as investment advice or direction. Shorting stocks can be dark business. Investors are strongly encouraged to perform due diligence and/or consult with their financial advisor.