Welcome to the May 20 edition of Seeking Alpha's Eye on Tech newsletter.
Notable Tech News
Apple opens Indian office, plans to create up to 4K jobs for Apple Maps - Context is important here: Hiring up to 4K Indian workers to help develop Apple Maps, as Apple (NASDAQ:AAPL) plans to do through a partnership with local geospatial/software services firm RMSI, should be much cheaper than hiring that many in the U.S. Still, the move drives home how serious Apple is about growing its Indian presence and fostering goodwill, as the company presses the Indian government to reverse a ban on importing/selling used iPhones.
Apple has also opened up an iOS app startup accelerator in Bangalore, and reportedly plans to open Apple Stores in Mumbai, Delhi and Bangalore by the end of 2017. The company's Indian phone share is currently pegged around 2%. Tim Cook recently trumpeted the Indian market's long-term potential during a talk with Jim Cramer.
WSJ: Bids for "core" Yahoo expected to come in at $2B-$3B, less than previously-expected $4B-$8B - For some reason, companies are cautious about bidding on a fragmented web media empire that has guided for ex-TAC revenue to drop to $3.4B-$3.6B this year from 2015's $4.1B and 2014's $4.4B, and operating income to drop to $150M-$250M from 2015's $342M and 2014's $755M. As the WSJ observes, companies could be low-balling their bids a bit in the initial rounds. Verizon (NYSE:VZ), which appears to have dreams of pairing Yahoo with AOL and other online media assets to create an ad rival to Google and Facebook (NASDAQ:FB), is said to remain the front-runner.
With Yahoo having closed on Thursday with a $35.1B market cap, the figures provided in the WSJ's report are a fresh reminder that Yahoo's 384M-share Alibaba (NYSE:BABA) stake (current pre-tax value of $30.1B) still has the biggest impact on its shares.
Google will build its own VR headset, bring Android apps to Chrome OS in September - After unveiling its Daydream VR platform on Wednesday - it features headsets powered by compatible Android phones, supports a handheld controller, and is much more advanced than Google's (GOOG, GOOGL) current Cardboard VR platform - Google says it'll sell its own Daydream headset, thus competing with OEM partners such as Samsung, Xiaomi, HTC and Huawei. The company predicts hundreds of millions of phones will be Daydream-compatible in a couple of years, and hopes this will allow Daydream to turn into a mass-market platform.
Meanwhile, Google says the Play Store (and with it, the store's Android apps) will be available on Chrome OS devices in September, and that it's working with OEMs to launch Chromebooks supporting Google Play out of the box. Exec Kan Liu: "You're going to be able to get onto your Chromebook and have all your favorite Android apps, games, and media content."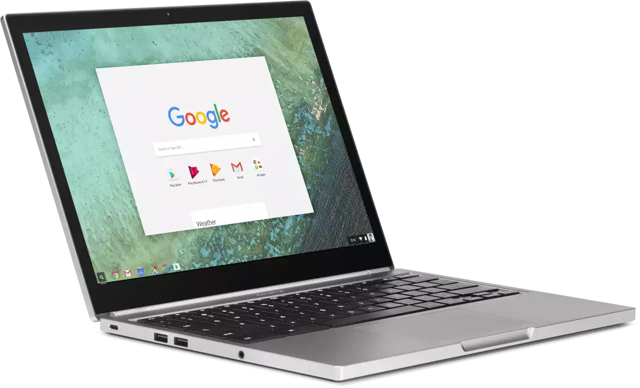 It'll take some time for developers that wrote Android apps meant for handheld touch-only devices to optimize them for cheap non-touch PCs - not all Chromebooks fit this description, but most of them do - sporting keyboards and mice/trackpads. And of course, developers have to feel Chrome OS is important enough to justify the effort. But it's easy to see how Android's huge app ecosystem can boost Chrome OS' appeal to both consumers and businesses, as well as enable PC/tablet hybrids. As SA contributor Mark Hibben has observed, Microsoft (NASDAQ:MSFT) can't be thrilled about Google's efforts.
Microsoft is prepping a "Bing Concierge Bot" that will compete with Google Assistant - A day after Google revealed a "conversational" assistant service (known as Google Assistant, accessible via both voice and a messaging app), ZDNet uncovered a Microsoft job posting indicating the company is prepping "a highly intelligent productivity agent that communicates with the user over a conversation platform, such as Skype, Messenger, SMS, WhatsApp, Telegram, etc." The agent "runs errands on behalf of the user, by automatically completing tasks."
Plenty of competition exists: In addition to Google Assistant, there's Apple's Siri, Amazon's (NASDAQ:AMZN) Alexa, and Facebook's M assistant for Messenger (still in beta), which combines human and AI-based assistant services. Microsoft can leverage its investments in Bing and Cortana, as well as its recently-launched Bot Framework, which lets third-party developer build Microsoft-hosted chatbot services for messaging apps.
Separately, Microsoft has partnered with Sohu's (NASDAQ:SOHU) Sogou search unit (#3 in the Chinese market) to have Bing deliver English-language results on two vertical Sogou search services.
Applied Materials surges on strong results/guidance; display and flash memory orders jump - The chip equipment giant's orders rose 52% Q/Q and 37% Y/Y in FQ2 to $3.45B, thanks in large part to a near-6x Y/Y increase in display equipment orders to $700M. CEO Gary Dickerson: "In the display area, customers are moving to OLED, particularly in mobile, and that increases our total available market by a factor of three." Apple has been widely rumored to be planning to launch iPhones sporting OLEDs in 2017.
Also: 3D NAND flash memory investments led Applied's (NASDAQ:AMAT) flash-related orders to more than double Y/Y, and allowed total chip equipment orders to rise 15% to $1.97B in spite of weak foundry and DRAM-related orders. And solar segment orders (weak for a while) saw some improvement, more than doubling to $108M.
Applied's numbers are an apparent positive for chip equipment peers such as Lam Research (NASDAQ:LRCX), KLA-Tencor (NASDAQ:KLAC), ASML (NASDAQ:ASML) and Axcelis (NASDAQ:ACLS). They might also be some positive read-through for OLED materials and IP provider Universal Display (NASDAQ:OLED) and for industrial laser supplier Coherent (NASDAQ:COHR), which has strong OLED exposure.
Brocade slumps after issuing weak FQ3 guidance, blames weak storage demand - In case you needed another datapoint indicating enterprise storage demand is weak - see also EMC and NetApp's recent numbers - Brocade (NASDAQ:BRCD) provided it. Thanks to weak storage networking ("SAN") hardware demand, Brocade (issued an April quarter warning two weeks ago) is guiding for revenue to be down 6% Y/Y in FQ3 (the July quarter) at the midpoint of its range, not counting the impact of the pending Ruckus Wireless (NYSE:RKUS) acquisition. On the bright side, IP networking hardware revenue is expected to rebound in FQ3, and the Ruckus deal will lower Brocade's exposure to a SAN market pressured both by industry weakness and adoption of alternative storage architectures.
Samsung Pay will work with Alipay - With Alipay a colossal force in the Chinese online payments market - it claims 450M registered Chinese users, and is only rivaled in China by Tencent's (OTCPK:TCEHY) WeChat Pay - it makes a lot of sense for Samsung Pay (enables in-store mobile payments, including via traditional magnetic stripe point-of-sale terminals) to partner with Alipay. There isn't yet a similar integration deal for Apple Pay.
Uber tests a self-driving car in Pittsburgh - Uber's (UBER) car, a modified Ford Fusion, is both collecting mapping data and "testing its self-driving capabilities." It relies on radar, laser scanners and high-res cameras, and follows an R&D partnership with Carnegie Mellon. Uber proclaims it thinks self-driving cars will eventually "mean less congestion, more affordable and accessible transportation, and far fewer lives lost in car accidents."
They could also, of course, lower the ride-sharing leader's dependence on human drivers. The volumes of real-world driving data Uber has collected could help it successfully deploy a fleet of autonomous vehicles over the long run, whether those cars use Uber's own self-driving technology or that of third parties such as Google and incumbent automakers. There's speculation Apple's $1B investment in top Chinese ride-sharing provider Didi Chuxing was done in part to strengthen its autonomous driving efforts, particularly given China's embrace of the technology. Rival Lyft (LYFT) has a self-driving car partnership with GM.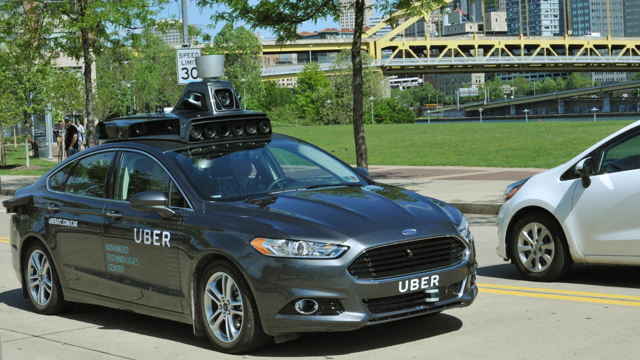 Uber's self-driving car prototype
ServiceNow expands into cloud customer service software, takes on Oracle and Salesforce - ServiceNow (NYSE:NOW) has become a top player in the cloud IT service management ("ITSM") software space via cloud-based offerings that have taken share from on-premise software from the likes of HP Enterprise (NYSE:HPE) and CA Inc. (NASDAQ:CA), and has gradually expanded into the broader IT operations management ("ITOM") software space. It's now taking on customer service software incumbents such as Oracle (NYSE:ORCL) and Salesforce (NYSE:CRM) with a product differentiated by creating a closed-loop process that covers both engaging with customers (as traditional apps do) and resolving issues via collaboration with engineers, field service workers and others. A ServiceNow VP: "It's a $9 billion market where no traditional vendor has 20 percent of the market."
Notable Tech Commentary And Reports
PayPal argues it can address over $100T worth of transactions - "We're about a $10 billion business going after a $100 trillion market. It order to do that, we need to change our value proposition," said PayPal (NASDAQ:PYPL) CEO Dan Schulman at his company's analyst day. Worth noting: PayPal's 2015 payment volume was actually $81.5B (+23% Y/Y), from which the company derived $2.6B in revenue (+17%).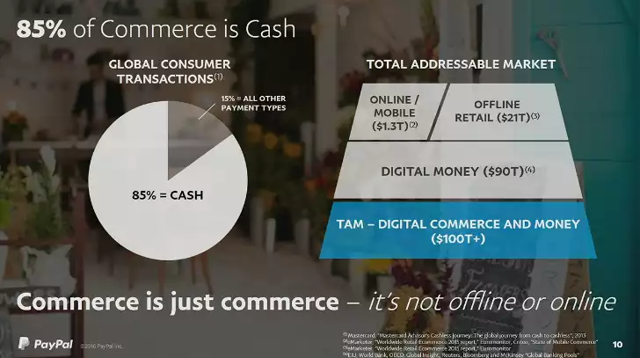 Regardless, PayPal still only accounts for a small portion of the non-cash transaction activity of its average user. The online payments giant argues it can benefit from a "flywheel effect" in which greater consumer reliance on PayPal's services strengthens its merchant ties and vice versa. It's looking to up-sell merchants on services such as loyalty programs, in-store purchases and financing, while boosting consumer usage via its mobile-friendly One Touch checkout option (lets consumers avoid having to re-enter their login, billing and shipping info). Apple Pay, Stripe (used for payments within Facebook and Twitter's apps) and others also provide fairly painless approaches to paying on smartphones/tablets.
Deutsche: iPhone prices are often much higher overseas - Among other things, Deutsche found an iPhone 6 costs (relative to the U.S.) 56% more in Brazil, 31% more in India, 22% more in France and Germany and 16% more in China. Local taxes and tariffs tend to be the biggest culprit. The figures provide some additional context to Apple's efforts to move downmarket by launching the iPhone SE (starts at $399 in the U.S.) and trying to sell used iPhones in emerging markets.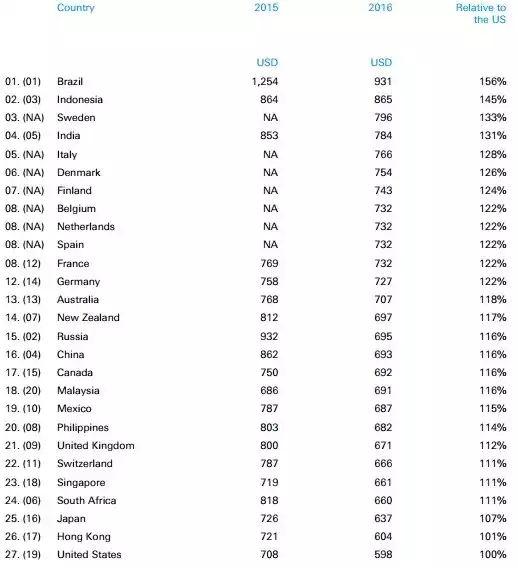 Prices for the same iPhone 6 model in various markets
IDC: Chromebook sales top Mac sales in U.S. for first time - With IDC having estimated Q1 U.S. Mac shipments totaled 1.77M (+5.6% Y/Y and good for a 13% unit share), the firm's comments might mean Chromebook shipments were around 2M (unit share around 15%?). One big caveat: Macs are still likely well ahead of Chromebooks in terms of U.S. revenue, given Apple had a calendar Q1 Mac ASP of $1,266 and most Chromebooks are sub-$300 devices.
IDC's remarks do, however, show how Chromebooks have been grabbing share from low-end Windows devices, thanks to a strong position in the education (K-12) vertical. And the September arrival of Android apps on Chrome OS could provide a fresh boost.
Pew: Only 15% of Americans have used ride-hailing apps and only 11% have used home-sharing services - Uber was valued at $62.5B in its latest funding round and Airbnb (AIRB) at $25.5B. But Pew Research's survey data suggests the vast majority of Americans have never used either. Those investing in the companies at current valuations are clearly betting on much higher long-term penetration rates, both in the U.S. and elsewhere.
Also of interest: Pew found only 64% of those who use a ride-hailing service daily or weekly own a personal vehicle, compared with 78% of those who use one less frequently or not at all.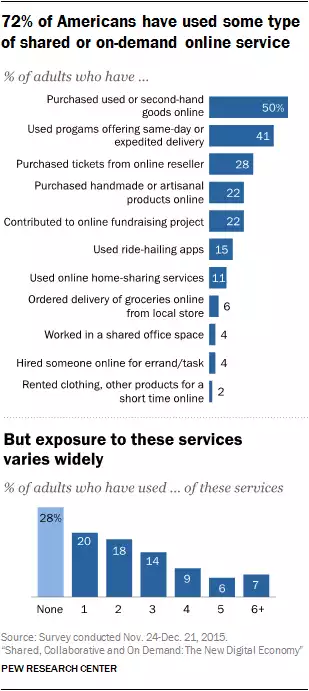 Disclosure: I/we have no positions in any stocks mentioned, and no plans to initiate any positions within the next 72 hours.
I wrote this article myself, and it expresses my own opinions. I am not receiving compensation for it. I have no business relationship with any company whose stock is mentioned in this article.
Editor's Note: This article discusses one or more securities that do not trade on a major U.S. exchange. Please be aware of the risks associated with these stocks.