We Sharpen Our Pencils While Price-focused Investors Stampede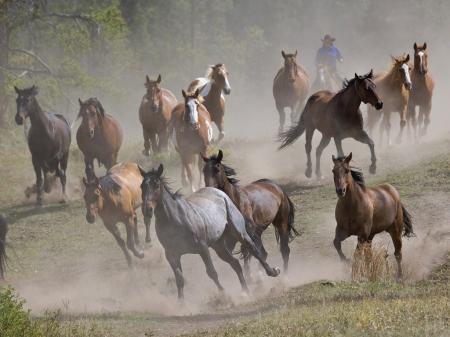 We never would have gotten to where we are if we were price-focused investors. Price-focused market participants sell, sell, sell at the first whiff of uncertainty.
Tuesday, three Federal Reserve Bank presidents made some hawkish squawks in separate speeches, intimating that we might see two or three rate hikes this year.
A couple of days ago, the odds of a rate hike in June was said to be 7%. Yesterday, after these speeches, the odds rose to 15%. Now, with the notes from the April FOMC meeting being released on Wednesday, it was said that "most" officials were in favor of a hike, soon. The odds of a June hike shot up to 26%.
I Smell Opportunity
If we were like the price-focusers, we would have panicked and sold out our portfolio numerous times, just in the last 3 months alone. But we didn't panic and we didn't liquidate our portfolio containing high quality companies that have paid investors good, solid and growing dividends for many long years. We did just the opposite. We plunked our money down and bought at depressed prices and increase our yield and income.
When the panic stricken sell their fundamentally sound holdings at depressed prices, we get our watch lists ready to relieve them of their burdens. Their burdens become our great rewards.
One Man's Trash Is Another Man's Treasure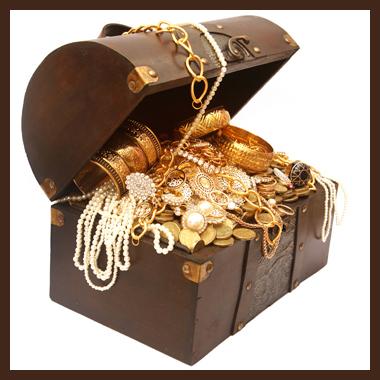 One man's trash is another man's treasure. Same goes here, except what they think is junk and tarnished goods we see for what it really is; Gems in the rough, cast aside by nervous Nellies in a knee-jerk reaction.
What will those panickers do for income now that they just sold off their income generators? They'll do what they always do. When the market regains its senses and prices rise, they'll come back in at much higher prices and suffer lower yields and less income than what they started with. (Sell Low - Buy High) They'll be paying more money and getting less money in dividends and yield in return.
Eyes On The Prize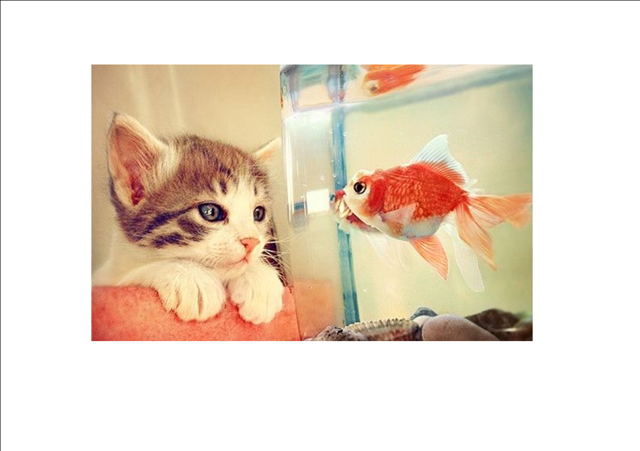 The Dow is currently down about 1000 points from recent highs. That puts the Dow down a bit more than 5.4% from the highs. As of this writing, both the Dow Jones Industrial Average and the S&P 500 are back into negative territory for the year. I'll simply remind you that we may be in for several days of what the price-focused investor views as rough seas. We, on the other hand will approach this volatility in a calm, collected, unemotional fashion. We'll run the numbers and do the analysis in a methodical fashion and when the time is ripe we'll buy some more cheap income for the portfolio.
Bottom line, we continue to grow income for our subscriber portfolio at a good clip of several hundred to several thousand dollars or more per month. Our annual income is now up to $23,997 which is $2064 more than last month, and we have achieved a yield on cost to date of 6.74%. New subscribers just setting up their portfolios to emulate the RODAT portfolio would attain a current dividend yield of 6.35% at Thursday's prices.
Top Five Reasons Traders And Investors Believe Rates Are Set To Rise
1. Strengthening economic data.
2. Investors are shrugging off worries of an impending recession or slowdown after a rough winter.
3. Economic gauges released Tuesday show a pickup in industrial output.
4. Firming inflation is pointing toward stronger growth in the second quarter as the labor market tightens and oil prices rise and the dollar weakens.
5. The housing recovery continues to be a steady contributor to broader economic growth, with housing starts rising 6.6% in April from a month earlier, and building permits climbing 3.6% from March.
Top Five Reasons Business Development Companies Are Set To Rise
1. Strengthening economic data.
2. Investors are shrugging off worries of an impending recession or slowdown after a rough winter.
3. Economic gauges released Tuesday show a pickup in industrial output.
4. Firming inflation is pointing toward stronger growth in the second quarter as the labor market tightens and oil prices rise and the dollar weakens.
5. The housing recovery continues to be a steady contributor to broader economic growth, with housing starts rising 6.6% in April from a month earlier, and building permits climbing 3.6% from March.
Do the above lists look similar to you? They should. It is because each data point applies equally to both cases. The same set of circumstances bolsters the case for each outcome.
Watchlist Alert-Locked and Loaded and Executed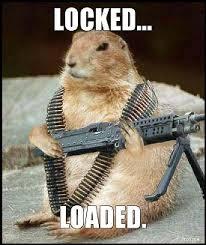 I had placed Apollo Investment (NASDAQ:AINV) on our Watch List Real Time Tracker with a target price of $5.22. At that price, the $.80 annual dividend would give us a 15.33% yield. A lower price in this name was anticipated by the upward march of interest rates from the 1.64% yield on the 10-year Treasury bond, and building chatter from the Fed about a higher probability of a June rate increase if economic numbers kept strengthening.
Several weeks ago, this author posted research that illustrated the strong correlation that exists between the prices and yields of REITs (real estate investment trusts) and the yield on the 10-year Treasury bond. The piece was titled, "Why Retirees Buy REITs When Interest Rates Retreat." I pointed out a clear pattern. Whenever the ten year reached or came close to the 2% level, it was a good time to buy REITs at depressed prices and elevated yields (we successfully pursued that strategy several times over the past three months as yields cycled through a channel of 1.64% to 2.0% repeatedly). The 10-year bond yield rose 7% Wednesday, giving an effective yield of 1.88% and a signal that a good entry point was arriving, again.
Because business development companies like AINV are similarly interest rate sensitive, the correlation is strong there as well.
10-Year Treasury Yield vs. BDC Prices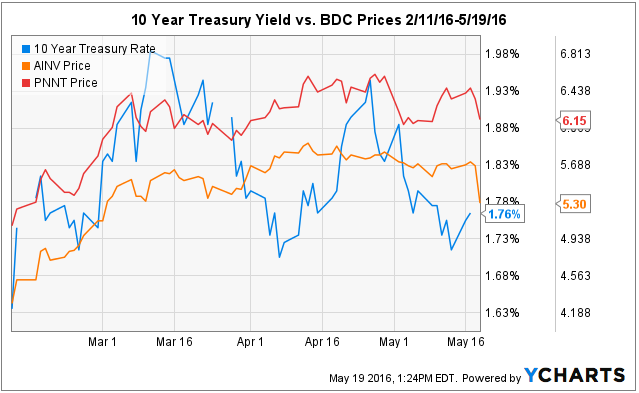 It can be seen on the above chart that over the three month period of 2/11/16 through 5/19/16, each time treasury yields spike, soon after, the prices of BDCs generally fall. As with REITs, investors fear that if money gets more expensive, BDCs will have a harder time producing bottom line earnings. BDCs, like most corporations, raise funds for expansion by either floating new stock or selling debt. Selling debt at very low interest rates has been a boon for public companies. Any threat to that paradigm leads to investor fears and a corresponding dumping of stock.
10-Year Treasury Yield vs. BDC Yield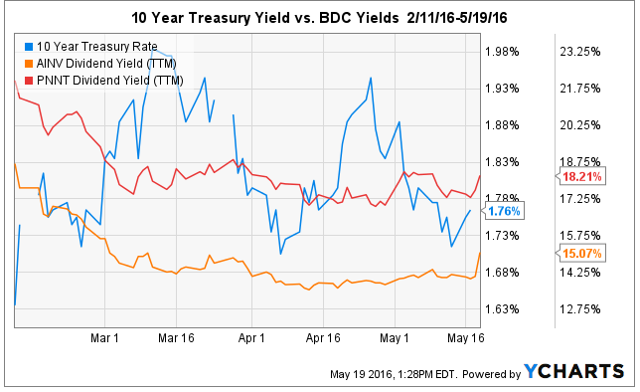 The married relationship of 10-year yields to BDCs can be seen in the above chart. When the 10-year yield spikes, the BDCs' yields follow in kind, like baby ducks in tow, crossing the street in lock step with momma duck. Only, the spread between the two has widened lately. Fear of an interest rate hike has begun to intensify to the point that a purchase of BDCs today has opened a spread of some 1000 basis points to treasuries (a basis point is 1/100th of one percent).
The inverse relationship between price and yield is on full display. As prices of BDCs have retreated, their yields have risen commensurately, bestowing greater rewards on investors willing to take on significantly greater risk.
Apollo Investors Missed Earnings Estimates
After the close, on Wednesday, Apollo reported its quarterly earnings were ½ cent lower per share than last quarter. Net asset value also decreased, but the stock was already selling at a large 22% discount to NAV, giving some margin of safety to current buyers.
Other highlights of the report included:
· Net Investment Income failed to cover the dividend by half a cent.
· 1st quarter total investment income of $85.335 million ($0.3734/share).
· Net investment income was $44.618 million ($0.1953/share).
· Net asset value per share was $7.28 compared to $7.56 at the end of last quarter, a decline of 3.7%.
· Oil and gas energy investments were 11.9% of AINV's portfolio, as compared to 16.0% of AINV's portfolio at the end of 2nd quarter 2015, representing a decline in energy exposure of more than 25%.
· The reported numbers failed to match the projected revenues and earnings of analysts, giving rise to the almost 8% fall in AINV's stock price Thursday morning.
In comparison to other BDCs with decent amounts of energy exposure, AINV is selling closer to its net asset value than most, meaning less of a discount to NAV. This is some expression of market confidence in this company in relation to its peers. Investors are willing to pay up, closer to its NAV.
Dividend History
Apollo has a less than stellar dividend history. From 2004, it began with a rather strong growth of its dividend which continued through 2008. Struggling through the financial crisis, as many companies did, Apollo slashed the dividend in half, from $.52 to $.26. Two quarters later, it increased the quarterly to $.28. There, it remained steady for ten quarters till February 2012, when it cut it again, this time to $.20 per quarter. For the last four years, that is where it has stood.
There are some that expect the possibility of a dividend cut, perhaps of one or two cents, to $.18 per quarter. At the price we paid today of $5.22 per share, our current yield would fall from 15.33% to 13.79%. However, it should be stated that with this report this morning, the company declared another $.20 quarterly dividend payable shortly to current shareholders. It appears the company is confident it can cover the dividend in the near future, at least.
Should we suffer a similar fate of shareholders in 2009 when the dividend was cut in half, this would translate to a yield on cost for us of:
$.40/$5.22 = 7.66%
A loss of income is a possibility, to be sure. But the prospect of a yield that is still 4.16 times greater than the 10-year Treasury if the dividend is cut in half appears to be a risk well worth the reward - 15.33% or 7.66%. Either way, this is a pretty decent return in today's ultra low interest rate environment.
Should the previously referenced pattern reassert itself, if interest rates retreat again to the 1.64% level on the ten year, we may see significant capital appreciation from here. Trending back to the $5.92 level reached just three weeks ago would signify a possibility of capital gain of 13.4% in a relatively short time frame.
Using a Watch List To Find And Catch Good Candidates
I used the Watch List Real Time Tracker to alert me when AINV approached the $5.22 level. This price would represent a 34% discount from its 52-week high. When that target prices comes within 3% of the current price (this distance percentage is customizable by the user), the target price will turn bright green to alert me to prepare to enter my limit order. The tracker indicates the 52-week high at $7.95, so if our order is executed at the price I want to pay, it will be a solid 34% discount from the high. The tracker tells me at that $5.22 price I'll receive the 15.33% yield I'm seeking.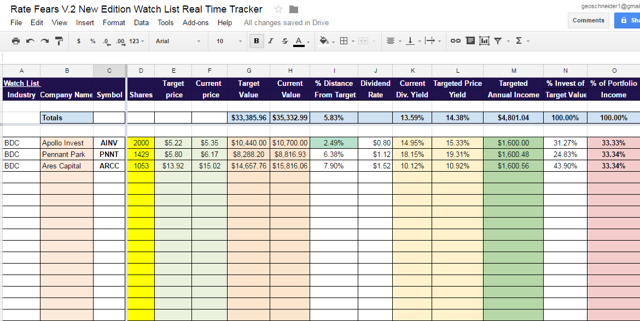 If I chose to buy all three of these BDCs in such a way that each produced approximately equal amounts of annual income, I could easily manipulate share counts to determine how many shares of each to buy so that each produces about 33.3% of portfolio income. In this instance, the tracker tells me the cost of each position and the purchase of all three would cost $33,386. Their total annual income contribution to the portfolio would be $4801. The purchase of 2000 shares of AINV Thursday added $1600 to our annual portfolio income.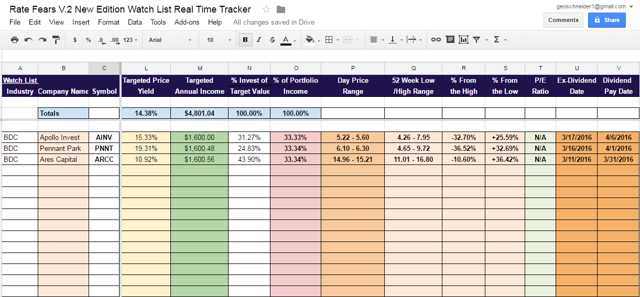 Data regarding each component's yield, 52-week high and low, percent away from those highs and lows are also provided to me when I scroll to the right. All cells to the left become locked for easy reference to the ticker and share count. If I am interested in timing my purchases to capture the next, upcoming dividend, the ex-dividend date shown tells me I must buy before that date, and I'll know when I get paid as well. Regarding these names, all three ex-dividend dates will be in mid-June, so I will have to wait several months to receive my first dividend from any of these equities. AINV will pay us our first dividend around July 6.
Watch List Real Time Tracker

Weighting Positions To Equal Income Production To Reduce Risk
In keeping with my foundational principle of reducing risk to portfolio income, we wish to continue building our AINV position to bring it closer to parity with the other portfolio constituents as regards income contribution. And we accomplished this at a 34% discount from its 52 week high on this newest purchase of shares.
As long as rates stay lower for longer, and increase only gradually over time, this BDC will continue to grow and have cash flow to pay the dividend. Its continued expansion will further bolster its ability to pay the dividend going forward.
The closer we hew to this principle of weighting our positions to provide essentially equal amounts of dividend income, the more we de-risk the portfolio for any future, possible dividend cut. Our diversity of sectors and number of constituents impart some level of risk mitigation. Should one or two components reduce their dividend at any point in the future, our income would temporarily decline by perhaps 5% or so, depending upon the severity of the cut. If such a position were to be sold, the proceeds would be reinvested in another more promising name and most of the preceding dividend income would be restored.
When stocks fall to better-timed entry points, we buy shares in order to grow portfolio income. To gain some of these better-timed entry prices that enable me to receive higher yield and income, I use the Watch List Real Time Tracker to alert me and serve as my research and trading assistant. This tool let me know that at the $5.22 target price it would represent a 34% discount from its 52-week high. When that target prices comes within 3% of the current price (this distance percentage is customizable by the user), the target price turns bright green to alert me to prepare to enter my limit order. The tracker told me at that $5.22 price I'll now receive the 15.33% yield I sought.
I used the other digital utility tool I built, the Real Time Portfolio Tracker, to help highlight that AINV needed to be bulked up in share count in order to bring its annual income closer to parity with the other positions in the portfolio. Column O on the extreme right of the sheet clearly indicates what percent of portfolio income each component contributes, so a quick glance delineates the positions that need fattening, all data being updated in real time, all day.
Real Time Portfolio Tracker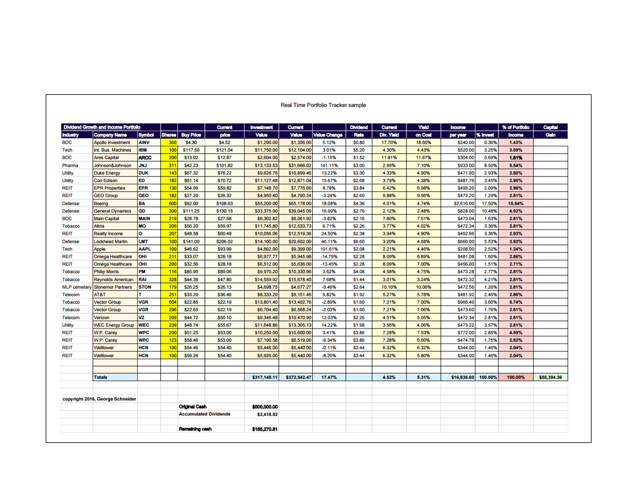 Patience And Discipline To Wait
I recently authored a piece called, "Patience Pays Retirees Bigger Dividends." Bigger dividends than what, you may ask? Bigger dividends than if you simply allowed the market to dictate prices to you.
Instead of using pencil and paper to keep a running list of candidates I'd like to add to my portfolio, or to those I manage here on Seeking Alpha or for subscribers, I use digital tools to help guide me to better-timed entry prices. Instead of trying to keep track of all possible candidates in my head or on a diner napkin, these tools allow me to name my price and not have the markets dictate to me.
Finding ways to take control of the investing aspects that we can in fact control, these concepts will guide us toward the higher yields and higher income that we all seek for our retirements. Panicky investors can help us build a good retirement plan for a comfortable, secure retirement.
The Fill-The-Gap Portfolio At A Glance
I began writing a series of articles on December 24, 2014, to demonstrate the real-life construction and management of a portfolio dedicated to growing income to close a yawning gap that so many millions of seniors and near-retirees face today between their Social Security benefit and retirement expenses.
The beginning article was entitled "This Is Not Your Father's Retirement Plan." This project began with $411,600 in capital that was deployed in such a way that each of the portfolio constituents yielded approximately equal amounts of yearly income.
The FTG Portfolio Constituents
Constructed beginning on 12/24/14, this portfolio now consists of 18 companies, including AT&T, Inc. (NYSE:T), Altria Group, Inc. (NYSE:MO), Consolidated Edison Inc. (NYSE:ED), Verizon Communications (NYSE:VZ), CenturyLink, Inc. (NYSE:CTL), Main Street Capital (NYSE:MAIN), Ares Capital (NASDAQ:ARCC), Reynolds American, Inc. (NYSE:RAI), Vector Group Ltd. (NYSE:VGR), EPR Properties (NYSE:EPR), Realty Income Corporation (NYSE:O), Sun Communities Inc. (NYSE:SUI), Omega Healthcare Investors (NYSE:OHI), StoneMor Partners L.P. (NYSE:STON), W.P. Carey, Inc.(NYSE:WPC), Government Properties Income Trust (NYSE:GOV), The GEO Group (NYSE:GEO) and The RMR Group (NASDAQ:RMR).
Because we bought all of these equities at cheaper prices since the inception of the portfolio, the yield on cost that we have achieved is 6.59%.
Monitoring Portfolio Positions and Growth Of Income
In an effort to stay connected to our portfolio dividend income and the growth of that income, I'll enter our positions in both the public Fill-The-Gap Portfolio and subscriber portfolio into the Dividend Growth and Income Spreadsheet. It keeps me focused on my bottom line of producing income. When dividends are raised, I'll enter that into the assigned column. My algorithms then compute for me my new income on each portfolio constituent, the new income when a raise occurs, the yields, the increased percent of income and total portfolio income. This focus helps keep me on track toward my goal of building and growing income.
Dividend Growth and Income Spreadsheet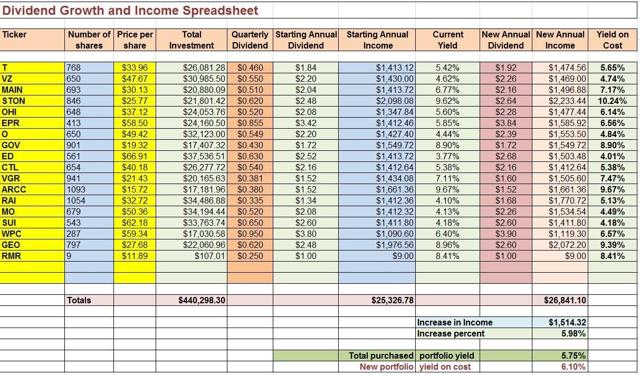 FTG Recap
Currently, the Fill-The-Gap Portfolio is producing $27,140 in annual income. When added to the average couple's Social Security benefit of $28,800, we have, in only 16 months' time, significantly exceeded our goal of filling the gap between Social Security income and a comfortable $50,000 retirement. In fact, our total income, between these two sources, is now $55,940, which is $450.00 more than last month's income. This is due to the dividend increases we received this month and our reinvestment of dividends into more GOV shares and the new dividend income attendant to this purchase. It may be only a few more months till our dividend income exceeds Social Security benefit income.
We have experienced no cuts, and no elimination of dividends in 16 months of portfolio management. On the contrary, we have enjoyed a regular stream of dividend increases, more than enough to keep us comfortably ahead of inflation.
This year alone, the FTG has grown $28,286 in value, or 6.28%, while the Dow is up only .06% and the S&P 500 is down 0.19%. Accordingly, the Fill-The-Gap Portfolio has effectively trounced the return on the Dow Jones Industrial Average by more than 105 times, and has grown more than 33 times greater than the return of the S&P 500 Index.
MY FTG Mirror Calculator
After doing their own due diligence, readers wishing to proportionately emulate FTG Portfolio trades for their own portfolios use the "My FTG Mirror Calculator" or the "My RODAT Mirror Calculator" to simplify their task.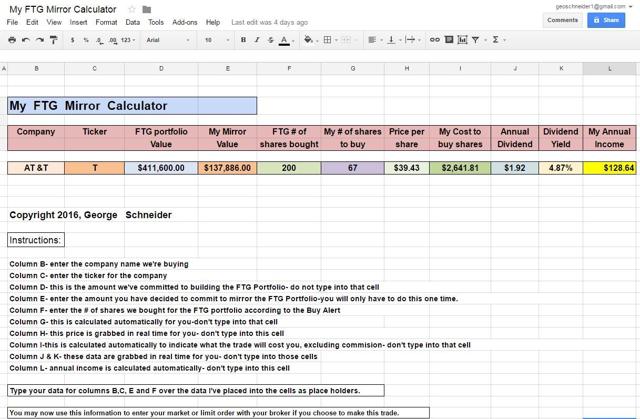 Author's note: Should you be interested in reading any of my other articles detailing various strategies to enhance your returns on a dividend growth portfolio, you will find them here.
As always, I look forward to your comments, discussion, and questions.
We are currently offering a FREE two-week trial of my subscription service. To learn more about this premium service, please click this link:
Retirement: One Dividend At A Time
Disclaimer: This article is intended to provide information to interested parties. As I have no knowledge of individual investor circumstances, goals, and/or portfolio concentration or diversification, readers are expected to complete their own due diligence before purchasing any stocks mentioned or recommended.
Disclosure: I am/we are long T, MO, ED, VZ, CTL, MAIN, ARCC, RAI, VGR, EPR, O, SUI, OHI, STON, WPC, GOV, RMR.
I wrote this article myself, and it expresses my own opinions. I am not receiving compensation for it (other than from Seeking Alpha). I have no business relationship with any company whose stock is mentioned in this article.