Look out, it's a risk-on, risk-off market again.
This week, the Fed telegraphed a possible June rate hike, and the market's reaction proved, beyond a shadow of a doubt, that the dynamic illustrated in the following chart from BofAML will be put to the ultimate test in a matter of weeks: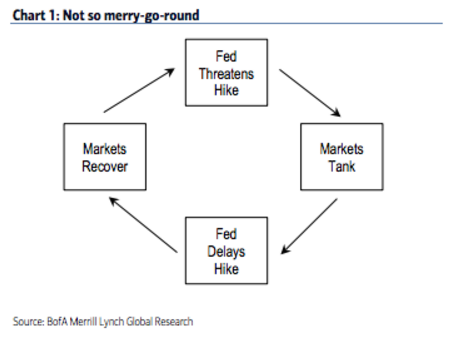 (Chart: BofAML)
The conviction and unanimity expressed by Lockhart, Williams, and Dudley (a bit of hedging by the latter notwithstanding) around a June hike, combined with the unexpectedly hawkish Minutes suggest that the Fed may be all-in on this one. The odds of the Fed moving next month jumped sharply to 32% following the release of Minutes from the FOMC's April meeting, and the reaction in crude, equities (NYSEARCA:SPY), and the USD suggested that the market is fully prepared to test the Committee's resolve.
If you want to understand this week's market action, it's important to: i) recall the events that unfolded last September, ii) remember what happened to risk in January, and iii) stay conscious of what allowed equities and crude to bounce off the lows hit in mid-February.
The Fed's reaction function shifted last autumn, after China's move to devalue the yuan sent shockwaves through markets, culminating in a replay of Black Monday when, on August 24, the Dow crashed 1,000 points out of the gate. No longer could the FOMC pretend that its calculus didn't include gyrations in the domestic and global financial markets. September's "failure to launch" was an admission that the Eccles cabal isn't "data-dependent" after all.
Fast-forward to January, and we got a look at just how interconnected markets have become. Renewed turmoil in China (thanks in part to the market's concerns about the PBoC's adoption of a trade-weighted index for the yuan), combined with plunging crude prices put US stocks on a path to their worst start to a year in history.
As the bottom fell out, it became apparent that something had to be done. Bring on the so-called "Shanghai Accord." Rumor has it that a deal was struck at the G20 summit in late February, whereby officials would pursue a weak dollar regime that would drive up crude prices and provide a positive catalyst for risk.
In short, it worked. Oil rallied despite what should have been a downside catalyst in Doha and a persistently bearish fundamental backdrop. Stocks bounced smartly.
But by late April, some began to ask if this arrangement was sustainable. It essentially mandated that the ECB and the BoJ sit on their hands, and that, in turn, drove EUR and JPY strength - something neither Draghi or Kuroda were particularly excited about.
Further, there was a palpable sense of worry among market participants. It wasn't so much that anyone was anxious to see the Fed pull the punchbowl back by another 25 bps. And it certainly wasn't that anyone was complaining about higher stock prices. Rather, it was beginning to feel like the FOMC might never be able to normalize policy - literally.
Although dovishness is always greeted with a certain amount of enthusiasm, the Fed's March relent sent a cold chill down investors' collective spine, even if they didn't admit it at the time.
Could it really be that given EM fragility (NYSEARCA:EEM), commodities' sensitivity to a stronger USD (NYSEARCA:UUP), and China's confused FX policy, the Fed may have to remain on hold indefinitely? And if so, what would that mean for the ECB and the BoJ, which desperately need weaker currencies to boost inflation and growth?
This wasn't lost on the Fed, and it appears that the monetary politburo (to use a term David Stockman is fond of) saw this week as a kind of "do or die" opportunity to reset expectations ahead of June and reclaim lost credibility. And so, that's what they did. First with Williams and Rosengren, then with the April Minutes, and on Thursday with Dudley. Here's an amusing take by Bloomberg's Richard Breslow:
It felt like the members were telling the G-20 that they have their Chair's back. She got an earful in Shanghai on her global responsibilities. The message was received loud and clear. It won't be repudiated. But she can go to Japan this week with the tacit understanding that it's the FOMC that sets U.S. monetary policy.
Right. But now they've made their bed. And the consequences were readily apparent, as the USD climbed, EM suffered, and oil dropped. The question is whether the Fed can live with this dynamic or whether they will fall right back into the same cycle outlined by BofAML.
It's with all of this in mind that I found a Bloomberg piece out on Thursday evening to be particularly interesting. Here are some excerpts:
Rather than being led by economic data or monetary policy, emerging-market exchange rates are the most closely tied to moves in stocks and commodities since at least 2013. When they fall, it's almost certain the yen will rise, and vice versa.

The pattern known among traders as risk-on, risk-off is back.

At its most forceful, it can blindly cleave financial markets in two - categorizing everything from the dollar to the dong as a haven or a "risk asset" and dictating how they move in response to news or events, regardless of the fundamentals. It's dogging markets again - just as it did in the wake of the 2008 financial crisis - as investors come to terms with the distorting effects of central banks' quantitative easing.

That means getting the big picture right can take precedence over local insight.
I would argue that "getting the big picture right" everywhere and always "takes precedence over local insight", because when the big picture shifts, it alters the local dynamic, whereas the opposite is not necessarily true. Still, the point is well taken. As is the following from SocGen's Kit Juckes:
There's a frighteningly fine line between higher U.S. rates being a healthy sign that the economy can cope with Fed policy normalization and their being a trigger for yet another round of risk aversion, particularly in emerging markets.
Not to put too fine a point on it, but that is precisely correct. This is exactly the dilemma the Fed faced in September. Do you hike and convey something positive about the US economy, or do you remain on hold and safeguard EM capital flows and put a floor under slumping commodities?
In truth, there's no "right" answer here. But the Fed seems to have picked a side this week. Now they just have to pray China holds up and crude's downside is limited by improving fundamentals (Barclays' Michael Cohen today said the supply/demand picture should flip next year).
Make no mistake, they had to take a stand. Now we'll see how resilient "risk" truly is.
Disclosure: I/we have no positions in any stocks mentioned, and no plans to initiate any positions within the next 72 hours.
I wrote this article myself, and it expresses my own opinions. I am not receiving compensation for it (other than from Seeking Alpha). I have no business relationship with any company whose stock is mentioned in this article.