I first wrote about Emerson Electric (NYSE:EMR) back in January of this year when it was being taken to the shed and flogged mercilessly by investors. The entire market was being flogged, really, but like many of you I took advantage as much I could. The company has been a top performer for me since, returning 24% in a short amount of time and providing some much needed (reassuring) capital gains to my portfolio. As the market sends shares down lower bringing the yield higher it is worth taking a look at to weigh whether or not I should add to my current stake.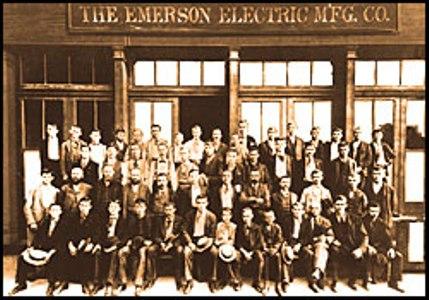 Industrial Recession
It has been a rough year indeed for the maker of, well, lots of stuff. Their primary end markets are industrial companies and oil and gas producers, neither of which are having the good kind of record-setting years. The movement of durable goods has been stagnant for much of the year, and were stagnant for 2015 also. If it isn't an industrial recession by classic standards it is certainly a pronounced slowdown. This lack of strong growth has put companies like Emerson up against a wall.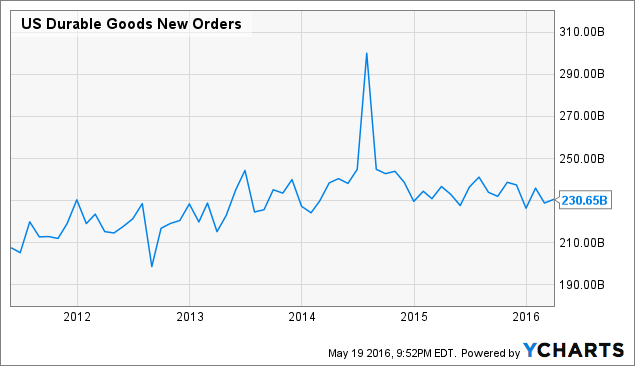 US Durable Goods New Orders data by YCharts
From a perspective of revenue the most important aspect of the business is Process Management. On the website they list the industries served from this segment as oil and gas, chemical, and refining being the first three listed. We don't need to look at any numbers to know that these industries, perhaps with refining being the exception, have suffered thanks to low oil prices and a drop in other commodity prices. The suffering of these industries led to an 11% drop in sales for Process Management with revenue settling at $1.8 compared to $2 billion in Q215. Overall the company witnessed a drop in revenue to just $4.9 billion, a YoY decline of nearly $700 million.
Lackluster Second Quarter
As I began to outline just above, the quarter wasn't that great. Even though I don't like judging a company on one quarter it is still important to take a look to make sure there are not any red flags.
The company did manage to eek out $.66 in EPS for a $.03 beat. Compares to Q215 this is $.01 more, so that is promising. Revenue beat expectation by $10 million but was still a 9% drop from last year.
On the other side of those beats was a decline in sales for every segment but Climate Technologies which sells heating and cooling solution to residential and commercial markets. Unfortunately one healthy segment cannot offset the sickness of four others, especially when sales are only up 1%.
For those of us with the pending Network Power spin-off on our minds there is some reason to be hopeful since that segment assumed the number two spot when looking at revenue. Network Power contributed just over $1 billion to the top line. The company still continues to seek a buyer for that segment but it does appear it would do well on it's own, especially considering the growth in data center construction; 9.3% CAGR through 2019.
The recent 8-K released on the 18th at least shows us that things aren't going to get much worse and the company was able to back up its guidance for the year of at least $3.05 earned per share.
Emerson Is A Dividend Play
My motivation for purchasing this company was for the dividend. At the price I paid I locked in a 4.4% dividend and with the yield approaching 4% once again I am starting to consider adding more.
The company has 59 years of raises to its credit. With so much negativity floating around about the current state of the economy it is easy to become fearful. Those fears can be easily quelled when we consider that this company has given a raise since 1957. Through recessions, wars, presidential assassinations, and every modern crisis the shareholders have gotten a raise no matter what turmoil was occurring.
Even in this slow period the dividend is remarkably safe. The payout is $1.90 annually, giving us a 3.76% yield at a market price of $50.14. If we use estimated EPS of $3.05 for 2016 the payout ratio is just 62%. I like to use free cash flow to determine the dividend safety for several reasons, mostly because EPS can be "engineered" to look better than things really are.
In the second quarter the company raked in $617 million in FCF and paid out $306 million in dividends. That provides a margin of safety to the dividend of 51%, a very encouraging figure.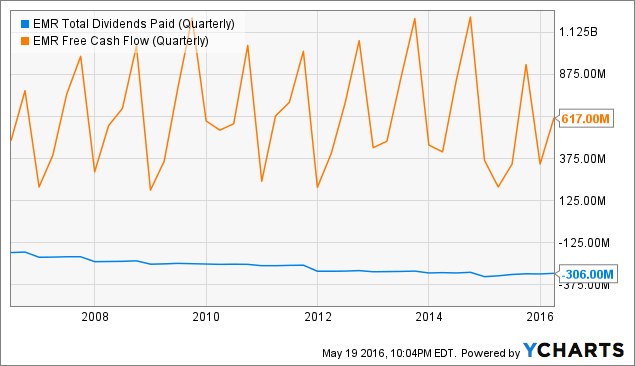 EMR Total Dividends Paid (Quarterly) data by YCharts
I enjoy that chart right there. It shows stable year over year FCF but steadily dropping dividend payments despite a 10 year DGR of 8.4%.
I'm Getting Ready
I like Emerson, I like the dividend, and I even like the idea of receiving the Network Power business in a spin-off. There is no denying that the company is experiencing a tough time in regards to sales, but there aren't many industrial companies who aren't besides defense manufacturers. Thanks to these challenges the industrials are being offered up at low prices with high yields and that is one reason I am overweight in the sector.
I would really like to add to my position at a 4.4% yield again, so about $42.50. That could happen if the overall market keeps going down, but I think anything at a 4% yield (~$47) is worth considering. At that price I'll start licking my lips and keep a closer eye on the price movements. With a 49% FCF payout ratio there is tons of safety in that dividend and this alone makes it a worthy long-term investment.
I appreciate all of you who read my work and I enjoy our conversations in the comments. If you have an alternative view please bring it up, disagreements make the market after all and I enjoy the learning. If you follow me I also appreciate that. Best of luck to you all.
Disclosure: I am/we are long EMR.
I wrote this article myself, and it expresses my own opinions. I am not receiving compensation for it (other than from Seeking Alpha). I have no business relationship with any company whose stock is mentioned in this article.