This week, Freeport-McMoRan (NYSE:FCX) has received two upgrades. First, Cowen raised its price target on the stock to $15 from $10, driven by the steps being taken by Freeport to improve the state of its balance sheet. Then, Jefferies upgraded the stock from Hold to Buy and raised its price target from $12.50 to $15, citing Freeport's low cost base and capex reductions.
Driven by these two upgrades, Freeport shares have gained momentum this week and the stock looks set to add to its year-to-date gains of 55% going forward, since it currently trades at around $10.54 a share, way below the latest price targets. But, another factor that will play a key role in driving up Freeport's performance going forward is the oil business, which is the second-biggest revenue source for the company after the copper business, as shown below: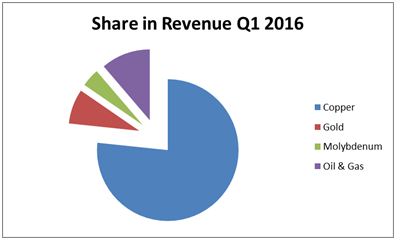 As such, in this article, we will take a closer look at the factors that are expected to drive the growth of the oil and gas business of Freeport-McMoRan going forward.
The oil price recovery will improve Freeport's EBITDA
In recent weeks, Brent crude oil price has recovered to slightly less than $48 per barrel. In comparison, Brent was trading at less than $28 per barrel around four months ago. Thus, it is evident that oil prices have recovered strongly in a span of four months and this is great news for Freeport. This is because the company's EBITDA performance will improve greatly at current oil price levels. This is shown in the chart given below: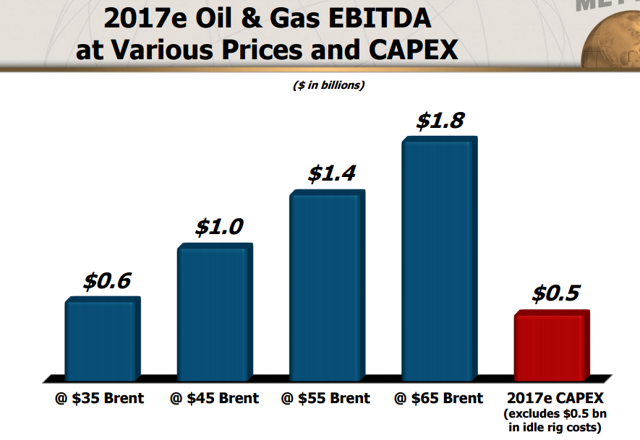 Source: Freeport-McMoRan
As seen above, at the current level of the Brent crude oil price, Freeport will be able to generate EBITDA of more than $1 billion. More specifically, for a change of $5 per barrel in the oil price, Freeport will see an increase of $150 million in EBITDA and an increase of $120 million in the operating cash flow. Therefore, it is likely that Freeport will be able to generate EBITDA in excess of $1 billion at current oil price levels.
More importantly, the improvement in oil price will have a positive impact on Freeport's overall business. This is because at a copper price of $2.25 per pound, gold price of $1,250 per ounce and an oil price of $45/barrel, Freeport will generate $4.8 billion in operating cash flow in the remaining three quarters of the year. Currently, both oil and gold prices are near Freeport's forecasted levels, while the prospects of the copper market have been improving.
Thus, it is evident that the recovery in oil prices will play a key role in helping Freeport-McMoRan improve its EBITDA and cash flow profile going into the rest of the year. This is because Freeport possesses low cost oil assets and is deploying strategies to reduce capital investments and maintain production at the same time.
For instance, last quarter, Freeport was able to reduce its oil cash production costs by 21.7%, while sales volumes remained almost flat on a year-over-year basis. Moreover, the company was able to achieve flat oil sales last quarter even though its capital expenditure dropped almost 50% year-over-year. Freeport has been able to achieve this improvement in its production and reduce costs at the same time because of its efficient production moves.
For instance, Freeport has been increasing the number of its tieback wells to existing production sites so as to maintain its production levels in the short run without having to incur expenses on drilling. The company has already completed tieback wells at Marlin and Horn Mountain, while it is currently working on tiebacks at four more wells at Quebec/Victory and Kilo/Oscar, which are expected to go online soon.
Thus, Freeport is following a smart strategy of improving its performance in the oil and gas business. Looking ahead, as oil prices are anticipated to get better on the back of improving demand and lower supply, Freeport will witness further growth in its financials. Let's see why.
Why oil prices could continue rising
Oil prices have improved remarkably this year as it is becoming clear that producers are cutting output to stay afloat in a challenging environment, especially in North America. For example, in the U.S., oil production dropped to an average of 9 million barrels per day last month from 9.7 million barrels per day in the year-ago period.
Going forward, this trend of declining oil production in the U.S. will continue, with the EIA anticipating production to go down to 8.6 million barrels per day this year, and then fall by another 400,000 barrels per day in 2017. Accompanying this reduction in oil production will be an increase in demand, which is set to increase 140,000 bpd in 2016 and 120,000 bpd in 2017.
More specifically, the decline in U.S. oil production is taking place almost entirely in the Lower 48 states, which is not surprising as shale oil companies have been forced to lower their capital expenses in a wide band of 40-66% in 2016 owing to price volatility. What's more, oil spending across the globe is also expected to drop over 12% in 2016 following a decline of 22% last year.
Thus, a secular decline in oil production, along with an improvement in demand, will pull up oil prices going forward as the market will move toward attaining balance. This is shown below: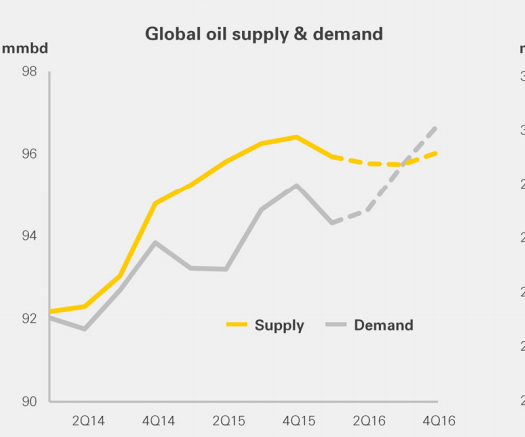 Source: BP
Conclusion
Hence, it is evident that the oil and gas segment is a key part of Freeport-McMoRan's overall business. Since this segment is getting better and is expected to contribute positively to Freeport's EBITDA and cash flow in the future, investors should not miss the opportunity present here. So, along with the improvement in the copper segment, improving prospects in the oil and gas business will help Freeport deliver more upside in the long run.
Disclosure: I/we have no positions in any stocks mentioned, and no plans to initiate any positions within the next 72 hours.
I wrote this article myself, and it expresses my own opinions. I am not receiving compensation for it (other than from Seeking Alpha). I have no business relationship with any company whose stock is mentioned in this article.