Starbucks (NYSE: SBUX) has seen a reduction in its year-to-date stock price by nearly 10% and 16% off its late-October highs. A closer look at its story, financials, and financial metric projections could suggest that the stock still remains somewhat overvalued from its current trading price.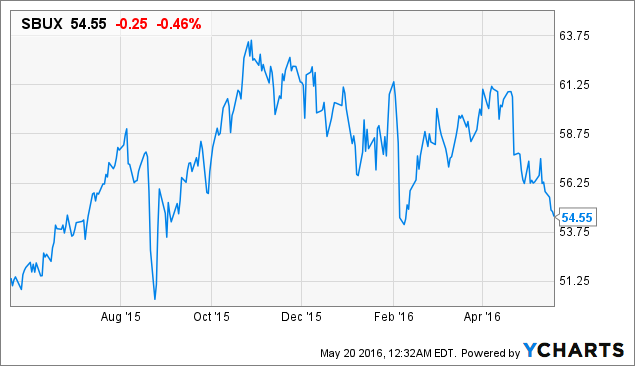 First, briefly in terms of the company's narrative, there have been near-term concerns regarding the change in the coffee chain's loyalty program in that it could feasibly bog down traffic by changing the behavior of its ever-important repeat customers. The "star system" remains intact, but the new initiative now rewards customer spending as opposed to visits under the old program. Previously, a customer could earn a free drink based on twelve visits to a Starbucks location, while the new program requires total spending of $62.50 for a free drink. It's a wash for the company if the average visitor spends $5.21 per visit and traffic patterns are unaffected on a net basis. But it can conceivably affect traffic by no longer rewarding visits in their own right. There is, of course, the complication factor on top of that. The new initiative will likely benefit big spenders, but negatively affect traffic for low spenders (e.g., the basic morning coffee types). Low spenders will be adversely impacted due to the larger number of trips required and may choose to explore alternative options. While incentivizing spending intuitively seems like the better strategy on the surface as it's inherently profit-driven, the plan could produce a net negative sales result if it too significantly reduces overall traffic. This will be an interesting point to look forward to come next quarter.
Financially, Starbucks can still more or less still be described as a "growth" company. Management expects another 10% annualized sales growth over the previous fiscal year. Despite personal projections of $20.8 billion in revenue for the fiscal year 2016 based on how Q1 results tend to historically project for the year as a whole, I went with $21.1 billion to mirror the 10% sales growth expectation. Thereafter, I went with 8% growth for the FY2017, with a 2% growth-rate decay for the remainder of the projection period, ending with 6.7% revenue growth for the FY2026.
The company's EBITDA margin has been expanding over the past two years, settling at just below 24%. I assumed a flat 24% EBITDA margin for the remainder of the period. Depreciation hovers in the low-to-mid 4% range, while its annual effective tax rate is typically 33%. Capital expenditures are best estimated at 7% of sales, while net working capital and changes in other operating assets/liabilities is unpredictable to the point where it's left at zero in terms of net change.
With respect to cost of capital components, the company's aggregate unamortized discount rate for its debt comes to 2.6% (source: p. 15 of its Q1 2016 10-Q). Assuming an effective tax rate of 33%, this figure would come to an approximate weighted average cost of debt of 1.74%. I estimate its cost of equity at 6.81%; weighted for their respective percentages in the capital structure the company's cost of capital comes to 6.59%.
With a perpetual growth rate right around 2.5%, this would place the value of SBUX at $80.1 billion. The market currently values the company at around $81.8 billion. Nearly 96% of the company's capital comes in the form of equity. After adjusting for cash holdings, its market capitalization is calculated at $72.3 billion or $52-$53 per share, suggesting the stock could still be overvalued by 4%-5%.
The charts below provide sensitivity analyses in visual format based on perpetual growth rate, g, assumptions (where g = 2.50%) and to account for possible variations in computing the company's proper weighted average cost of capital (+/- 50 basis points). The same is, in turn, completed for the company's weighted average cost of capital (OTC:WACC).
Price range from varying WACC's +/- 50 bps: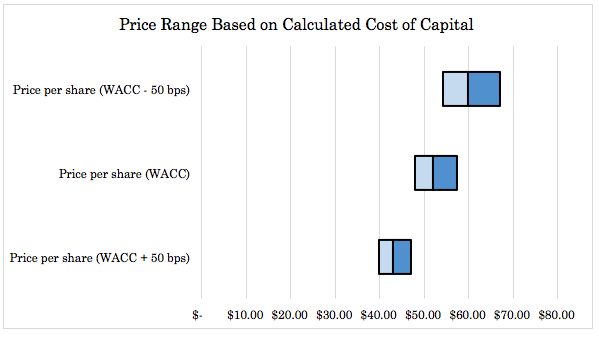 Source: author
Price range from varying the long-term growth rate +/- 50 bps: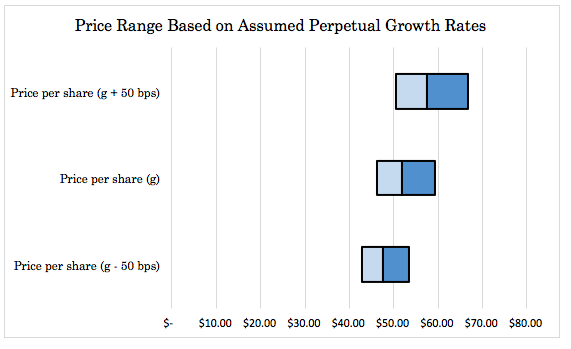 Source: author
Outside of discounted cash flow, Starbucks also appears overvalued on the basis of its earnings multiple. SBUX trades at 32x-33x earnings, which I believe is inflated. In terms of the company's financial metrics, SBUX's P/E multiple is probably better represented at 22x-23x earnings in terms of a more academic definition/interpretation (i.e., (1 - g / ROIC) / (WACC - g)). The definition of return on invested capital (NASDAQ:ROIC) is not standardized and different individuals will calculate ROIC differently depending on their interpretation of the term. I calculate ROIC with tax-adjusted operating income (NOPAT or EBIT(1-t)) in the numerator and the denominator calculated as total assets minus current liabilities minus cash and cash-like equivalents. Analysts may also have different interpretations of what qualifies as a "non-operating liability" and subtract out anything that falls under that banner as well. The company's ROIC should fall between the high 36%-low 37% range based on my personal interpretation using its latest quarterly financial information and personal NOPAT projections for the year 2016.
When substituted into the formula provided above, SBUX's P/E ratio (assuming a perpetual growth rate of 2.50%) comes to approximately 22.7. At the current stock price, SBUX's perpetual growth rate, accounting for a +/- 50 bps margin of error in the company's WACC, is implicitly assumed to be 3.3%-4.4%, a range above the "long-run" perpetual growth rate in most developed economies. I project the company's 2016 EPS at 1.83 per share (diluted) and 1.98 for the FY2017 (note: management explicitly stated they are aiming for an EPS of $1.85-$1.86 for 2016). Using the more standard 2.5% rate, this would price SBUX in the low-to-mid 40's per share.
Such a valuation approach would suggest overvaluation in the near-term and an estimated compound annualized return of 4.5% over the ten-year projection period. Five-year estimated annualized earnings growth is estimated at 7.8%, or a more modest estimation than what's summarily published to the company's various stock profiles online.
For the sake of visualization and sensitivity analysis, depending on how the market prices earnings in the near-term, stock-price outcomes can be observed as follows: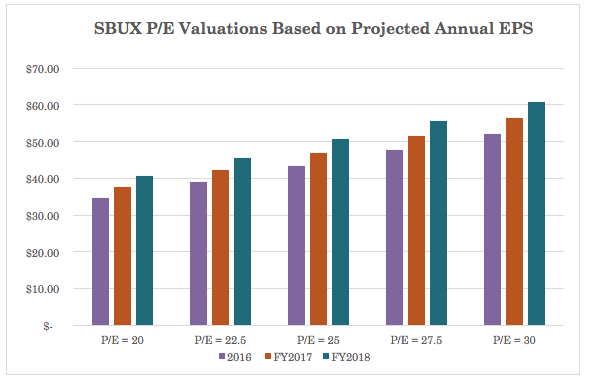 Source: author
In short, on the basis of price/earnings, SBUX appears better suited to a price somewhere below where it is currently trading in line with the DCF scenarios explored earlier.
Conclusion
Based on different analysis approaches and sensitivity considerations, SBUX still appears overvalued to some degree after falling ~10% YTD and 16% overall off its late-October 2015 highs. That is not to say SBUX as a company is flawed. It is very good in its niche and has become a truly global brand. But on the basis of value or even a growth at reasonable price type of approach, SBUX does not appear to be the best option in the near-term.
Disclosure: I/we have no positions in any stocks mentioned, and no plans to initiate any positions within the next 72 hours.
I wrote this article myself, and it expresses my own opinions. I am not receiving compensation for it (other than from Seeking Alpha). I have no business relationship with any company whose stock is mentioned in this article.