After a promising beginning in the years following its IPO, Splunk (NASDAQ:SPLK) has hit a fairly rough patch this year. Despite its promising sales and revenue, investors have had trouble overlooking its net losses and the rate at which they are increasing. Yet, it seems as though the whole market has decided to overlook where all this money is going. The company is currently throwing all of its money into sales and marketing, an essential money-suck for companies looking to grow quickly in an already competitive but growing market. This sell-off has lowered Splunk's stock price that makes right now a great buying opportunity. Below is its stock price chart since its IPO. As you can see, it has had some slight recovery since its trouble at the beginning of the year and I expect this to continue.

To start, let us take a look at the company's financials. The gross profit margin is increasing at an impressive rate. In a business focused on growth, net income is often a secondary goal. This is what we are seeing with Splunk. As shown below, gross profit has increased 44.9% YoY which shows that its increased spending on marketing is increasing its growth rapidly. In addition, its gross profit margin is currently 83% vs. 85% in its previous year. While this may seem like it is moving in the wrong direction, the company's ability to keep its impressively high gross profit margin while growing at this pace is a promising sign for the future.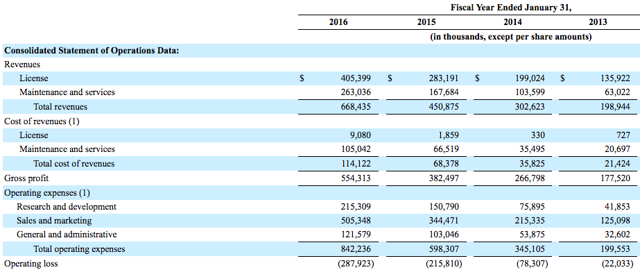 What makes Splunk such a valuable growth proposition is how it is positioned in the market. While open-source systems might be useful for small companies to be able to analyze their systems and gather data. This becomes more difficult to do as companies grow. The open-source formatting does not scale to the degree that Splunk's systems do. However, many of the systems that are able to do data analysis for large scale systems don't scale down to be valuable to smaller companies. This ability to range from small scale to large scale effectively gives Splunk a leg up. For companies that are growing quickly, using Splunk offers them the ability to grow without fear of outgrowing their system analysis methods. This not only puts Splunk in a position to earn business from small companies but gives them an edge in the larger scale market by allowing them to retain these companies as they grow. We saw how this opportunity can manifest itself in Zillow's (NASDAQ:Z) decision to move to Splunk from open-source systems. Zillow represents one of the larger online companies and could be the first of many to make the switch as data analysis becomes more and more important.
Splunk is not only in position to succeed fundamentally, but also represents a good option technically. Splunk recently (May 18th) exceeded its 50-day moving average in a bullish manner. This is true with many of its technical indicators as shown below.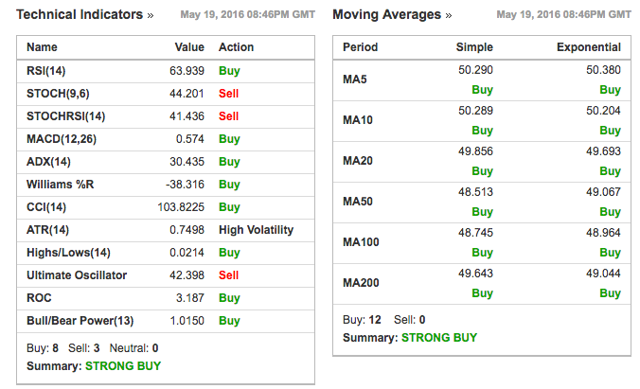 Another great indicator of the stock's potential future movement is market sentiment. The most data-driven way to look at this is its option chain. A quick look would show that the Delta of the stock price hitting $55.50 (a $5 increase) by June 10th is approximately .3 or 30%. Meanwhile, the same movement in the opposite direction ($45.50) has a delta of .23 or 23%. This means that the market has a positive asymmetric risk/reward view on the near-term future of Splunk's stock price.
Disclosure: I/we have no positions in any stocks mentioned, and no plans to initiate any positions within the next 72 hours.
I wrote this article myself, and it expresses my own opinions. I am not receiving compensation for it (other than from Seeking Alpha). I have no business relationship with any company whose stock is mentioned in this article.