This article provides updated total returns for business development company ("BDC") investors and is a follow-up to "BDC Total Returns For Q1 2016." However, I have included a longer-term view that includes 2015 which was not a great year for BDCs.
BDC Total Returns - Since 2014
Explanation of total returns: The 'Change in Stock Price' assumes you purchased the stock at the end of 2014 and dividends do not assume reinvestment and are calculated using the amounts paid divided by the purchase price.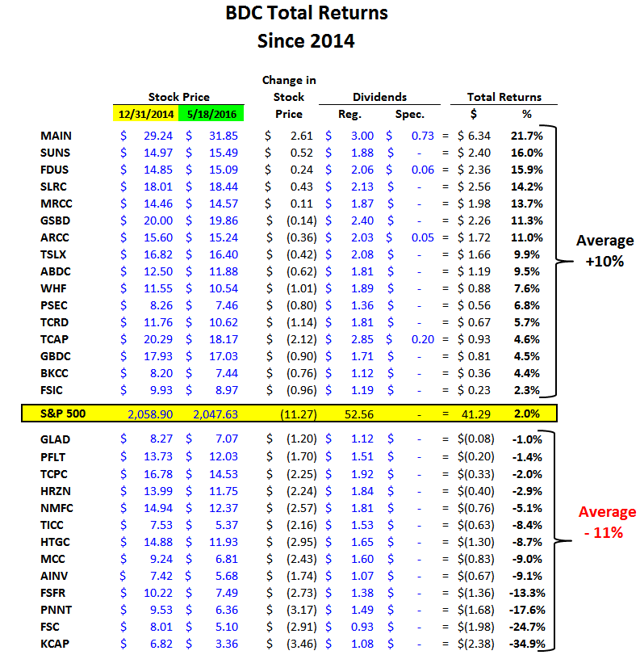 Readers might notice that I have been expanding my coverage to include some of the smaller/newer BDCs, as I believe these companies could provide higher returns to shareholders. Many of these BDCs have updated fee agreements to protect shareholder returns and/or could be undervalued due to lack of investor awareness.
Outperformers:
Many of the companies that are outperforming since 2014 have stock prices that are in positive territory for 2016 compared to the S&P 500 that is flat (same as last year). These BDCs include: Main Street Capital (NYSE:MAIN), Solar Capital (NASDAQ:SLRC), Solar Senior Capital (NASDAQ:SUNS), Fidus Investment (NASDAQ:FDUS), Monroe Capital (NASDAQ:MRCC), Goldman Sachs BDC (NYSE:GSBD), Ares Capital (NASDAQ:ARCC), TPG Specialty Lending (NYSE:TSLX), Alcentra Capital Corporation (NASDAQ:ABDC), Prospect Capital (NASDAQ:PSEC) and Golub Capital BDC (NASDAQ:GBDC).
Apollo Investment (NASDAQ:AINV) was doing well for the year but recently reported a meaningful increase in non-accruals mostly related to the oil & gas, similar to FS Investment Corp. (NYSE:FSIC). Triangle Capital (NYSE:TCAP) recently cut its dividend but is still performing above average likely due to expected net investment income ("NII") that more than covers the reduced dividend. TCAP also has plenty of growth capital available to grow the NII and distributions in the coming quarters. BlackRock Capital Investment (NASDAQ:BKCC) was doing well until it reported results with increased non-accruals on legacy investments that could put pressure on dividend coverage next quarter.
Underperformers:
KCAP Financial (NASDAQ:KCAP), PennantPark Investment (NASDAQ:PNNT), TICC Capital (TICC), Gladstone Capital (NASDAQ:GLAD), and AINV have continued issues related to collateralized loan obligations and/or oil exposure. Fifth Street Finance (FSC) and Fifth Street Senior Floating Rate (FSFR) have recently suffered from management, declining net asset value ("NAV") per share and/or investor activist issues.
Medley Capital (NYSE:MCC) has declining NAV per share and credit issues that are causing concerns about dividend coverage. TCP Capital (NASDAQ:TCPC) and PennantPark Floating Rate Capital (NASDAQ:PFLT) are doing much better in 2016 and could join the longer-term outperformers later this year. New Mountain Finance (NYSE:NMFC) could also improve NII related to its new senior loan program.
Interest Rates & BDCs:
Again, the markets are responding to the potential for higher interest rates, possibly at the June Fed meeting. This has a wide range of impacts on BDCs including general volatility and lower prices, providing another buying opportunity for investors. I am currently updating my "interest rate sensitivity comparison" to take into account the recently reported results and individual BDC capital structures.
If you are interested in my opinion on which BDCs are likely to outperform in the coming quarters, please visit "BDC Buzz.com." For a list of all my articles including previous interest rate sensitivity, BDC rankings (risk, return, pricing, dividend potential), target pricing charts and valuations, individual dividend sustainability, my historical purchases and current positions, and suggested BDC portfolios, please see my "BDC Research Page."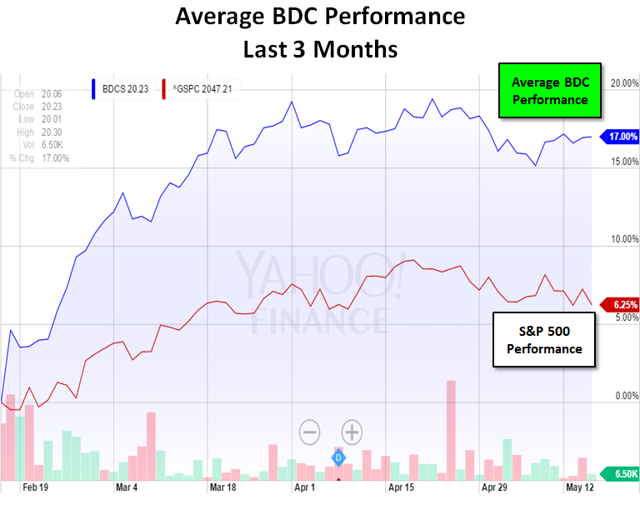 What can we expect for the BDC sector for the rest of 2016?
Continued and increased bifurcation driving a wide range of performances.
Potential (or continued) portfolio credit deterioration for poorly managed companies.
Market overreaction to general market changes including interest rates and credit cycle concerns.
Lower competition from banks due to regulations.
Investors realizing that passive income from investments will be more difficult than historically.
Personal note: I have updated my positions to reflect changes in my holdings, but please keep in mind that some of the positions are VERY small and mostly for research purposes.
Disclosure: I am/we are long ABDC, AINV, ARCC, BKCC, FDUS, FSC, FSFR, FSIC, GAIN, GARS, GBDC, GLAD, GSBD, HTGC, MAIN, MCC, MRCC, NMFC, PFLT, PNNT, PSEC, SCM, TCAP, TCPC, TICC, TPVG, TSLX.
I wrote this article myself, and it expresses my own opinions. I am not receiving compensation for it (other than from Seeking Alpha). I have no business relationship with any company whose stock is mentioned in this article.