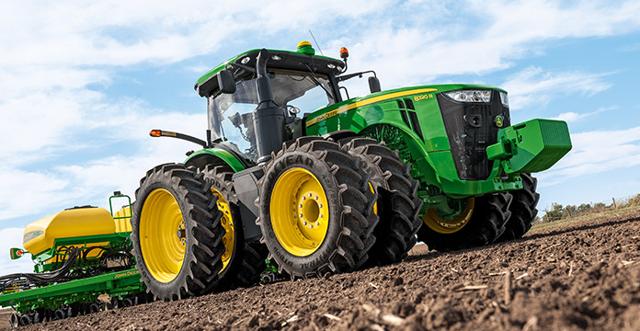 Deere & Co. (NYSE:DE) has been one of my least favorite stocks in the entire market for some time now. The company's leverage to the global commodity cycle has certainly taken its toll on results for the past two years and with the outlook for material improvements in commodity prices gloomy, DE's ludicrous valuation in the face of numerous headwinds has had me bearish for a long time. Shares have remained elevated despite much evidence that they shouldn't and with the release of Q2 earnings this morning, we'll get a glimpse into what the rest of this year and beyond looks like for Deere.
Note that I'll be using some charts from Simply Wall St. to aid in the discussion.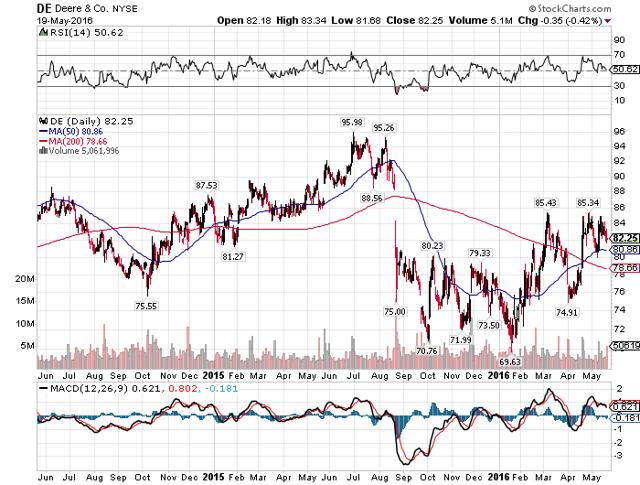 Deere has done a fantastic job in the past few quarters of maintaining profitability despite the fact that its revenue has literally been in free fall for several quarters. The bear argument begins and ends with revenue as the declines that DE has endured in its top line have been staggering. Other cyclical businesses have been hit as well but I'll give DE some credit for cutting expenses quickly enough to continue to make money while it rides out the rough bit. However, that alone is not a reason to buy a stock.
The most striking thing about Q2 is that DE's revenue seems to be showing signs that it may be leveling off in the relatively near future. If that happens to be the case, it would be a big step forward for DE and while it certainly would not make the stock a buy on its own, it would make the bear case a little more difficult. DE's cost cutting has done wonders for its profitability during the rough stretch but its revenue is something it cannot do a great deal about. However, if revenue is leveling off in the next several quarters, shareholders would certainly be excited about that prospect if for no other reason than things wouldn't be continuously getting worse.
The second quarter decline in revenue was 4% against an 8% decline for the entire first half of the year. Q1 was clearly worse than Q2 and while I won't dare say DE is out of the woods yet in terms of revenue generation, the improvement in Q2 is too significant to ignore. We all know there's some level of revenue that is the bottom for DE and perhaps we are getting close. Time will tell but prior to Q2, I hadn't even thought about the prospect of flat revenue.
That being said, profits are still a problem as DE has been cutting its way to some semblance of its former profitability but revenue declines like what DE has seen cannot be overcome through cutting alone. Depending on which time frame you look at DE has see roughly a quarter of its profits evaporate this fiscal year against what was already a very weak year last year and that won't change materially until DE can see some volume increases. But sales of equipment are still very weak even if Q2 was a relative bright spot so again, we have a long way to go before calling the bottom for DE.
The problem is that despite the relative strength of Q2, DE is forecasting more weakness for the rest of the year. Q3 is going to be particularly weak on the way to a full-year decline in equipment sales of 9%. That's still a very sizable loss in revenue and although it pales in comparison to prior periods, it is a significant loss of scale that will continue to negatively impact profitability. If DE is nearing the bottom in revenue, it isn't saying so and that makes me think that Q2 was more of an anomaly rather than a turning point.
So what do analysts think? This chart shows us revenue projections for DE for the next couple of years.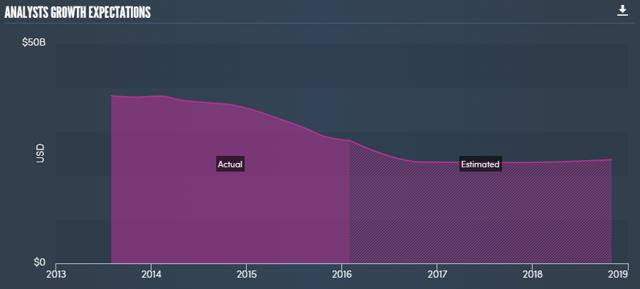 Just try to soak in the magnitude of what this chart is telling us; it is saying that DE has zero chance of recovering its former level of sales for at least five years as it continues to struggle to drum up volume. Of course, I've thought this for a long time but what is interesting is that analysts have DE basically flattening out its revenue level beginning next year. That's what I was referring to earlier; in the past I've been certain DE would continue to see lower and lower revenue levels but now, the landscape has changed some. I'm not quite as bearish as I used to be but given the pathetic trajectory shown on this chart, I'm certainly a long way from bullish as well.
On the EPS chart, we can see exactly how bad things have gotten for Deere.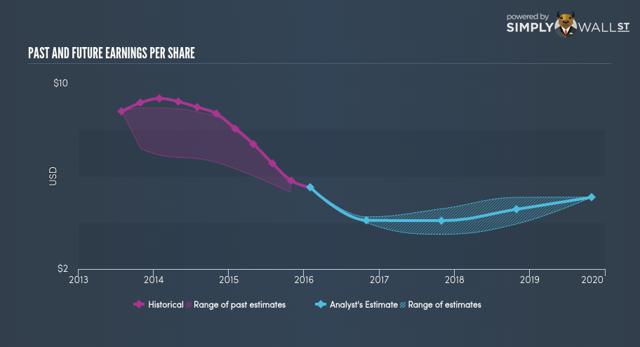 The decline in DE's EPS has been nothing short of a complete meltdown as a company that used to make almost $10 per share is now relegated to hoping for $4. And if analysts are to be believed, that struggle is going to continue for a long time. This is what I've been saying all along for DE; this is a structurally impaired business for the long term and even if sales do level out next year, DE has lost so much of its revenue base it cannot cut its way to its former levels of profitability. The loss in revenue is simply too huge for that to be mathematically possible and thus, it won't happen. Sure, DE may grow its EPS at 10% or so beginning in 2018 but how exciting is that for shareholders, really? Are longs excited about half of the company's former EPS levels going forward? They shouldn't be because the stock hasn't come close to losing half of its value, meaning it is still very expensive.
Then there's this; DE's balance sheet has deteriorated significantly as it continues to return capital to shareholders despite the fact that it cannot afford to do so at the rate that it is.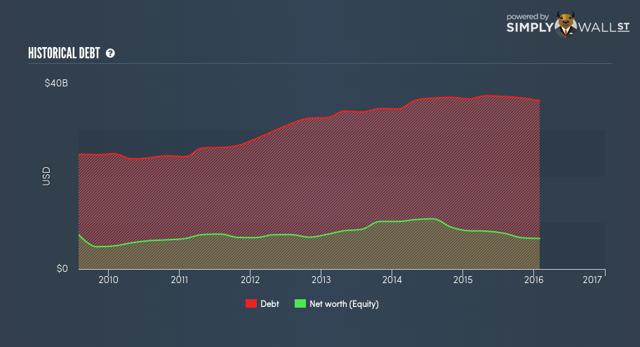 We see that DE has taken on more and more debt and has returned more capital to shareholders than it is creating and while DE's balance sheet isn't dangerous just yet, a continuation of these trend lines may spell trouble down the road. This is particularly true if there is downside potential to the company's revenue projections. I'm not worried about it yet but DE's balance sheet is certainly a negative component when building a case for the stock because it is ugly and getting more so by the quarter.
At 20 times this year's earnings, DE shares haven't begun to reflect the new reality of the company's lot. Shares have experienced a relatively minor loss in value against a massive impairment in the company's long term ability to make money and that situation simply cannot last forever. The numbers bear out that DE is many, many years off from even producing former highs in earnings and that means paying so much for a terrible business is not something I'd consider prudent.
In addition, DE's yield is much lower than competitor Caterpillar so if it's income you're after, you can do better than DE even without straying from heavy equipment. So to recap, with DE's revenue level flat at best over the next few years and EPS at half of its former levels and a yield that is materially lower than CAT's, there are zero reasons to own this stock. It remains one of my favorite shorts because this business is unequivocally terrible and yet, the stock sports a ridiculous multiple. Q2 may have been a relative bright spot but DE is still in lots of trouble so I'm maintaining my bearishness here.
Disclosure: I am/we are short DE.
I wrote this article myself, and it expresses my own opinions. I am not receiving compensation for it (other than from Seeking Alpha). I have no business relationship with any company whose stock is mentioned in this article.