Investment thesis
I first wrote about Exar (NASDAQ:EXAR), a supplier of analog mixed-signal semiconductor components and system solutions, three years ago. The company was amidst a successful restructuring led by Louis DiNardo and George Soros owned more than 10% of the company. Three years forward, the turnaround has all but evaporated, sales are falling, GAAP margins are negative, George Soros holds just a 3.80% stake of the company, and the stock is trading even lower than before the restructuring.
But George Soros and other institutional investors have not given up and some of them even seem to be buying at the current low price, such as Boston Partners with an almost 8% stake purchase. So let's look at the company's current prospects to see if another turnaround could be in the making and it is worth a purchase now.
Another turnaround likely in the making
And surprise, the company has an interim CEO, has been undergoing a restructuring, is non-GAAP profitable and the non-GAAP and GAAP figures are improving, although the situation is far from rosy because sales have fallen 16% YoY. But even here, the sequential fall is now only 2% and most of this is just because of a slight delay in revenue recognition for one order that will be booked next quarter. Not too bad sequentially.
Moreover, non-GAAP figures are improving as well. The loss is narrowing and about a third of the most recent quarterly GAAP loss can be attributed to ongoing accruals for settlement and legal charges related to patent litigation. These costs are temporary. The rest of the loss comes from stock-based compensation. Thus, the underlying business is basically at least breaking even despite sales falling 16% YoY and 2% sequentially and the company is FCF positive.
Outlook rosy
To add to the improving most recently reported results, the outlook looks excellent as well. Sales are expected to rise 7% to 12% sequentially and non-GAAP EPS should reach $0.09 to $0.13 per share. So my take is we are seeing another successful turnaround. The question is, how long will the improvement in figures last this time and whether it is prudent to jump on the bandwagon?
Pursuing "strategic alternatives"
Before we jump into the valuation, we need to mention that the company is currently in the middle of pursuing a "strategic alternative process." This could mean a sale, a break-up, an M&A, etc. This could also mean share dilution and other negative shareholder impacts. The company recently even did a sale and leaseback of its headquarters. The company's operations is still focusing on a transition to China to deliver lower COGS. Could this be suitable for a Chinese buyer? Just my speculation.
This is part of the equation and there could be a price spike if the company is taken over, or a price fall if there are no suitors even at the current price. The "strategic alternative" process has certainly taken longer than expected and the search for the new CEO, which should now be completed by the end of May, has taken a long time as well.
Valuation
As you can see from the chart of historical quarterly sales, FCF figures and stock prices, Exar has been able to generate a very mildly positive FCF on average over time but the cyclical fluctuations have been strong and the FCF margin has dwindled post 2008 as sales kept rising while FCF remained flat (on average).
(Ycharts chart - quarterly sales, FCF and stock price)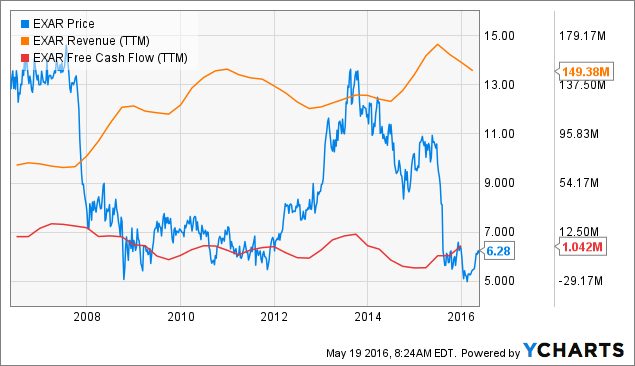 The stock price has had almost no correlation with the FCF because during the period of 2012 to 2015, investors believed the stock would turn into a permanent growth company and thus awarded the company a very rich valuation for future growth. The price is currently at one of the lowest levels in relation to the FCF generation capacity of EXAR, so this is one of the best times to invest in the company, if you believe the company will turn into a growth stock.
After watching the 2012 to 2015 turnaround and the macro as well as industry headwinds, I am not confident EXAR can turn into a permanent growth stock, so I will value the stock very conservatively, as a no-growth to low-growth company. This assessment as a low-growth company is supported by the fact that even one year after the previous turnaround, the organic sales have been growing only mildly as I wrote in one of my EXAR updates.
Under this low-growth assumption, the stock is still wildly overvalued. But I would not short it because any successful turnaround lasting at least several quarters or a large acquisition can easily switch investor perception back to the growth mode and the valuation (and the stock price) could skyrocket, like it did in 2012/2013.
I estimate the future FCF generation capacity of EXAR at ~6% of sales (based on the historical figures and the lower FCF margins in recent years, which seem to be the new reality. Margins are unlikely to rise due to competition unless the company grows substantially larger (almost certainly only through M&A activity). Moving of facility to China may help temporarily but with rising labor costs there, the relief will likely be temporary, and offset soon by customer pricing pressure.
So my base case is 6% FCF margins on annual sales of $150M in the long run. This would result in an annual normalized FCF of ~9M and a current P/FCF of 32.8x. Backing out net cash, the EV/FCF would still be 27.2x. This is a very rich valuation for a no-growth or a low-growth stock. The overvaluation is evident even straight from the trailing twelve-month P/S multiple of ~1.9x that the company currently trades at.
Conclusion - the fundamental investor's view
Given the tough competitive semiconductor environment and overall macro and industry headwinds, I am not confident enough to say EXAR will be able to turn into a sustainable growth stock one more time for longer than several quarters. As a result, the current valuation is very rich for a no-growth stock and I remain on the sidelines.
I would definitely not short the stock because the perception can easily change to a growth mode if another turnaround is performed successfully - or if we see a large acquisition or EXAR is sold at a premium - and the stock could stage a wild comeback again. So speculators may bet on this happening.
Conclusion - the speculator's view
If I was a speculator (I partly am because I speculate with a small portion of my money), now would be a one of the best times to buy EXAR and bet on a turnaround. The numbers are improving and the stock trades at one of the lowest (albeit high for a no-growth stock) valuations relative to average FCF generation ability. After all, George Soros (with a lower conviction now) and Boston Partners are most probably betting on such a comeback, or they could be just speculating on the potential "strategic alternative process" outcome. A potential buyer may overpay and pay a premium to even the current fundamentally high price.
Disclosure: I/we have no positions in any stocks mentioned, and no plans to initiate any positions within the next 72 hours.
I wrote this article myself, and it expresses my own opinions. I am not receiving compensation for it (other than from Seeking Alpha). I have no business relationship with any company whose stock is mentioned in this article.