DineEquity (NYSE:DIN), the parent company of Applebee's and IHOP recently released its earnings for the quarter, and revenues were short of analysts' predictions by $2.51 million. The shortfall was the result of underperformance at Applebee's, which saw a 3.7% decline in same restaurant sales. For reference, the industry average during the quarter was growth of 0.5%. As a result, the company said it was looking "aggressively" at ways to improve the Applebee's franchise. DineEquity CEO Julia Stewart recently shed some more details on what this aggressive plan would entail.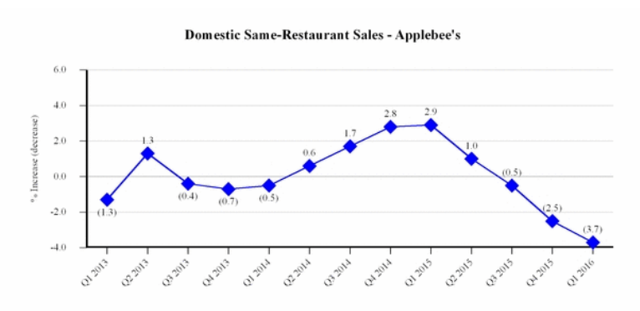 The company is looking to focus more on its American style, which makes sense. It seems as if every town in America has an Applebee's. With 1,871 restaurants in the U.S. as of 2015, they're certainly close. One of the main additions coming to each Applebee's location is an American-made, wood-fired grill. Along with the wood-fired grill, Applebee's will now begin serving "USDA choice steaks that are cut in-house." The price tag for the project has been set at $75 million. This will also include an advertising campaign and training of the employees, who will learn how to cut/prepare the steak and how to pitch the new offering.
While a step in the right direction, I see this move as too expensive for too little a return. $75 million is an obscene amount of money to DineEquity, and represents nearly twice their current free cash flow. And to spend that amount on grills and more advertising seems ill-advised.
A previous Seeking Alpha article wrote about the new moves, and determined that its success would depend on how the service was delivered. I agree that service should become a key focus for the company in its turnaround efforts. A better investment may be to install pay-at-the-table devices at each table. This could help customers pay and order more easily, while also saving time for the server. In doing so, the employees could offer better service with the extra time they have. What's more, the costs of such a system would be much lower and less obstructive than the installment of a wood-fired oven.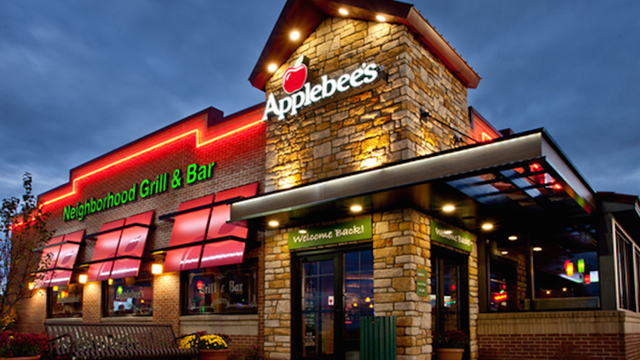 While this is merely an example, there are plenty of options for Applebee's which don't have a $75 million price tag attached to it. If this initiative raises same restaurant sales an astounding 5% (a nearly 9% turnaround from the last quarter's growth), this would raise profits by just $2.4 million. This scenario is beyond reality and even then it would take 8 years just to recoup its costs on the initiative. While I applaud DineEquity's attempt to bring growth back to their franchise, their methods are too costly in my opinion.
I encourage you to follow me as I cover a wide variety of current topics, with a special interest in the technology and entertainment industries.
Disclosure: I/we have no positions in any stocks mentioned, and no plans to initiate any positions within the next 72 hours.
I wrote this article myself, and it expresses my own opinions. I am not receiving compensation for it (other than from Seeking Alpha). I have no business relationship with any company whose stock is mentioned in this article.