The past two weeks have been, to put it bluntly, miserable for owners of Staples (NASDAQ:SPLS) as well as Office Depot (NASDAQ:ODP). Office Depot shares are now down 45% following a judge's agreement with the Federal Trade Commission that it mustn't be allowed to merge with rival Staples, as it would likely lead to non-competitive pricing. Staples shares have fared only a bit better, currently down 22% since that bad-news-bomb was dropped after the close on May 10th. It was bad news for both, as neither believes they can compete with Amazon.com (NASDAQ:AMZN) on their own.
See, Amazon is wading deeper into office supply waters, recently reporting its Amazon Business e-commerce venue (B2B, mostly) facilitated $1 billion worth of sales in its first year.
The two office supply outfits say, if left unchecked, the e-commerce giant could drive them both into the ground, unable to compete with Amazon's enterprise-level pricing power and presence.
Of the two brick and mortar names, however, one may have been exaggerating the dire straits it's in as long as Amazon is around.
To be clear, the line between the consumer customer and corporate customer is a blurry one for all three names. Amazon Business is aimed at corporate-scale buyers, but there's little doubt smaller buyers have tapped the venue. And vice versa... corporate customers may be at least some items from Amazon's consumer interface. Ditto for Staples and Office Depot. Both offer enterprise-level services, but certainly some corporate customers patron a store from time to time.
By and large though, the enterprise-level divisions of Office Depot and Staples are well defined, and well-accounted for. They're so well accounted for, in fact, that each company's corporate-customer division has a basic P&L.
This is where things get interesting.
The two graphics below represent the commercial divisions for Staples and Office Depot. One of them is not like the other. Staples is growing its enterprise business, albeit anemically, while Office Depot is losing ground.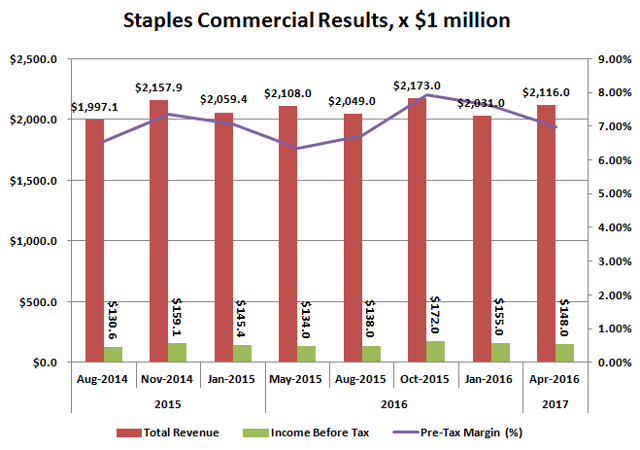 Data provided by Thomson Reuters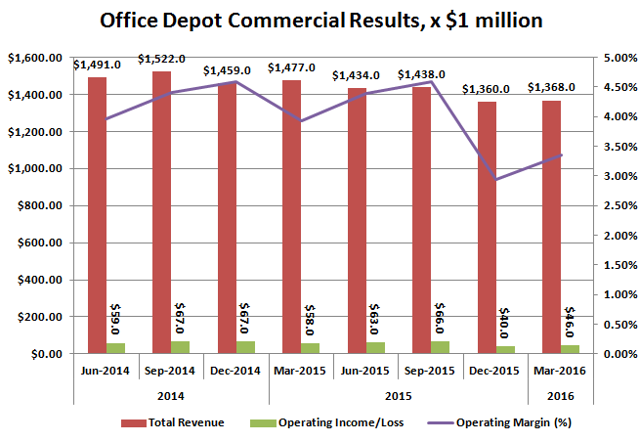 Data provided by Thomson Reuters
Don't let the relatively simple charts oversimplify the situation. On the other hand, charts don't lie.
The obvious explanation is also the correct one -- Staples is simply much better at corporate sales than Office Depot. That doesn't mean it still wouldn't prefer to have Amazon out of the way though, and it doesn't mean it couldn't leverage a partnership with Office Depot to keep Amazon Business at bay to the fullest extent possible. That's why Staples was the pursuer and Office Depot was the target as part of the proposed "merger."
Staples' ability to hold its own against the venerable Amazon may also explain why SPLS shares weren't hit as hard as ODP shares were.
As for the future, it's telling that Staples had responded to the news within hours, laying out a three-pronged plan to rekindle the stock's value in addition to maintaining its stock-buyback program.
Though still vague, it clearly indicated the company had been constructing these plans before the merger was quelled. Even if just fluff (although there was substance to it), Staples clearly planned ahead for all contingencies. That in itself speaks volumes.
Office Depot offered up its contingency plan earlier this week, though many shareholders may still be wondering exactly what it is beyond continuing to integrate with Office Max following their 2013 merger... something the office supply retailer was doing anyway.
The company is mulling the sale of some European operations, perhaps swapping them for other, domestic acquisition targets, and continuing to develop its smaller outlet store concept.
Of the two though, Staples has the more palpable plan, with a key focus being the development of the middle-market where it may be able to out-service and even out-price Amazon.
It's admittedly tough to distinguish the two office supply retailers at this point in time, in that both superficially appear to have crossed the fine line between "undervalued" and "cheap for a reason" (moving into "cheap for a reason" territory). They're not of the same ilk though. ODP is cheap for a reason. SPLS is indeed undervalued, even if volatility is going to be par for the course for the foreseeable future.
It's got plenty of work to do to be sure, and stores to close. It will be ugly. Its forward-looking P/E of 8.7, though, says the worst-case scenario is already baked in. Last quarter's sales fell (again), though the pace of decline is slowing.
BB&T Capital Markets analyst Anthony Chukumba said of last quarter's results:
"These results demonstrate management kept its eye on the ball during the prolonged Office Depot merger review process - which we believe positions Staples well to take market share from its dazed and confused primary rival."
Chukumba's premise is supported by more than a small handful of other clues, not the least of which is its ability to maintain its commercial business even as Amazon become a direct competitor.
Staples may be worth a bargain-hunting shot as a turnaround play. Just don't turn your back on it for too long.
Disclosure: I/we have no positions in any stocks mentioned, and no plans to initiate any positions within the next 72 hours.
I wrote this article myself, and it expresses my own opinions. I am not receiving compensation for it (other than from Seeking Alpha). I have no business relationship with any company whose stock is mentioned in this article.