On January 8, USA Today revealed that the average stock was down 27% from its 52-week high. Retail and institutional investors could all attest. Two-thirds of investors lost money in 2015. Worse yet, the market has started 2016 in a similar fashion.
But there's always a silver lining. This article will discuss one of the strategies I used to profitably navigate Wall Street clients (and my personal portfolio) through the bear markets of 2000-2002 and 2007-2009.
Those who follow me on Seeking Alpha and at PipelineDataLLC.com know that I have a generally strong track record, dating back to 2009. However, they also know that my long ideas have not been immune to the bear market in small cap stocks - they have performed very poorly in recent quarters.
Luckily, my numerous stock market alerts have successfully warned investors of when to reduce the stock market exposure by hedging / shorting or selling. Further, my position sizing methodology has kept our long exposure to a minimum, especially as it pertains to speculative selections.
Those who have embraced over-weighted positions and eschewed hedges have surely suffered. In contrast, those who have heeded my warnings have mitigated their losses. Of equal importance, they have also put themselves in position to capitalize on lower prices. When you short, hedge, or maintain smaller position sizes, it gives you greater firepower for buying stocks when they reach lower prices (you can cash out of your profitable hedges and redeploy that capital toward decimated names).
If you don't have cash or shorts, you can't take advantage of a correction.
Many individual stocks sit near their 52-week lows. Meanwhile, the S&P 500 and related issues -- like the SPDR S&P 500 ETF (NYSEARCA:SPY) -- are still hovering near highs. This presents investors with the unique opportunity to create low-risk portfolios that can deliver incredibly high returns in the coming months.
This brings us to my bear market strategy.
At present, my latest stock market "Sell" warning remains firmly in place. In other words, I'm bearish on SPY. I believe that Investors can capitalize by being short ETFs like SPY or by being long ETFs like ProShares Short S&P500 (NYSEARCA:SH), which short the market for you. Simultaneously, despite my dour outlook for the market, I have been advocating the opportunistic purchase of "bottomed-out" stocks.
In during the last two bear markets, this strategy enabled me to earn over 100% in 2000-2002 and over 80% in 2007-2009.
I have provided two such selections so far this year. Today, I am introducing one more.
The first was Glu Mobile (NASDAQ:GLUU), which reached the bottom of my proprietary risk/reward channel in January (see below). Coincident with that, the company announced a buyback ahead of the release of its much-anticipated Jenner Sister game. The confluence of factors was powerful. The stock rose 80% in just a few weeks.
That pushed the stock back to the 50/50 point of my risk/reward chart. Meanwhile, the Jenner Sisters game started showing signed that it wouldn't enjoy the success of its predecessor, Kim Kardashian Hollywood. Because our thesis hinged on the repeatability of GLUU's celebrity genre, the Jenner falloff signaled a strategic shift in our sentiment regarding GLUU's future.
That catalyzed my proclamation of taking profits on Feb 21 (around $3.80). Eight days later, I announced selling the rest (at $3.71) and dropped coverage of the stock. All in all, it was a two and a half year roller coaster that delivered a 17% profit (versus a 5% loss for the Russell 2000) from our initiation of coverage at $3.14 per share. However, those who backed up the truck at the channel low (around $2.00) made a small fortune in just a few weeks.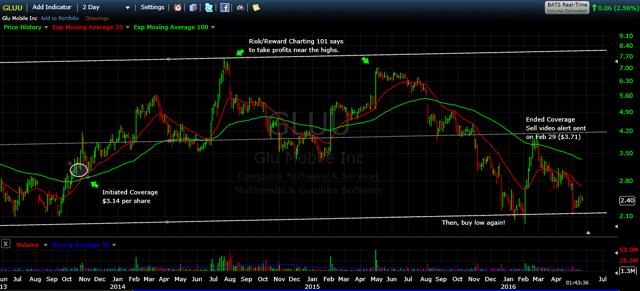 Source: FreeStockCharts.com
Our second "bottomed out" selection was Mattersight (NASDAQ:MATR) on April 11. Since that time, the stock has pulled back slightly, in-line with the Russell 2000's recent performance. However, due to its depressed valuation, I expect this stock to outperform the market by a wide margin in the coming year.
At current levels, I believe the company would make several suitors very happy. This puts a bit of a floor under the share price. I will provide more details on this in an upcoming edition of my free Pipeline Data Newsletter.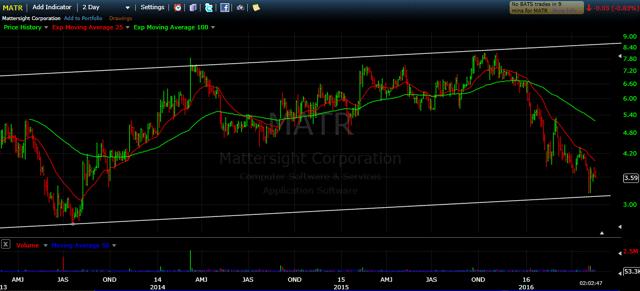 Source: FreeStockCharts.com
This brings us today's "bottomed out" call, which is RADCOM (NASDAQ:RDCM).
RADCOM is a leader in providing Network Functions Virtualization (NFV) service assurance. The company has been well-covered on Seeking Alpha by Mike Arnold. I highly recommend his work for greater detail on what the company does and why demand is starting to explode. In this article, I will focus on providing an update regarding current events at RDCM.
For starters, the stock hit the bottom of its short-term (technical) channel this week (shown in gray). This is not be confused with its broader, longer-term, and fundamentally-based Risk/Reward channel, which is in white.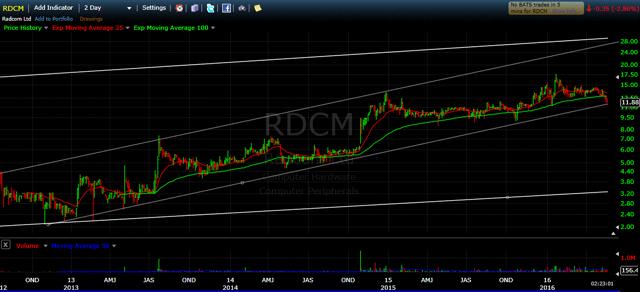 Source: FreeStockCharts.com
On May 10, the company announced blowout results and hosted a bullish earnings call. I highly recommend it for anyone invested or considering an investment in RDCM. For those seeking the highlights, here are a couple of the most notable quotes from the call (the transcript was shaky, so I took the liberty of making it more readable):
Yaron Ravkaie (Chief Executive Officer): "...we're widening the gap with our competitors... we'll be the aggressive ones that take market share... and we've already taken market share... just from the beginning of the year, we are engaged with five new logos that we have we didn't do business with -- and I would even say that I am not sure we would have attracted -- in the past. (With the first tier-1 win), the door now gets open to us very fast and everybody wants to learn... we're positioned as like a leader... everybody is interested in service assurance because when you roll out a complicated NFV network... they all understand that they can't (do it) without putting service assurance, which can be their eyes in their network. So we are seeing all of that come together... usually what happens is now several will follow and we're in discussions with the right ones."
This is consistent with what Pipeline Data has gathered from our industry contacts. We have ascertained that AT&T is the tier-1 customer in question… and when AT&T makes a move, their competitors take note. Investors can bet that every notable NFV decision-maker in the industry now knows that RDCM won AT&T's business after an extensive evaluation in its labs.
In fact, word is spreading that RDCM's product (MaveriQ) scored a perfect 100/100 in its lab trials, while the nearest competitor could only manage a 70/100. In other words, RDCM's technology lead is wide, making them the de facto leader for NFV Service Assurance. Investors should note that we estimate the AT&T relationship at $50 million (on top of the initial $18 million it has already collected).
The implications -- as RDCM signs new Communications Service Providers (CSPs) -- are significant. Its market cap is just over $100 million. Meanwhile, revenue estimates only call for $29 million in revenue this year and $37 million in 2017.
Yaron Ravkaie (Chief Executive Officer): "We're starting to get a line-of-sight... which will be step function for the numbers (we forecasted on this call)... we are hunting elephants. Each elephant will be a big step-up function for us."
Here, the CEO is saying that RDCM's guidance for 2016 does not incorporate the potential for any additional large deals this year. However, he goes on to say that large deals are what they are going after. In other words, if they have any success in landing one or more of the five customers mentioned in the first quote, they will crush their guidance.
This continues to remind me of RDWR, which was a go-nowhere company until 2010, when its software-based approach to application delivery took off. From 2009 through 2012, revenues nearly doubled… and EPS went from a loss of 31-cents to a profit of $1.45 per share. The stock responded by going from $2 to $25.
By coincidence, RDCM also made a recent (2013) low of $2 and has the makings of a stock on its way to $25, but the fundamental market shift from hardware-based solutions to software based solutions is the real correlation to draw here.
The key is showing leadership in your niche. In this case, we hear that industry experts have been mentioning RADCOM's offering as an example of why some CSPs succeed with NFV while others (like BT) fail.
_____________________
In addition to the information provided above, we are hearing that AT&T is interested in additional products (likely in the area of cyber security) from RDCM, as well as a co-marketing agreement.
Of course, developing products, and ramping one's sales and marketing efforts requires capital. For this reason, RDCM announced that it intends to offer $20 million of its ordinary shares in an underwritten public offering. As part of this offering, RADCOM'S largest shareholder, Zohar Zisapel, agreed to purchase up to $5.6 million of the stock.
As is typical in these situations, the news sent RDCM plummeting in the days that followed.
What most retail investors don't realize is that a large percentage of secondaries are actually bullish for the company involved. There's a simple way to separate the wheat from the chaff, as I discussed on Seeking Alpha after a GLUU secondary. Those who heeded the lesson were treated to a 99% ride in just three-weeks (from $3.69 to $7.34).
For bullish secondaries, the share-price decline that occurs upon the deal's announcement is simply due a short-term imbalance in the supply and demand of shares. I believe this is the case with RDCM. According to my sources, institutional investors requested about $40 million worth of RDCM's $20 million offering. The underwriter likely allocated $15 million of the deal to RDCM's largest shareholders, leaving everyone else with a small percentage of the shares they wanted.
Those investors will have to buy in the open market… as I did this morning.
I don't see a three-week 99% ride ahead for RDCM, but I do believe the shares should quickly rebound to its post-earnings (May 10) price of $14.20. If it can reach 13.50 quickly, the stock might qualify for inclusion in the Russell 2000 index. This would raise the company's respectability and liquidity profile, attracting a new wave of institutional interest.
Regardless of how that plays out, RADCOM is clearly a prime candidate to benefit from the emerging NFV/SDN movement. It has an expanding relationship with AT&T, a growing pipeline of CSP business, a war chest of cash, and earnings power which we currently estimate at $3 per share. At current levels, the upside is great if the company executes.
However, even if the RADCOM struggles to figure out how to be a small fish in the big pond, there are plenty of players (i.e. Cisco) that can benefit from acquiring their uniquely-positioned business. With the nearest competitor scoring just 70/100, whoever controls RADCOM's product set will be well-positioned to win entire infrastructure deals, which dwarf the service assurance contracts that RDCM is currently securing.
Based on all of the above, I believe that today represents an ideal entry point for shares of RDCM, which can be hedged modestly well by shorting an equal amount of SPY (or buying SH).
Disclosure: I am/we are long RDCM AND SHORT SPY.
I wrote this article myself, and it expresses my own opinions. I am not receiving compensation for it. I have no business relationship with any company whose stock is mentioned in this article.
Additional disclosure: The information in this article is for informational and illustrative purposes only and should not be regarded as investment advice or as a recommendation regarding any particular security or course of action. The opinions expressed in Pipeline Data, LLC publications are the opinions of Mr. Gomes as of the date of publication, and are subject to change without notice and may not be updated. All investments carry the risk of loss and the investment strategies discussed by Mr. Gomes entail a high level of risk. Any person considering an investment should perform their own research and consult with an investment professional. Additional important disclosures can be found in the Important Disclosures section at PipelineDataLLC.com.
Editor's Note: This article covers one or more stocks trading at less than $1 per share and/or with less than a $100 million market cap. Please be aware of the risks associated with these stocks.