Alphabet's (NASDAQ:GOOG) (NASDAQ:GOOGL) I/O event revealed its plans over app streaming and always-on, connected artificial intelligence services. This grand ambition of Alphabet is a long-term tailwind for Intel (NASDAQ:INTC). The massive compute power needed to host millions of people using streamed apps will require Google to build more server farms.
It's going to be pricey Xeon processors again for Alphabet's data center servers and deep-learning machines. Google is and will remain the biggest buyer of Intel-made server chips. This will not change any time soon. Google buys around 300,000 Intel processors quarterly for its server needs.
The 1 PCie slot = 1 teraflop performance of one Xeon Phi coprocessor is something that Google can never resist.

(Source: Intel)
At an average discounted price of $1k per Xeon, I guesstimate that Google's annual contribution to Intel's coffers is around $1.2 billion. But I expect this business from Google to increase by 10-20%. Google has urgent need to accelerate its server deployments. The servers need to cope up with the added load from its new services involving app streaming, deep-learning, virtual reality, video calling, Google Home and Google Assistant.
Below is a 2012 location map of some identified Google-owned data centers. All of which are no doubt Intel-powered. Big Data Customers of Google would love the performance bump from Intel's upcoming 72-core Xeon Phi.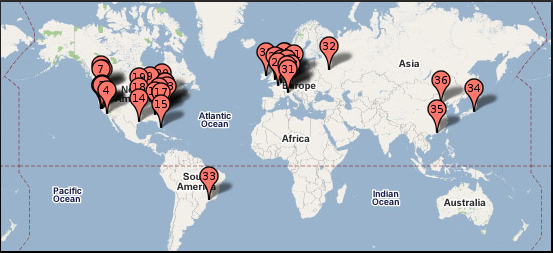 (Source: Networkstatic.net)
Android device sales are still surging, so Google also needs more data centers to track and gather personal data of more people. Serving and analyzing targeted, hyper-local ads to more people further increases server load.
Intel truly has a fast-growing, fat milking cow in Alphabet.
Google Is Tethered To Intel's x86 Platform
I'm dismissive of the rumor that Google will use ARM-based server chips. Qualcomm's (NASDAQ:QCOM) 64-bit server-class never got any official note of approval from Alphabet. ARM-based server chips have been available since 2013, but Intel still supplies 99% of data center processors. Google flaunted its Power8 server design two years ago and yet the best thing it could achieve was to demo another IBM (NYSE:IBM) Power9-based server prototype last month.
Years have passed and Alphabet never made any official confirmation that it is actually using non-x86 server racks in its data centers. They remain experimental projects that are speculative.
Google's massive success is due to its ultra-reliable x86 servers. There's also two-decades worth of x86 server code that's preventing Google from abandoning Intel-made processors. The required recompiling of legacy x86 software to ARM architecture is a deadly minefield with risks of server downtime. A failed server is devastating to an internet company like Google.
Like it or not, Alphabet is a captured client of Intel. My own view over these moonshot-like server designs from Google is that they are just clever attempts to extract discounts from Intel. Server chips are Intel's biggest money-makers. Intel owning 99% of the server market gave it the prerogative to price Xeons like super-expensive Louboutin shoes.
I am using shoes as an example because, without Intel's processors, Google will stumble and fall flat on its face. Google, with tens of billions of dollars at stake, is unlikely to ever entrust its servers to a bunch of Power9 or 64-bit ARM-based microservers.
ARM Processors Are Unfit For Serious Server Workload
ARM-based processors are unfit for ultra, massive-scale computing. Even the shrewd Chinese did not license the ARM-based Seattle server chip design of Advanced Micro Devices (NASDAQ:AMD) or the Power9 of IBM. Government-owned Tianjin Haiguang Advanced Technology Investment Co. opted instead to license the x86-related processor IP of AMD. They likely share my view that ARM-based chips are fit only for mobile devices, not for self-learning server machines.
Yes, Google's TensorFlow open-source artificial intelligence framework is flexible enough to use any CPU or GPU configurations. However, commercial vendors of TensorFlow-based deep-learning computers like Alluviate are selling Xeon Phi-optimized machines. An alternative to TensorFlow, Caffe is also being optimized for Xeon Phi.
My point is that Intel already has battle-tested Xeon processors that work well with deep-learning frameworks. The only thing that could rival Xeon Phi's deep learning efficiency is Nvidia's (NASDAQ:NVDA) GPUs. However, Nvidia's GPU advantage is not a long-term threat to Intel.
Altera is Intel's Big Stick Against GPU-based Deep Learning Rivals
Let us not forget that Intel already owns Altera, the top vendor of Field Programmable Gate Arrays (FPGA). The superior GPU-related activities (like Facebook's (NASDAQ:FB) facial recognition) of deep learning machines could soon be replaced by FPGAs. Altera's FPGAs could be programmed efficiently for specific deep-learning tasks.
Microsoft's (NASDAQ:MSFT) Project Catapult found out that FPGAs can deliver 40x the speed of traditional CPUs when it comes to processing some Bing algorithms. Project Catapult was a super-search Bing engine network of 1,632 servers of Intel Xeon processors equipped with Altera FPGA chips.
Intel paid $16.7 billion for Altera, precisely because of FPGA's potential to neutralize the speed advantage of GPUs in some deep-learning activities. It was a big bet for Intel to get involved in the future $3-trillion market for artificial intelligence.
Intel currently has no in-house discreet GPU products. The cross-licensing deal with Nvidia's GPU patents will also expire next year.
Conclusion
Intel has everything that Google needs. Google is doing well using x86 processors. There is no reason to endanger this profitable relationship. The ever present threat from Amazon (NASDAQ:AMZN), Facebook and Microsoft requires Google to keep its servers always online and optimized.
I remain long INTC. As of today, there is nothing that can challenge the 99% market share of Intel on server processors. Intel is the 8,000-pound champion that will fight tooth and nail to preserve his crown.
Even Qualcomm is intimidated, saying it will take a "gradual approach" for its ARM-based server products. Qualcomm doesn't want the embarrassment of failed products like those from knocked-out ARM server vendors.
The Chinese will also still spend years of research to improve AMD's outdated Opteron design. AMD got killed on the x86 server market because mega-cap firms like Alphabet, Facebook and Microsoft found the Xeon inherently superior.
Disclosure: I am/we are long INTC, MSFT, AMZN.
I wrote this article myself, and it expresses my own opinions. I am not receiving compensation for it (other than from Seeking Alpha). I have no business relationship with any company whose stock is mentioned in this article.
Editor's Note: This article discusses one or more securities that do not trade on a major U.S. exchange. Please be aware of the risks associated with these stocks.