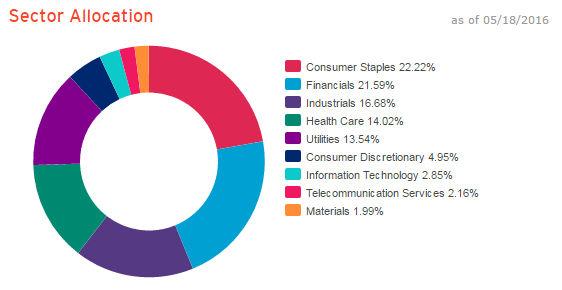 The proliferation of niche products like the PowerShares S&P 500 Low Volatility Portfolio ETF (NYSEARCA:SPLV) has made watching the market a lot more interesting. But, despite the words "low volatility" in this exchange traded fund's, or ETF's, name, things don't always work out as planned. Here's what SPLV's recent outperformance suggests about market psychology and why you shouldn't get too excited about the ETF as an investment option right now.
Slice and dice
Today's plethora of index options gives investors a way to invest in almost any niche they want. But this trend also lets investors see what's hot and what's not at a pretty granular level. Want to know which sector of tech is taking off? There are ETFs focused on the Internet, software, cyber security, cloud computing, and robotics, among many others. I'm not sure such focused products are a good idea, but they sure do offer a glimpse at what investors are thinking.
For example, through the end of April the Global X YieldCo Index ETF (NASDAQ:YLCO) was down roughly 24% since its inception in late March of last year. It's no wonder, being that the sector pretty much imploded shortly after the fund was created. And while recent performance has been "better," it's clear that investors aren't looking favorably on yieldcos at the moment.
Which is why I find the outperformance of SPLV so interesting. Cutting to the chase, the fund buys the 100 S&P stocks with the lowest volatility over the trailing year. The fund's prospectus defines volatility as: "Volatility is a statistical measurement of the magnitude of up and down asset price fluctuations (increases or decreases in a stock's price) over time." On the surface this sounds like a great option for risk averse investors.
And if you take a look at some of the top names in the portfolio, you'd be similarly impressed. For example, Coca-Cola (NYSE:KO), Waste Management (NYSE:WM), AFLAC (NYSE:AFL), and General Mills (NYSE:GIS) are key holdings. These are all businesses that have a long history of success and that are, in many ways, pretty boring. What's not to like? Believe it or not, the fund's strong performance... The fund is up more than broader S&P clones so far this year.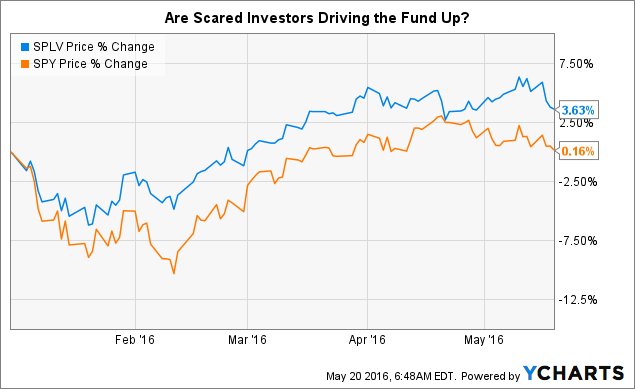 Do you zig or zag
In theory, a fund focused on low volatility stocks should hold up better than a more broadly focused ETF during a downturn. However, that's a view based on a very long series of data points. What happens over shorter periods of time may not live up to the hype.
For example, what happens when investors are worried about stock valuations and shift, in large numbers, toward less risky assets? Those would be the very kind that SPLV seeks to own. The answer is pretty easy, the valuation of low volatility stocks goes up. In that case, the fund could very well be holding a portfolio of overvalued securities. That doesn't sound like a great way to reduce volatility.
And that might be just what's happening today. For example, according to Morningstar, PowerShares S&P 500 Low Volatility Portfolio's forward P/E is 19.2 versus 18.3 for the SPDR S&P 500 ETF Trust ETF (NYSEARCA:SPY). Price to book is 3.1 versus 2.5, price to sales is roughly in line, and price to cash flow is 11.6 versus 9.8. The dividend yield, meanwhile, is pretty much the same as the broader index (I would expect the yield to be higher under normal circumstances). So, in many ways, the PowerShares S&P 500 Low Volatility Portfolio ETF looks like it owns a portfolio of relatively expensive stocks.
To be fair, over the trailing three years, SPLV's standard deviation, a measure of volatility, is roughly 10% lower than that of SPY. And PowerShares' approach has lead to less downside than experienced by SPY over the trailing one-year and three-year spans. So SPLV has, so far, lived up to expectations.
But the fund has only been around since mid-2011. In other words, it's life has, so far, included a generally good period for the market. It hasn't been seriously tested and we haven't seen what happens in the real world when investors are given an index-based way to invest in low volatility stocks.
If investors are shifting in large numbers into the very types of stocks the ETF tends to own because they are fearful of the market, in general, then the future may not pan out quite as well as the historical data on low volatility investments suggest. That might be a short-term blip, but if you own PowerShares S&P 500 Low Volatility Portfolio SPLV, or a similarly constructed ETF, you have to live through the short term to get to the long term.
Caution is in order
If you've bought this ETF based on its recent strong performance, you should make sure you really understand the fund's objective. If you own it because of the big-picture story, make sure you remind yourself of why you own the fund if performance during a notable downturn doesn't match up to what you expect. In other words, know what you own and be prepared to stick out a short period of adversity so you don't wind up buying high and selling low.
I like the idea behind the index, but there's still not enough real world performance to say that the PowerShares S&P 500 Low Volatility Portfolio ETF is going to live up to the low volatility its name implies when it really, really counts.
Disclosure: I/we have no positions in any stocks mentioned, and no plans to initiate any positions within the next 72 hours.
I wrote this article myself, and it expresses my own opinions. I am not receiving compensation for it (other than from Seeking Alpha). I have no business relationship with any company whose stock is mentioned in this article.