Ultra Petroleum Corp (NASDAQ:UPL) (OTCPK: UPLMQ) filed for Ch. 11 bankruptcy because it was not able to negotiate an out of court restructuring. All of their debt is unsecured, which is unusual for such a large company, and they also do not have any DIP financing. Stockholders only hope of getting anything in a re-organization plan is that are paid some token amount by the creditors, which at this point is unlikely to happen. The notes that are tradeable could receive some value, but the amount may be below their current prices.
Ultra is mostly a natural gas exploration and production company operating in the Green River Basin area of Wyoming, using conventional drilling. Most of their production comes from the Pinedale field. (They are not involved in shale production in Wyoming.) They also have very modest NG production in Marcellus region and some oil production in Utah. Along with other NG producers, they have been severely impacted by low prices. Domestic NG production has expanded because of fracking and the plunging prices for drilling wells that now use different drilling processes. (Ultra's cost per well dropped from $7.0m in 2006 to $3.0m in 2015.)
Natural Gas Outlook
Baker Hughes rig count for NG have dropped to 87 from 223 the same period last year, but inventories remain about 40% above the 5 year average. While prices have bounced off their earlier lows, new drilling is not expected until prices move and stay higher.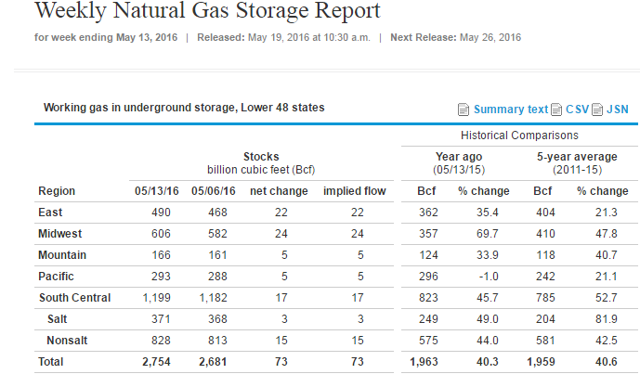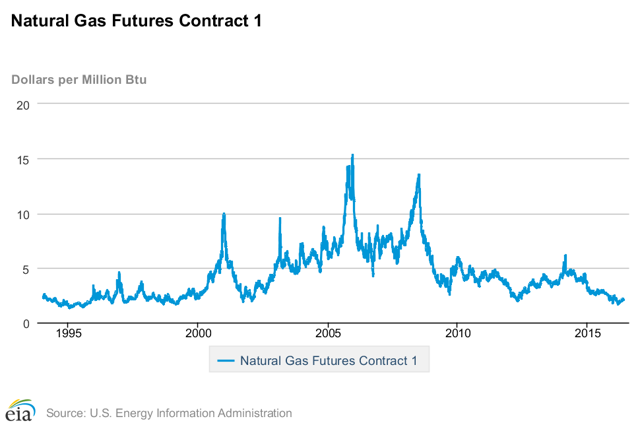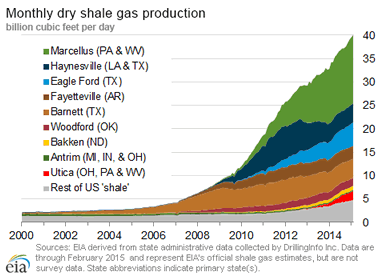 With increased NG production from the new shale fields, the production in Wyoming has decreased. The problem ten years ago in Wyoming was the lack of pipeline capacity, which caused prices at Opal Hub to be less than $1.00. As new pipeline construction was announced under President Bush, exploration companies expanded their Wyoming drilling operations, but new wells were producing before the pipelines were completed.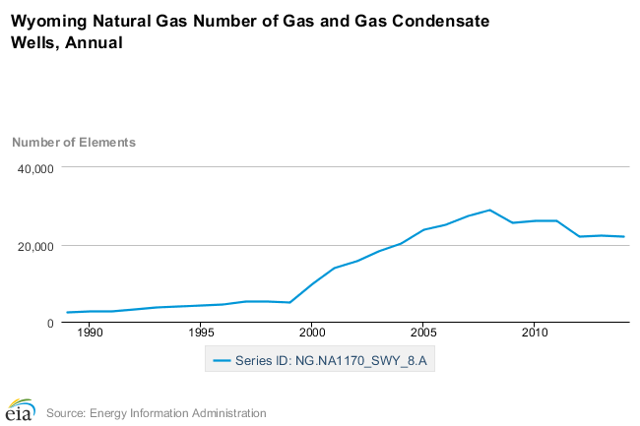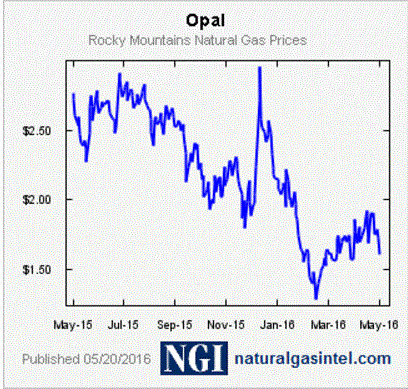 The U.S. Energy Administration is forecasting that domestic production will be increasing more than domestic consumption.(See the two tables below.) This could result in weak NG prices and/or major expansion of LNG exports. Because of the long distance from Ultra's NG fields in Wyoming to ports, they will not benefit directly from these exports, but if these government production/consumption projections are correct, the Opal hub prices could be at a significant discount from Henry Hub prices because of the long distance to large population centers.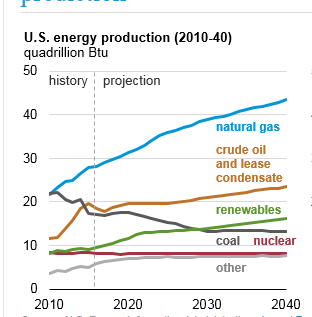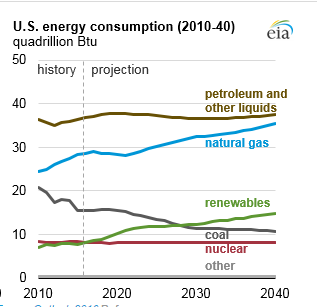 Ultra Petroleum Corp.
Ultra Petroleum is a British Columbia holding corporation that filed for Ch. 11 in Texas. Contained in the documents filed as part of the "first day" hearing (doc 44) was estimated production cost per of $1.89 Mcf for Altra in 2015 compared to an industry mean of $2.85. (Note: this not a weighted production mean.) Below is a table that gives an indication of prior year results.
| | | | |
| --- | --- | --- | --- |
| Production (million) | 2015 | 2014 | 2013 |
| Natural gas Mcf | 269 | 229 | 225 |
| Oil | 3.5 | 3.4 | 1.2 |
| Revenue ($million) | | | |
| Natural gas | 697 | 969 | 824 |
| Oil | 142 | 261 | 109 |
| | | | |
| NG price inc derivatives | 3.14 | 4.03 | 3.57 |
| NG price excl derivatives | 2.59 | 4.24 | 3.66 |
| Oil incl derivatives | 40.31 | 76.47 | 90.98 |
Ultra Petroleum Corp's subsidiary, Ultra Resources Inc. has a fully tapped revolver of $999m, which is guaranteed by Ultra Petroleum and UP Energy. There is total of approximately $1.46b of unsecured senior notes issued by Ultra Resources and again guaranteed by Ultra Petroleum and UP Energy. Most of those notes were privately placed with insurance companies and banks. There are two debt issues (5.75% Dec'18 and 6.125% Oct'24) of the holding company, Ultra Petroleum Corp, that do trade and are not guaranteed by any other entity. I would expect the holding company notes to be placed in lower priority class than the other debt.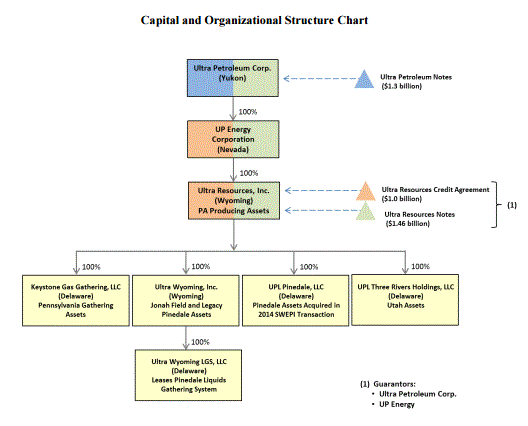 At this point, there is no DIP financing, which could cause problems if they continue to burn cash. It could also indicate the company is going to try to do a quick "363 sale" of its assets. The recent bid for Alpha Natural Resources' (OTCPK: OTCPK:ANRZQ) Marcellus natural gas venture for $335m by Vantage Energy , which was above Rice Energy's (NYSE: RICE) $200m "stalking horse" bid, does show that there are still active buyers of natural gas properties even at these low prices. There is also the possibility that an interested buyer could acquire significant amount of debt and gain control of Alpha.
In a presentation from Debtwire, using a historical average of 7.4x EBITDA and $300m EBITDA, the holding company notes would recover nothing, at $400m, they would recover 24%, and $500m they get 78% recovery. Using only 5.0x EBITDA ,the holding company notes would get nothing for $300m, $400m, and even $500m.
Conclusion
In March, the 5.75% notes were trading for about $8 and were last traded at 33, using prices from FINRA. (The 6.125% notes rarely trade.) The lack of liquidity for both of these notes and the current high price for the 5.75% would make it difficult to justify purchasing either one.
I am forecasting that natural gas prices in Wyoming at the Opal Hub will continue to be lower than most of the country even if/when the price rises back to a more normal level nationwide. Common stockholders buying at $0.80 per share are really buying a way out-of-the-money call option on natural gas. I am expecting that stockholders will get nothing and their shares cancelled, especially if a buyer purchases the assets in a 363 sale. Even if the company exits Ch.11 as an operating company, it is not very likely that shareholders will even warrants.
Note: I tried to buy notes earlier this year, but I was not able to purchase any in volume to make it worthwhile.
Disclosure: I/we have no positions in any stocks mentioned, and no plans to initiate any positions within the next 72 hours.
I wrote this article myself, and it expresses my own opinions. I am not receiving compensation for it (other than from Seeking Alpha). I have no business relationship with any company whose stock is mentioned in this article.
Editor's Note: This article covers one or more stocks trading at less than $1 per share and/or with less than a $100 million market cap. Please be aware of the risks associated with these stocks.