Speculative bet
I don't usually speculate in the stock market and my portfolio consists mainly of high quality dividend stocks. But every once in a while I make a speculative bet and I chose LendingClub (NYSE:LC) to be this year's bet. LendingClub has around 2.1 beta, which is very aggressive compared to the rest of my stocks and will provide excitement for the near, medium and long-term horizon. LendingClub's current price fluctuation is wide thanks to day traders. The stock trades up 10% just to lose all the gains the next day.
Selling pressure is nothing new to investors in LendingClub. It has been on a constant losing streak since the initial public offering, but during the past two weeks, it has sold off significantly, losing more than half of its value. Main reasons are 1) CEO Laplanche's resignation, 2) Subpoena from the DOJ and other legal actions from law firms, 3) large institutions holding off until there's more certainty about the loans Laplanche made, and 4) no guidance were given. There might be some loss of confidence from borrowers and investors following these events. We can see the effects in the second quarter report later this summer and it will be crucial.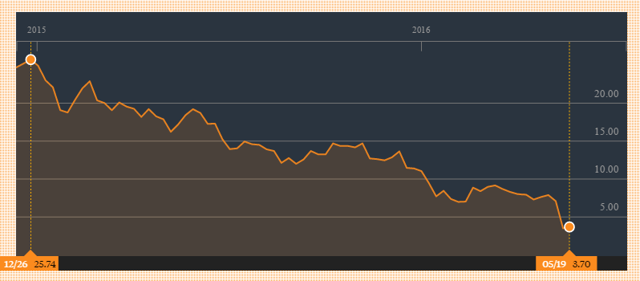 Source: Bloomberg
I bought my shares last week at $3.97, so clearly, above today's price. LendingClub represents around 1.1% of my portfolio. If it turns out to be that LendingClub goes out of business, it wouldn't ruin my performance that much. But in a case of rapid price appreciation, it would make a clear impact. I believe the company will either be a ten bagger or completely lose its price, but one thing is for certain: LendingClub's stock won't be flat. Every investor that decides to buy into LendingClub at the moment, should only make it at an amount that the investor is willing to lose most or all of it. If there is an event that the invested amount is lost, I would still be able to deduct the loss from my capital gains taxes making this investment as a speculative and potentially a tax beneficiary.
Why LendingClub?
Doing my research, I went through hundreds of pages of loan applications and got an idea about the applicants, at least in number terms. It amazes me that LendingClub gives all their loan data from 2008 to this day (latest was released on May the 17th). I went through quarterly and annual reports; however, what really fascinated me was the platform investors' progress reports. They demonstrate it in blogs or in YouTube, how they manage their money and diversify it over different loan grades.
A1 grade is the best and has the lowest interest rates, which starts from just 5.3%. G5 grade is found deep in the junk section with interest rates more than 30%. Most applicants are in the A/B grades and have good to excellent credit scores. People really enjoy the whole process of managing their loan portfolio. It gives them and the money a sense of purpose, when they are able to loan money to other people that are in need, but at the same time getting a decent return. Applicants also like the easy process where they can feel proud that people are trusting their hard-earned money to them. It really is a revolutionary way to combine the idle cash to the people who need it.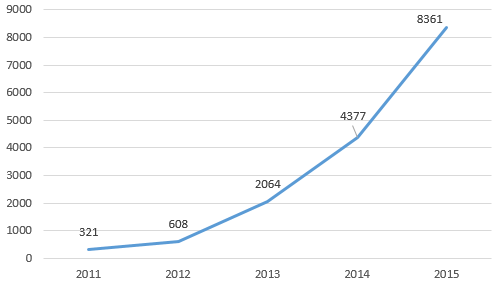 Source: LendingClub IR. Loan origination since 2011.
In just over 5 years, LendingClub's loan origination has skyrocketed from $321 million in 2011 to over $8.3 billion in 2015. The company's outstanding growth, really gives an idea how fast the peer-to-peer lending has grown. Amidst all of the recent events, LendingClub's growth will most likely be slower this year.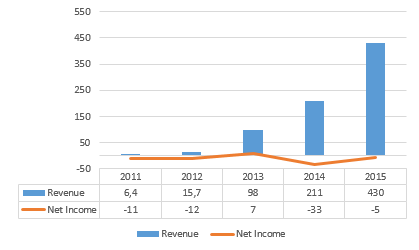 Source: LendingClub IR.
This was supposed to be the year when LendingClub turned strongly to profit and would finally help the stock to go higher, but there's a chance that the slower growth will delay profits and the stock price to 2017.
Conclusions
After I saw that LendingClub was sold off so significantly, I got interested on the stock. I looked through the figures and found a great growth story, while the stock price has been quite the opposite. LendingClub could be just a never-ending falling knife. Trying to find the bottom for this stock won't be easy. One metric that could be used is the net cash per share ratio. However, there's a chance that LendingClub's cash could shrink significantly going forward into 2016.
The company has $868 million in cash and cash equivalents, meaning that of the $1.3 billion market cap, the operating business is valued little over $430 million or $1.13 per share. The company also trades at a forward P/S of ~2 and p/b of ~1.2. After looking at the figures, the company isn't such a speculative bet after all. Only time will tell, was Laplanche's mistake the end of the peer-to-peer lending or was it just a small bump on the road.