GoPro (NASDAQ:GPRO) is in a tailspin. Sales of its action cameras are plummeting, prospects of the anticipated and much delayed Karma drone are highly uncertain, and as the company reports its second consecutive quarterly loss, its cash reserves are running uncomfortably low. In these difficult times, GoPro needs a clear direction and strong leadership, but instead management seems to be all over the place, spending large amounts of money on share repurchases and software acquisitions, only to later enter into a credit agreement for a secured revolving credit facility. In the meantime, investors' expectations are reaching new lows as the stock is back to single digits and trading near its 52-week lows.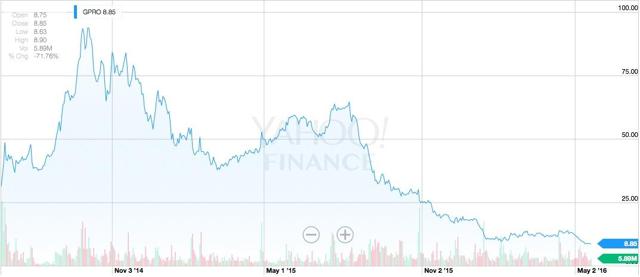 The company's Q1 2016 earnings results were weak across the board. Revenue of $183M was down 50% year-on-year, while non-GAAP EPS crashed to -$0.63, a huge 363% drop. These significant declines should serve as a reminder to investors of the risks associated with cash flows dependent on a single product line with a niche appeal. GoPro has been working on diversifying its revenue streams for some time and plans to enter a new product category with the anticipated Karma drone later in the year, but further investments in new product development and M&As will be inevitably limited when the cash and equivalents are at just $389M (down $85M from year-end) and the company keeps losing money. To address its cash needs and gain more flexibility, GoPro had to enter into a $250M secured revolving credit facility.
GPRO bulls are now pinning their hopes on the upcoming new products, namely the latest update in the Hero action camera line, the Hero5, and the Karma drone, the company's first major new product category since it pioneered the action camera market. Regarding the Hero5, I don't think the product can reverse the downward trajectory of GoPro's sales. Their large decline points to structural problems in the action camera market, which has a niche appeal and limited TAM, and has now reached market saturation levels. The potential of the category is further limited as consumers increasingly capture their lives with smartphones - the most convenient product for video capture, access and editing. I expect action cameras will become further irrelevant as smartphone cameras gain increased durability, more features like optical zoom, and better image quality. The Hero5 cannot change any of these trends, and nor can GoPro's investments in software and making offloading, accessing and editing GoPro content easier.
The Karma drone then represents a wild card. Given the dynamics at play, it is very hard to model cash flows from this product. There are significant differences in revenue forecasts for the young civilian UAV market, and little is known about the Karma's features, specifications and pricing. I have no doubt that from a marketing perspective, the product fits well the company's lifestyle brand and has potential. On the other hand, the long and troubled development suggests GoPro struggles with its resources and competences when it comes to moving beyond making digital camera products from off-the-shelf components. As GoPro has no room to further delay the Karma beyond this holiday season, will the product's features and/or quality be impacted when it finally ships? In the meantime, there are many strong competitors already established in the civilian drone market and some powerful alliances like the market leader DJI's distribution deal with Apple. Betting on the Karma is simply a lottery.
What we are left with is much uncertainty and very low expectations for GoPro's future. Analysts continue to revise down their earnings forecasts and see EPS losses beyond 2016.

Source: Nasdaq, Zacks Investment Research
Investor takeaway
The current share price may be tempting for some investors. However, if a stock looks cheap, that doesn't mean it is not expensive. There are significant problems with GoPro which make further downside likely. The dangerous trajectory of the company's core business, uncertain prospects of the new products, and management's lacking strategy and leadership make GPRO an extremely risky investment. The recent hiring of the talented ex-Apple (NASDAQ:AAPL) designer Daniel Coster as vice president of design shows the company is aware of some its shortcomings and wants to make industrial design and creating new exciting products a key focus of its new strategy. However, consider that the success rate of company turnarounds according to various case studies (Bibeault, Slatter) is just 25-33%. The odds are against GPRO.
Author's Note: If you have enjoyed reading my article and found its content valuable, please take 5 seconds to follow me by clicking the Follow button next to my name at the top of the page.
Disclosure: I/we have no positions in any stocks mentioned, and no plans to initiate any positions within the next 72 hours.
I wrote this article myself, and it expresses my own opinions. I am not receiving compensation for it (other than from Seeking Alpha). I have no business relationship with any company whose stock is mentioned in this article.
Additional disclosure: This is no recommendation to buy or sell securities as that carries with it very high risks. The information contained in this article is for informational purposes only and subject to change at any time. Do your own due diligence and consult with a licensed professional before making any investment decision.