Dunkin Brands (NASDAQ:DNKN) recently reported a good first quarter which filled us with confidence that further upside is still ahead for shareholders, making it well worth holding onto your shares after strong returns so far this year. Both of its brands, Dunkin' Donuts and Baskin Robbins, had solid quarters with positive comps growth, helping the company to a small beat on both the top and bottom lines. In light of this, we have seen nothing in the quarter or management's outlook that makes us believe that our $52.80 price target is not attainable.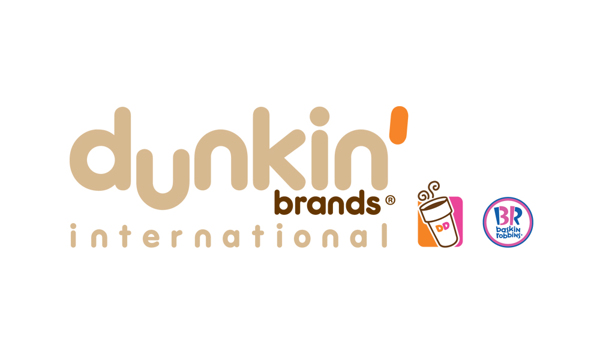 It was great to see Dunkin' Donuts return to positive comps in the first quarter following a surprise drop in the fourth quarter. As we mentioned previously, the fourth quarter is notoriously a slower quarter for comps growth, so we didn't feel it was time to panic just yet. You can see the progress the company has been making on the graphic below.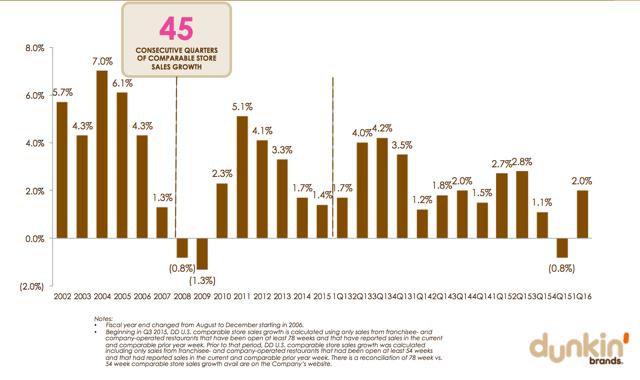 Source: Company presentation
The driver for comps growth this quarter was growth in beverages and breakfast sandwiches. Sales of iced coffee and hot and iced espresso-based beverages were strong, and limited time offerings in the breakfast sandwiches area drove breakfast sales. Price and favorable weather were other factors which contributed.
The success of this quarter comes down to the company's five-part plan coming to fruition. Although it is very early days in the plan, we do see it already having a positive effect. The key points of this plan according to management involve:
"Driving coffee innovation and culture; faster-to-market product innovation; targeted value offerings and smart pricing; increased use of digital technologies and an improved restaurant experience."
Coffee is the big one for us, both in store and at home. We see this and store growth being the drivers of growth in the long-term. The number of cups of coffee per day that Americans drink is estimated to be 1.85. Although this has declined slightly in recent years, it is still an obscene amount of beverages for Dunkin Brands to attempt to capture a slice of through its stores and K-cups. Its K-cups have been hugely successful and whilst they may eat into comps a touch, we believe they offer the company an incredible revenue stream that could continue to grow for a long time to come.
One of the things which attracted us to its rival Krispy Kreme Donuts (KKD) was the way in which it would produce limited time offerings. This appeared to very successfully drive sales and help it beat expectations and grow its earnings at a strong rate. Well, Dunkin Brands has been doing this with its LTO GranDDe Burrito. Management has been pleased with the success of it, with franchisees calling it the most successful promotion in recent company history, and we expect to see more LTOs appear on a monthly basis. We feel this will help drive sales and, with there being something new on the menu every month, we believe it will keep customers interested and keep them returning for more.
Perhaps the number one reason why we feel Dunkin Brands is a great long-term investment is its aggressive store growth plans for Dunkin Donuts. If it can deliver on its plans, then we expect it will provide shareholders with incredibly strong returns. Although the plans do look ambitious, we think they are achievable considering the opportunities in the west and the typical cash-on-cash return of 25% that franchisees have been making. This should make the franchise desirable and although Starbucks (NASDAQ:SBUX) is the boss in the west, we think it can make an impression in territory.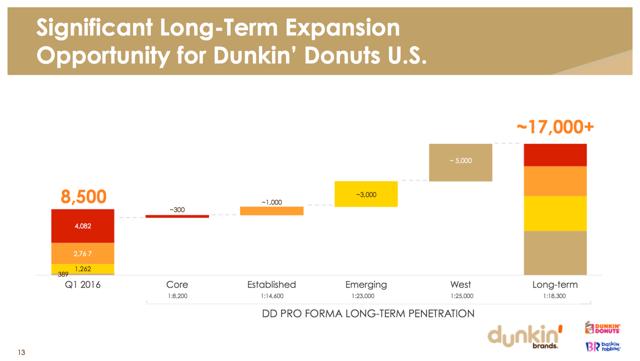 Source: Company presentation
It wasn't all good news in the quarter, though, unfortunately. We are incredibly optimistic by the success of domestic operations, but its international segment put in a very disappointing performance. Even on constant currency terms Dunkin Donuts produced a decline in comps of 2.3% and Baskin Robbins decline by 8.2%. But as its international segments only account for 17.5% of total sales, it isn't too damaging to the overall performance of the company. We would like to see a big improvement in the next quarter, though.
As we said at the top, we maintain our price target of $52.80. This is a return of 20% from the current price, or 22.76% if you add in its dividend. This is based on our forecast of full year earnings per share of $2.20 and a price-to-earnings ratio of 24.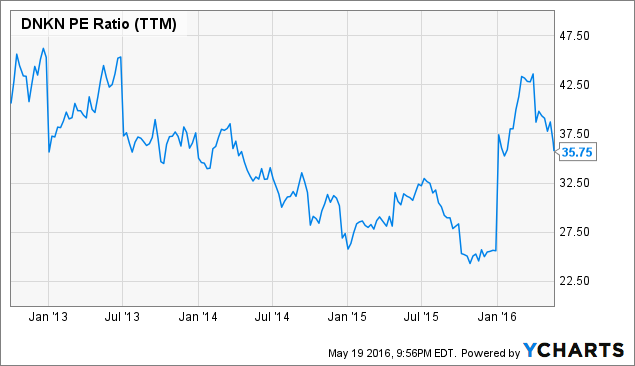 As you can see above, a price-to-earnings ratio of 24 is more than conservative. Because of this we believe Dunkin Brands is a low risk, high reward investment which is a bit of a bargain right now. If the company can produce a strong second quarter then we expect the share price will start to climb much, much higher. So catch it whilst you can!
Disclosure: I am/we are long DNKN, SBUX, KKD.
I wrote this article myself, and it expresses my own opinions. I am not receiving compensation for it (other than from Seeking Alpha). I have no business relationship with any company whose stock is mentioned in this article.