Our investment in Michael Kors (NYSE:KORS) was one of the most profitable we've had with a 41% gain earlier this year. As its share price has now somehow managed to drop all the way back down to our previous entry point, we feel quite confident that it is time to do it all over again.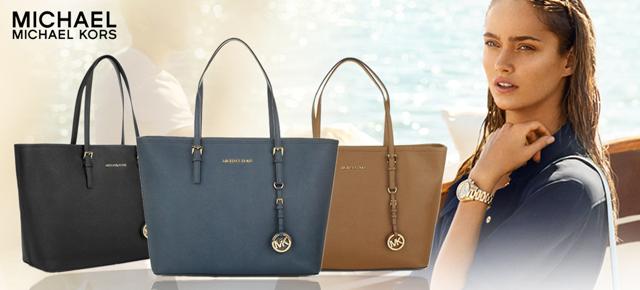 We picked up shares in Michael Kors just before Christmas and held onto them until the start of March for incredible gains, as demonstrated below. The recent sell-off in Michael Kors appears to be unjustified and we see the share price as a gift at the current price. So much so, we wouldn't be surprised to see the shares produce yet another 41% gain in the near future.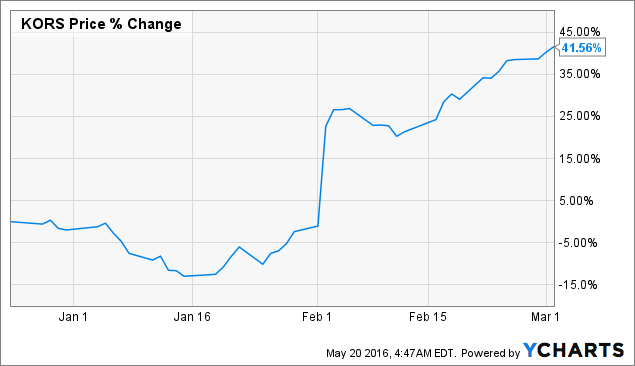 So why did its shares lose all these gains? Well, let us first explain why we sold out. We sold our shares purely for profit. When a share price goes beyond our expectations we more often than not will exit our position and look for new undervalued shares to invest in. This strategy has served us well in the past, and hopefully it serves us well again in the future. We never expected it to drop back down to this level, but we can't hide the fact that we're pleased to be able to pick up shares so cheaply once again.
So that's why we exited, let's see why everybody else did. The problems at Gap (NYSE:GPS) in April seemed to set the ball rolling, and then the disaster at Fossil (NASDAQ:FOSL) earlier this month did the rest. Whilst there definitely appears to be softness in apparel, at least at traditional retailers, we don't think Michael Kors will necessarily have been affected. The Gap is a frankly outdated brand with little going for it. Its Old Navy brand was the only good thing about it in our opinion, but having lost its leader, appears to be crumbling now. We don't believe its failings are a fair reflection on Michael Kors.
As for Fossil. We were sucked in as bulls following the Misfit acquisition and its grand plans for wearables. Thankfully we advised against an investment as it was just too soon for our liking and suggested that investors wait until they see proof of the acquisition working. Since then the business is looking incredibly fragile. Its sales were down 7% even in constant currency terms, with its operating margin dropping to a shocking 2.2%. It may yet make a success of its wearables, but even at the price it dropped to we would advise against grabbing hold of shares. The same applies for The Gap. Until it turns around its turnaround, best to keep a safe distance.
Fossil do of course have a license to sell Michael Kors branded watches and jewelry. It is regarded by many to be an integral part of Fossil's product assortment, but we wouldn't get too concerned. It has been well reported that traditional watch sales are down worldwide, with many pointing the finger at the rise of the wearable technology and the Apple (NASDAQ:AAPL) Watch. Fossil's problems are their own, and nothing to do with the Kors brand losing appeal. The revenue Michael Kors receives from this arrangement, that could be at risk of declines, is not enough to warrant a sell-off of this magnitude.
We also feel that Michael Kors has a lot going for it at the moment and contrary to want some may think, has a strong brand appeal. We believe this should help it deliver a strong quarterly and full year result which drives the share price higher. A recent survey by Piper Jaffray has shown that the Michael Kors brand is resonating well with teenagers. We see this as a positive step in accelerating sales growth in the future and believe that investors will be keen to get a piece of the action if it delivers strong results at the start of June.

Source: Yahoo Finance
Despite the sell-off, the consensus analyst earnings estimate has not budged an inch. The consensus is for earnings per share to come in at 97 cents in the final quarter, bringing full year earnings to $4.42.
We believe that the company will achieve this, which will send the share price higher. The shares are changing hands on a trailing price-to-earnings ratio of just 9.31 at present. We see this as being too low and expect that a successful quarter will result in the shares climbing eventually towards 15 times earnings. It may take some time, but we feel it is achievable.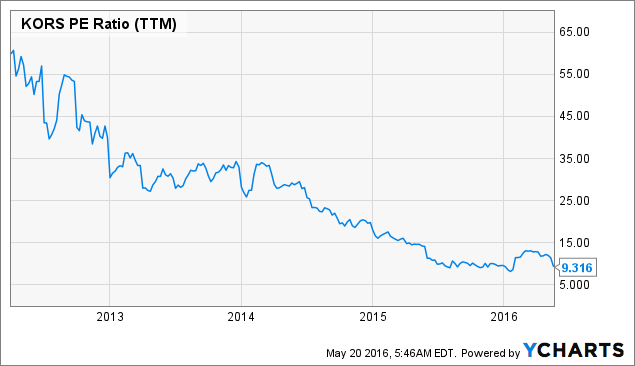 This means our price target is currently $66.30, representing a potential return in excess of 62%. Incidentally, this price target is just a touch lower than that of Piper Jaffray. So as excessive as it may first appear, we're not alone in the view that there is ridiculously good upside ahead for shareholders.
Well, all eyes will be on its earnings release on June 1 before the market opens. We are expecting a strong quarter that might just surprise the market.
Disclosure: I am/we are long KORS.
I wrote this article myself, and it expresses my own opinions. I am not receiving compensation for it (other than from Seeking Alpha). I have no business relationship with any company whose stock is mentioned in this article.