It's been just over four months since we invested in Planet Fitness (NYSE:PLNT) and there have been more ups and downs with the share price than a bench press. With the shares up 9% now, we once again revisit this potential growth machine to see if the future growth still exists, or whether it is time to let this one go.

Planet Fitness is divisive as a stock and a gym. Some people love their no judgment and pizza-giving gyms, whereas others think they're nothing short of a fad. With the stock, there are some like ourselves who see a lot of long-term growth ahead, and then there are those who see it as unsustainable. Whatever your thoughts on the gyms or the stock, we feel it is only fair to give management a pat on the back for a great first quarter.
Planet Fitness delivered a strong performance in the all-important first quarter with earnings per share coming in at 15 cents and revenue growth of 8.3% year over year to $83.84 million. Furthermore, system-wide sales increased by 6.8% during the quarter, with solid growth in both the franchise and company-operated segments. Management offered full year revenue guidance of $360 to $370 million, 210 to 220 net new store openings, and same store sales growth in the mid-single digits. In the first quarter, the company added 48 new gyms bringing it to a total of 1,171 gyms.
This level of growth is what we find most appealing, especially when you consider that this is just a fraction of what management sees in the future. It believes there is room for 4,000 gyms in the United States and 300 in Canada. Then there is the international market, which they believe is largely untapped. We are optimistic about the international expansion, but don't think it will be an easy one and expect it will take time and patience. Latin America has been earmarked as the next step, thanks to the brand being well received in Puerto Rico.
Another thing we really like about the company is its marketing. We think the Planet Fitness marketing model works very well. Typically, a gym franchise will invest 5-7% of its monthly membership dues into local marketing. This combined with the company's national advertising is continuing to raise awareness of the brand in a way that no other gym appears to be able to do.
It clearly works. The first quarter is the big quarter for new gym memberships following the New Year and the resolutions that typically come with it. The great news here is that the company smashed it. Planet Fitness added another one million net new members in the quarter, bringing the grand total to 8.3 million members. This works out to be a 17% increase year over year, which is very impressive. We believe there is a lot more room for growth with membership numbers, which can ultimately support the planned growth to 4,000 gyms throughout the United States. As you can see below, as of 2014, there were a total of 54.1 million gym memberships in the United States. As health and wellness continues to take priority in many people's lives, we expect that this number will continue to rise.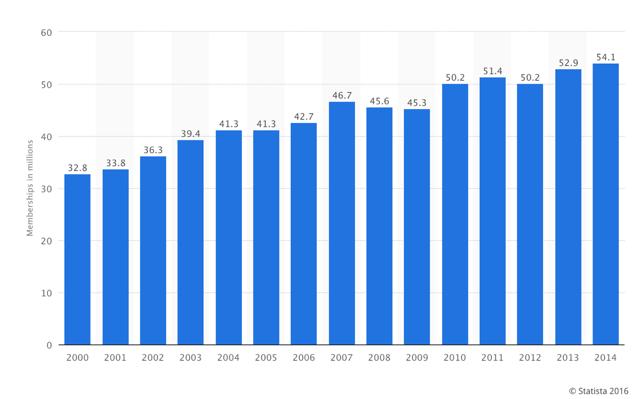 (Source: Statista)
As we have said before, we feel Planet Fitness is in a great position to capture this growth. It is a very competitive industry with the likes of SoulCycle (Pending:SOULC), LA Fitness, and Anytime Fitness all fighting for the same customers. But it wins hands down on value, in our opinion. Its fees start at just $10 per month for the basic one-gym membership, or $19 per month to use any Planet Fitness gym and gain a bunch of extras such as tanning and hydromassage. Both come without a joining fee, which is something we really like.
Considering disposable income levels have been rising from savings at the pump, we feel these membership fees are very affordable compared to other gyms. For comparison, Anytime Fitness starts at $39 per month with a $50 joining fee, and LA Fitness is $30 per month with a $99 joining fee. In the future, we believe management could get away with a few dollars' worth of price increases without increasing churn rates that much.
Once again, we are sticking with our forecast of full year revenue coming in at $388 million. But following the strong first quarter, we are sensing another favourable shift in sentiment that gives us the belief that the market would now be willing to pay upwards of 4.75x sales for the stock thanks to its growth potential.
With this in mind, we have a price target of $18.67. This is calculated using a price to sales ratio of 4.75, predicted shares outstanding of 98.71 million, and our assumption that the company will deliver full year revenue of $388 million. Our price target equates to a return of 11% from the share price at the time of writing.
We would class this investment as a medium-to-high risk one. Trading at 4.75x sales does mean the share price could be cut down should the company fail to deliver on its guidance. But we feel the revenue streams are reasonably predictable, and expect the company to outperform their guidance.
Disclosure: I am/we are long PLNT.
I wrote this article myself, and it expresses my own opinions. I am not receiving compensation for it (other than from Seeking Alpha). I have no business relationship with any company whose stock is mentioned in this article.