Freeport McMoRan (NYSE:FCX) has sold a considerable amount of assets this year with the end goal of deleveraging the company. This works well for a majority of shareholders as it reduces the day to day volatility, which has been incredibly high the last few quarters. So, what should investors expect from Freeport in terms of asset sales in the remainder of Q2 as well as in 2H 2016? Expect to see more divestments in the coming quarters with a few potentially garnering a sale price of over $1 billion.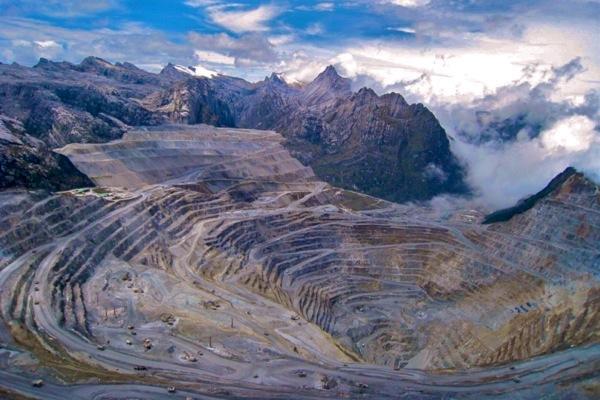 Source: Mining
Creating Stability
Freeport's stock has been relatively flat the last few sessions. The RSI is nearly flat at a reading of 49.00 and the stock price has stagnated above the 50 DMA for about ten sessions now. Yet this is hardly the main story as FCX has surged since mid February. While the strong run up in price over the past few months was attributable to a broader commodity market rally, Freeport has generated a significant amount of company-specific catalysts to help propel it higher, most in the form of divestments.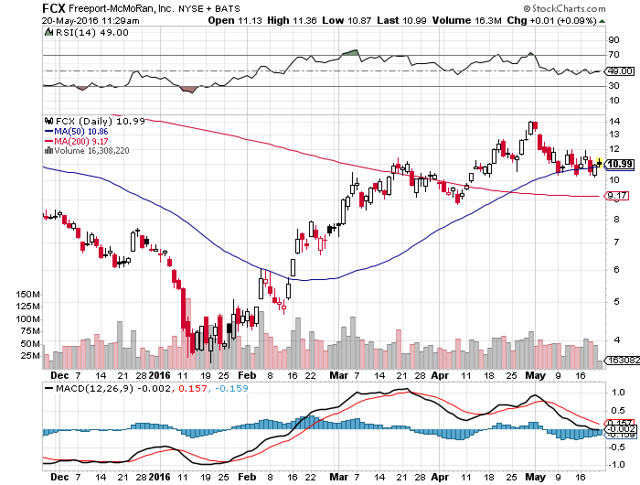 Source: StockCharts
Asset Sale Expectations
Molybdenum has never been the core focus commodity of shareholders, as copper has always been front and center. However, Freeport's recent sale of its interest in TF Holdings to China Molybdenum Co. (OTC:CMCLF) puts molybdenum in the spotlight. Freeport will receive $2.65 billion in cash, with the potential to receive $120 million more should prices be more favorable in two years. Considering Freeport identified that this asset sale's proceeds are going directly towards paying down debt, investors need to see that FCX just effectively reduced its LT debt of $20.5 billion 12.9%.
The picture is even brighter in that the company did raise $2 billion in equity back in late 2015. Additionally, the other key asset sale this year has been the sale of the 13% interest in Morenci to Sumitomo Metals, which brought $1 billion in cash to FCX.
With debt potentially falling by $5.65 billion, best case scenario, LT debt now becomes $14.85 billion. Yet, considering the recent cut off with Noble (NYSE:NE), the company has to pay $540 million. While a combination of instruments will be used to pay this fee, it's still a setback for FCX. Thus, it's best for investors to expect that the full amount will be taken away from debt reduction, putting the new, implied level at $15.39 billion. This is leaps and bounds ahead of where I expected the company to be in terms of its debt reduction because the pacing in asset sales has been phenomenal. If this trend continues, shareholders could actually be looking at a relatively stable mining company rather than the volatile trading instrument it has been.
However, investors should note that the debt level of $15.39 won't immediately show up on the next earnings report, as it takes time for these divestments to close. The sale of the interest in TF Holdings, for instance, won't close until Q4. Additionally, the sale of the partial Morenci interest closes mid-2016. Nonetheless, it's still a much needed liquidity boost. However, it would be interesting to see if the LT debt amount only moved slightly from Q1 to Q2, as that would mean the buyers of these assets are not giving FCX upfront payments. Here's what's on deck for current asset sales:
Potential $150 million sale of refinery assets located in Finland. This deal would couple in assets from E&P projects in Congo, for which the government is not too pleased with FCX right considering the company allegedly did not inform the government of its recent asset sale. This would provide about a 1% reduction in LT debt from the current level.
Oil and gas assets need to be sold off the books, however management has failed to do this so far. An initial attempt was made in December, but the restructuring of management has put this on the backburner. FCX has billions in O&G and needs to divest them immediately, in my opinion.
Grasberg, a massive gold and copper mine in Indonesia, that has a $17 billion+ valuation, may have a 10% piece divested at some point this year. Yet, the Indonesian government, as usual, is not being cooperative with FCX. This is a huge divestment and a much needed one, yet government headwinds carry an uncertain timeline so its best not to rely on this for now. The $1.7 billion proceeds, base case, would provide nearly 11-12% in debt reduction from the implied level.
The Selling Is Largely Positive
The summation of these potential asset sales are what will allow Freeport to escape this low-priced environment. As is, copper is nearly flat YTD, despite much volatility, seen below. Not a second too late, shareholders have to give management credit for taking a huge step in the right direction to manage the balance sheet.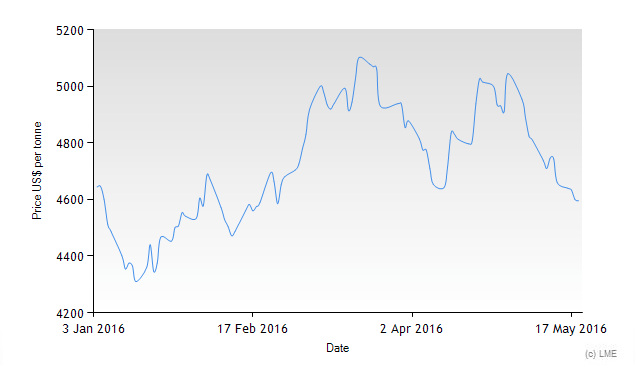 Source: LME
On a more negative note, the prices Freeport is getting for their assets are lower than what they would have gotten many quarters ago when the prices for copper, as well as for O&G, were materially higher. Getting the oil and gas assets off the books is continually an issue and has been lost in the recent stream of divestments. This was a problem back in Q3 2015 and has just lingered on. Despite a rapid increase in the price of oil since early February, the company still took on a $3.8 billion impairment (listed as Unusual Expense on the IS) on the oil and gas assets in Q1 as the averaged realized price per barrel was just over $29. This led to a net income loss of nearly $4.18 billion and negative FCF of -$242 million. There's no reason to expect that these impairments will go away anytime soon as the price of oil remains low YOY.
These asset sales are positive in the perspective that they may delay FCX from diluting the float further, as it did in 2015, and may actually prevent it provided commodity prices see recovery. However, that largely depends on copper and oil and gas fundamentals picking up in the coming quarters so FCX can charge a better price for assets and gain a larger premium.
Conclusion
It's clear that FCX has the ability to pay down its debt and manage its leverage, yet headwinds like asset impairments and the Indonesian government are stifling this company's progress. In terms of a rating on the stock, I don't believe FCX is a buy because of the O&G assets on the books and the recent run up in the stock. However, my view is certainly an outsider's opinion as many major institutions are positive or neutral on the stock. For example, Goldman Sachs (NYSE:GS) has a PT of $12 for the next six months with a neutral rating. Additionally, FCX has been upgraded by Jefferies and Cowen recently. For now, I'm watching the pacing of asset sales and any action on the O&G assets in the coming months to further create transparency on a potential investment.
Disclosure: I/we have no positions in any stocks mentioned, and no plans to initiate any positions within the next 72 hours.
I wrote this article myself, and it expresses my own opinions. I am not receiving compensation for it (other than from Seeking Alpha). I have no business relationship with any company whose stock is mentioned in this article.