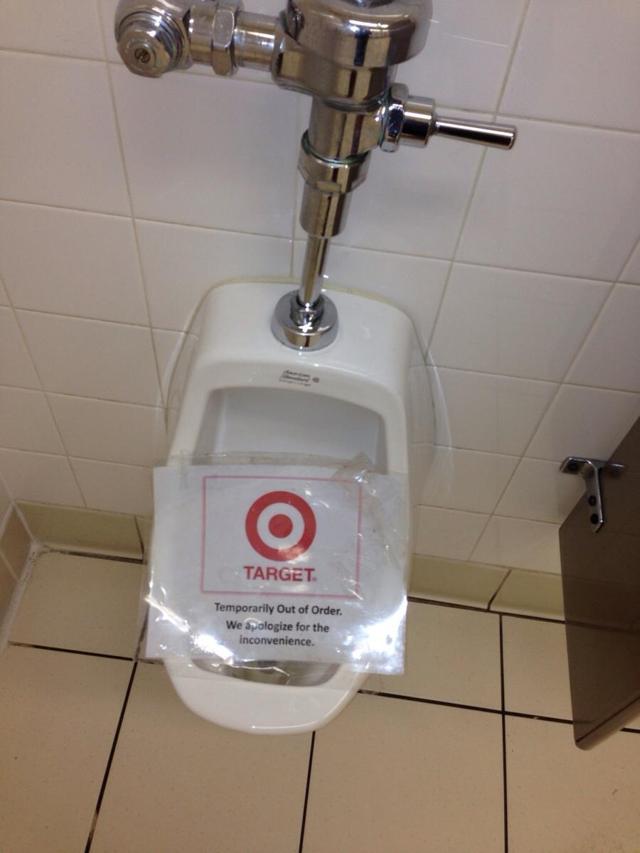 Image source: reddit.com
My call for Target's (NYSE:TGT) stock to experience a sell-off is playing out. Given the current headwinds, I expect this to continue over the next few months. In my last Target article, I pointed out that the stock is likely to get flushed as a result of the company's bathroom policy which states,
"In our stores, we demonstrate our commitment to an inclusive experience in many ways. Most relevant for the conversations currently underway, we welcome transgender team members and guests to use the restroom or fitting room facility that corresponds with their gender identity."
Target has faced a boycott from customers who perceive the bathroom policy as inviting people with ill intentions to abuse the policy, thus creating a safety issue for women and children. The perception is that predators could be more tempted by the policy to enter the ladies' room to spy, take pictures or videos or do something even worse.
The American Family Association [AFA] has organized a boycott pledge in response to Target's bathroom policy on its website that now has over 1.2 million signers. There are probably much more than 1.2 million boycotting Target who won't bother to sign the petition. My theory has been that there will be enough customers to boycott Target to cause a drop in same store sales. There was a noticeable drop as same store sales increased only 1.2% in Q1. This was 25% lower than expectations of 1.6% and lower than the 1.9% for each of the previous 2 quarters.
Those who know the game of poker understand that a royal flush is the highest hand that a player can have (ace, king, queen, jack and ten of the same suit). Investors who shorted the stock since my last Target article was written have netted about 16% (as a comparison, the SPDR S&P Retail ETF declined by 8.8% during the same period). So, while Target's stock got flushed down the toilet, bearish investors have a winning hand with a 'royal flush' so to speak.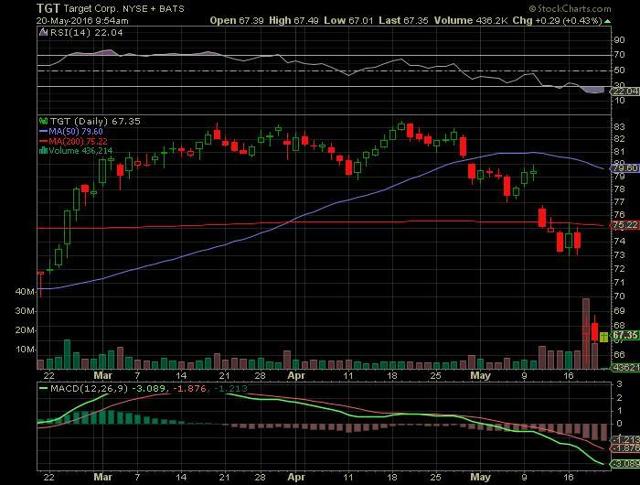 There was no mention of the bathroom policy or boycott in Target's Q1 conference call. However, the company did state in the question and answer session that they saw a slowdown throughout the course of April. Since Target announced its bathroom policy on April 19, it is possible that the boycott had a negative effect on sales in the last 2 weeks of April.
There are other retailers that performed well in Q1. Wal-Mart (NYSE:WMT) exceeded analyst's expectations for revenue and earnings. The stock increased 9.6% in response. TJX Companies (NYSE:TJX), operator of Marshalls, TJ Maxx, Home Goods and Sierra Trading Post, reported a strong 7% increase in comp store sales and exceeded its revenue and earnings expectations. It is possible that some of those boycotting Target are now shopping at Wal-Mart and TJX.
Of course, there are other factors in play as well. Online competition from Amazon (NASDAQ:AMZN) is a strong competitor that is taking sales away from Target and other retailers. Amazon is growing revenue at strong double-digit rates. Amazon achieved a 28% increase in net sales in Q1. It is benefiting from consumers who like the convenience of shopping online. The company has responded by significantly expanding its distribution and delivery network. Amazon has 19 fulfillment centers throughout the United States and the sight of its delivery trucks on the road is now as common as seeing United Parcel Service (NYSE:UPS) trucks.
I stated in my last Target article that sales could slow down enough to turn comp store sales to negative territory in future quarters. Target is now expecting comp store sales for Q2 to be flat to negative 2%. Regardless of whether this is because of the bathroom policy or not, Target is experiencing headwinds for its key measure of sales health. Therefore, I think that there is more downside for the stock.
Target is also expecting a decline for its Q2 EBITDA margin rate of about 40 basis points as compared to its prior plan from earlier this year. This is attributed to the tough retail environment and deleveraging of SG&A expenses due to slower sales.
Target also lowered guidance for Q2 EPS to be $1.00 to $1.20. This is significantly lower than previous consensus estimates of $1.37 from 2 months ago and the more recent current consensus estimate of $1.16. Therefore, it is possible that the consensus estimates for Q2 and the year will be lowered even more as the quarter progresses, if conditions look to be heading towards the lower end of the company's guidance.
Conclusion
The lowered guidance for comp store sales, EBITDA margin and EPS is likely to lead to more selling pressure for Target's stock over the next few months. So, bearish investors are still likely to profit from the downside, in my opinion. The boycott is probably a factor in this, as many consumers are willing to change their shopping habits to stay true to their principles.
I'm not saying that Target will be the next defunct store chain like Bradlees, Caldor or Woolworths. However, I do think Target faces enough headwinds from the boycott and a challenging retail environment, to cause further downward movement in the stock over at least the next few months.
The lowered EPS guidance from the previous Q2 consensus estimate of $1.37 to the company's low end of the range of $1.00 represents a drop of 27%. Since the stock already dropped about 9% since Q1 earnings and lowered guidance was reported, the stock could see about 18% more downside.
Of course, the company could hit the upper range of its guidance, which only leaves about 3% more implied downside if the stock drops approximately in line with actual EPS. However, since stocks tend to overshoot to the downside on negative news due to momentum, I think the stock is more likely to experience at least a 10% move downward even before Q2 earnings are reported.
Disclosure: I am/we are long TJX.
Business relationship disclosure: I wrote this article myself, and it expresses my own opinions. I am not receiving compensation for it (other than from Seeking Alpha). I am employed by TJX Companies.
Additional disclosure: If you like my analysis, please click on FOLLOW at the top of the article near my name. That will allow my articles to appear on your homepage as they are published.