Last week, Bentek reported that U.S. dry gas (NYSEARCA:UNG) production fell to 70.4 bcf/d. Since then, production has recently recovered to 72.4 bcf/d, as reported by RBN Energy.
U.S. dry gas production has remained relatively unchanged since March of this year. Near-term falls in production are related to maintenance issues and shut-ins. Current prices still do not incentivize bringing on additional production, and we suspect dry gas production will start to see a move lower now.
On Thursday, May 20, EIA reported injection numbers of 73 bcf. That was below last year's and the five-year average. You can take a look at our report here.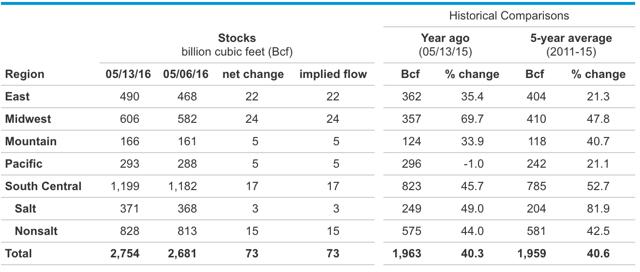 Market participants need to see injection numbers below last year's and the five-year average to get bullish on natural gas. We are currently in a situation where if supply doesn't fall fast enough, storage levels could hit the limits of around 4.4 TCF.
RBN Energy estimates that by the end of the injection period, natural gas storage levels could be at 4.28 TCF. That would be just slightly above last year's storage levels. With a normal winter, storage levels should draw considerably given that last year's winter was one of the warmest on record.
Next week should see another bullish storage report, as market participants currently estimate between 75 bcf and 85 bcf of injection. Last year's build was 112 bcf and the five-year average was 98 bcf. We should start to see the glut narrow moving forward.
As always, if you enjoy our natural gas daily, please click on the "follow" button above and read our other energy write-ups. In addition, we also have a premium subscription platform that's tailored to long-term value-oriented investors. We provide recommendations of stock ideas and portfolio composition. Our HFI portfolio has now outperformed the SPY by 8% since inception. We look forward to you joining the HFI platform.
Disclosure: I/we have no positions in any stocks mentioned, and no plans to initiate any positions within the next 72 hours.
I wrote this article myself, and it expresses my own opinions. I am not receiving compensation for it (other than from Seeking Alpha). I have no business relationship with any company whose stock is mentioned in this article.